Armed Citizen Holds Airport Burglar at Gunpoint for Police
Russ Chastain 12.16.14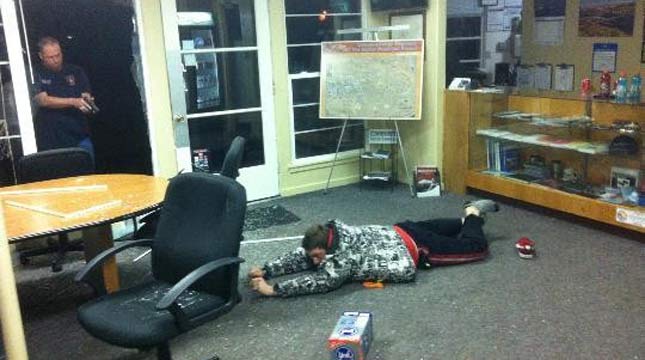 Dallesport, WA – I love it when that happens.
No, not the first part. That's the bad stuff. That's the part where some jerk busted nine glass windows at the Columbia Gorge Airport, went inside, and started helping himself to whatever he could find.
And now, the good stuff.
Airport manager Rolf Anderson heard the glass breaking and called 911. He also reportedly called his neighbor, Darren Lacock, who works at the airport as a line service technician (whatever that is).
Lacock discovered a 25-year-old male inside the airport office, greedily cramming his pockets full of loot. Er, make that candy, soda, and Gatorade.
When Lacock tapped his pistol on the glass to get the crook's attention, he nervously flung a box of peppermint patties into the air. He then followed orders as Lacock remained outside, stepped to a large opening left by broken glass, and ordered him to lie on the floor. While awaiting police, the manager took a photo.
The moment he drew his weapon, 'I just started praying to God that he wouldn't do anything stupid that would force me into having to make that decision' to fire his weapon, Lacock said.
As the crook lay there, Lacock said, he "began babbling" and went so far as to claim, "I just woke up. It's not me, I didn't do this."
Lacock also reported that the guy seriously considered making a run for it: "He started shaking really bad and he pulled his arms and legs in close to his body and I looked at him and said. 'You're about to make a bad choice. I need you to spread your arms and legs out.'"
Thankfully, he did.
Lacock is a concealed-carrier who never thought he would need to use his gun. He said, "My intention was never, ever to shoot anybody. I'm a personal believer in being prepared."
So am I, Mr. lacock. Well done.