Teen's First Bear Hunt Nets Second-Biggest NC Black Bear Ever
Russ Chastain 12.31.14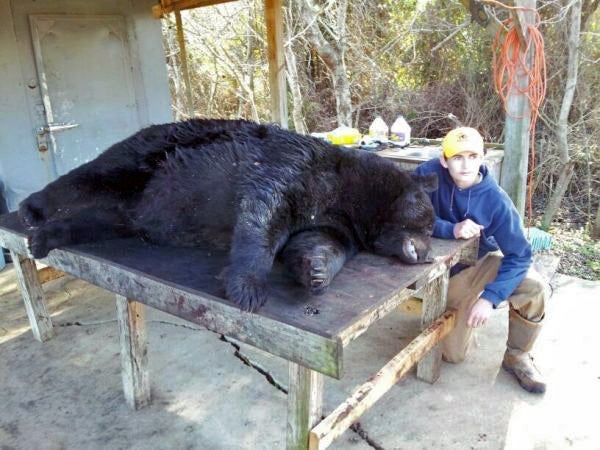 North Carolina – In the "things that make you go WOW" department, we have this happy little tale.
A 16-year old hunter reportedly took a near-state-record bear earlier this month on his first-ever bear hunt! The bear weighed in at 784 pounds on a certified scale, the same scale, in fact, that had weighed one at 782 pounds in November.
The current NC state record (and also the world record) black bear weighed in at 880 pounds, taken in 1998.
Young David Honeycutt Jr. laid down the bruin with a borrowed 45-70 lever action rifle, hunting on private land.
David was friends with the daughter of one of the owners of the property and had the good fortune to be invited along.
In the pre-dawn, the hunters arose and were soon looking for bear tracks. When a large track was found around 7:30, the dogs were loosed. They soon had a bear at bay, and the hunters made their way into the woods.
David was accompanied by adult hunter Keith Nations. When they got close to where the bear was bayed, a tumult of snapping limbs and small trees breaking told them that the bear was on the move. When it burst into a small opening no more than 15 yards from the teen, he fired and hit the bear's right shoulder. The bear went down "after a couple of steps and he was dead right there."
Winching the massive beast out of the woods with an ATV proved tricky. David said, "It was so heavy, it almost pulled the Polaris into the ditch before the bear moved." Once they got it out to the road, they lifted the bruin with a tractor.
I didn't have anything to compare it to since it was my first bear, but everyone was telling me how big it was. When we put him on the scale, he weighed 784 pounds and that's when I realized how big he was
Young David must not be hurting for money as he has decided to get a full body mount of the huge bruin. Now, he says, "I just have to figure out a spot to put it."
The taking of this bear was very exciting for these hunters, but it may have been a bit of a wet blanket for Thomas Capps, the hunter who took a 782-pound bear that held the second-place record for about five weeks.