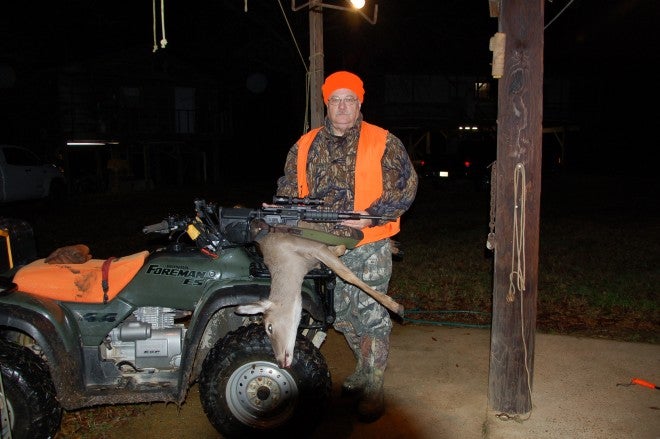 Honestly you never know the true performance of a particular gun and ammo combination until it is tested in the field under real hunting conditions. So in the back of my mind there was a bit of nervous anxious anticipation when I took my first shot at a white-tailed deer with my Smith and Wesson MP15T with a .300 BLK upper unit.
The Hornady ammo produced the harvest results with one clear, clean shot at 150 yards in dying light with a misting, foggy atmosphere covering the food plot. The Hornady Custom 300 BLK load uses their 110 grain VMax polymer tipped bullet. The ballistics are good for hunting deer, hogs, or varmints.
First let's clear up some marketing stuff. The terms .300 AAC (Advanced Armament Corporation) Blackout (or BLK) and 300 Whisper designate the same round, for all intents and purposes.
The Smith and Wesson MP15T's upper unit's barrel is marked "300 Whisper – 300 AAC Blackout." In the 2014 Hornady factory ammo catalog the load is listed as the 300 Whisper. I note in the new 2015 catalog however, the "Whisper" namesake is gone in favor of just the 300 Blackout. Any user has to know they are the same in all practical aspects. Hopefully all the ammo makers marketing people will standardize these so people will not be further confused.
Years ago I went on a hunt with Smith and Wesson along with several writers and editors as sponsored by the great marketing group Blue Heron Communications out of Norman, Oklahoma. It was on this hunt that I was introduced for the first time to the 300 Whisper. We were hunting deer and hogs with .223s and 300 Whisper S&W AR rifles with EOTech electronic optical sights. That whole crew provided great instruction and range practice with the .300 Whisper before the hunts took place. Then we used Hornady and DRT ammo.
I came away from that hunt knowing I wanted to build an AR rifle for deer and hogs on the .300 Whisper concept. The more I researched the .300 Whisper, the more I came to realize this was the 300 AAC as well as the 300 Blackout, by name anyway.
As factory ammo came out, you could find it in all the menu varieties, but all performed relatively the same. To date I have ammo from Hornady, PNW Arms, and Remington all marked somewhat differently. Hunting ammo for the .300BLK uses a variety of bullets ranging in weights from 110, 115, and 125 grains. The bullet choices I have in stock include the V-Max, the Nosler Ballistic Tip BT, and the CTFB (Closed Tip Flat Based). By now I am sure other loads are on the market.
This 300 series cartridge yields velocities in the range of 2200 feet per second and 1360 foot pounds of energy with a 125 grain bullet. There are also subsonic loads for use with a suppressor, which is becoming more popular all the time for varmint hunting applications. If you want a comprehensive review of this cartridge, check it out on Wikipedia.
The 300 AAC-Blackout has an interesting history of development too lengthy to regale here, so Google it to see the whole profile. In ammo terminology this 300 is the 7.62x35mm and was created to compete with Soviet AK cartridge in hopes the U.S. Military might adopt it. So far that has not happened, and I seriously doubt it ever will.
If you are an AR man currently using one in .223/5.56 with multiple magazines, then you'll be happy to know the .300 BLK ammo will fit and function just fine in existing AR magazines for the .223. All you have to do is obtain a .300 BLK upper unit and install it on your standard AR lower.
For my hog rifle build I got the upper unit from Smith and Wesson to go on my SWMP-15T lower. It was an instantaneous and perfect match. This upper has a rail system for adding accessories with easy, secure attachments.
I added a Nite Hunter green light flashlight in their excellent mount for low light or night hog hunting. I locked down Midwest Industries push button sling attachment points front and rear to mate my Vero Vellini neoprene sling for comfortable carry. I installed a Hogue soft rubber AR grip. I also put on a CAA soft touch cheek rest cover over the top part of the adjustable AR tube buttstock.
For an optic I obtained the excellent Leupold VX-R HOG model, 1.25-4×20 optic with the illuminated reticle. The reticle on this scope has a small circle in the center with hash range marks below. The 30mm tube adds extra light gathering capability to which I attested during my deer hunt. I did not even have to turn on the lighted reticle circle to paint the target. I also used the super one-piece AR Leupold mount for this scope. The scope came with a high quality neoprene protective scope cover as well.
The only other thing I did to the rifle was add left, right, and lower AR rail covers to protect the hands from the abrasive edges of the rail slots. This keeps my woolen gloves from being worn out so fast, too. The Tapco covers are semi-soft and allow for a good non-slip grip for firm targeting.
Range sessions for my AR deer-hog rig proved promising as well. This rifle is a pleasure to shoot, and the .300 BLK cartridge generates little recoil and is mild in muzzle blast noise. I was easily producing 1-2 inch 100 yard groups with a selection of ammo. I had good confidence this package would deliver its load in the field right on target.
Finally getting back into a deer stand after Christmas, I was ready for action. I watched a nubbin buck feed in the oat-wheat food plot for nearly an hour, but no other action. Near 4:30 pm a small, young forkhorn buck walked across the end of a shooting lane food plot.
All this time a fog was developing across the woods and a light misting sort-of rain was coming down with a slight breeze. At 5:10 pm a lone doe walked into the plot at the far end. I glassed and glassed to make sure this was not a button or spike buck. It was indeed a solo doe, which is unusual on our hunting property. Usually a doe will have at least one yearling or two in company, but not this time.
I waited for the doe to turn broadside, and in the process of moving my rifle up into position on the stand's shooting rail, the doe caught my movement. I froze and for several minutes she just watched me. Then she resumed feeding. A few moments later she offered the shot I was looking for, and the gun delivered. One shot to the shoulder and the deer was instantly down. My anxiety dissipated like the fog.
The Hornady VMax bullet did its job, the Smith AR did its job, and the Leupold scope really stepped up under poor light conditions. Proof of its effectiveness is in my neighbor's freezer, a gift to help him feed his family of six.
The .300 Blackout is certainly worthy of consideration for a variety of hunting applications. The nice part is if you already own an AR platform, all you need to do is acquire another upper unit, install it, and then customize it as you wish. There is no license, BATF 4473 registration, or dealer transaction either as the serial number is on your lower already.
If you want or need another hunting option with more power for your AR, then give the .300 BLK a try. That is, whatever you want to call it.