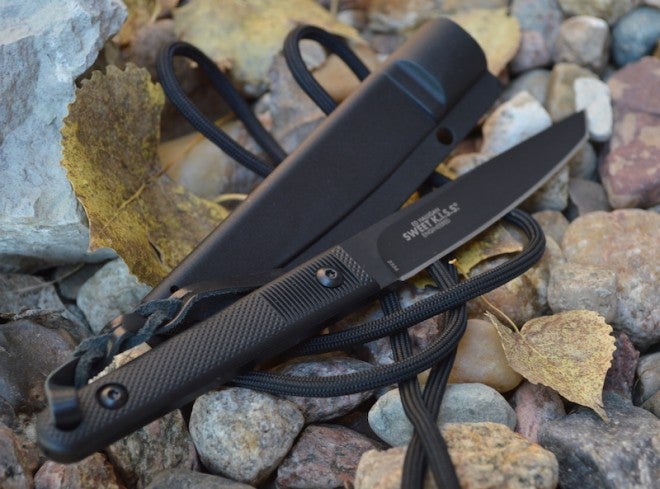 Among the most notable and popular knife designs ever for CRKT has been the Ed Halligan KISS (Keep It Super Simple) series. The newest of those knives is the CRKT Sweet KISS, a design that delivers a huge amount of cutting power and defensive utility in a very slim and compact size.
This neck knife maintains a low profile and rides light around the neck, yet it's big enough for big cutting tasks. The small, 4-inch fixed-blade knife has a modified tanto blade with a black oxide finish that is discreet and unassuming.The knife's handle is made from a tough, glass filled nylon material that is textured for exceptional grip, and the handle scales are removable with a Torx screwdriver. A pressed leather lanyard adds a subtle accent to the butt of the blade and gives extra real estate when drawing the knife quickly.
SHOP NOW
The sheath is a slim, versatile design that allows for either neck knife carry or waistband carry, with the latter being my favorite method for this type of knife. (Basically just loop the knife through the belt loop and slip the sheath inside the waistband.
Like every Ed Halligan knife design, this knife offers a huge amount of cutting power in an edge geometry that just works. Many knife geometries do not deliver the cutting power they should in the length of knife blade, but every millimeter of this blade from the tanto point to the base of the edge near the hilt delivers more cutting power than you would expect from a knife this size.
Again, I think CRKT has done a beautiful job on a knife, which only runs around $34 on the street.
Specs
Overall: Length 7.69 inches
Weight: 2.3 ounces
Blade Length: 4.03 inches
Thickness: 0.15 inches
Material: 8Cr13Mov
Blade: HRC 58-59
Finish: Ground Finish then Black Oxide
Grind: Hollow
Style: Reversed Tanto
Edge: Plain
Handle Material: Black Glass Filled Nylon
Carry System: Black Polypropylene Sheath
Price: $39.99
SHOP NOW