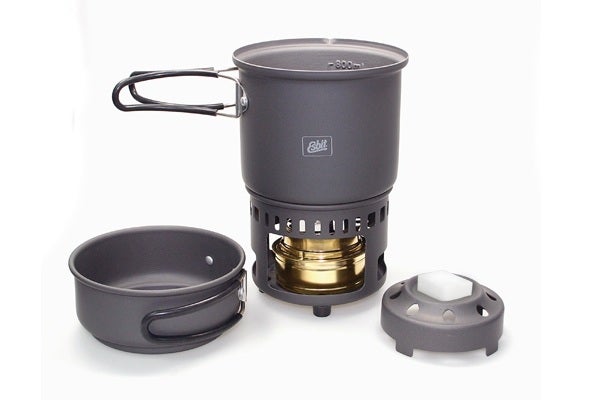 There is certainly not a shortage of cook sets on the market for the camper and hiker, but I was intrigued with the Esbit Alcohol and Fuel Tab stove and Trekking Cook Set. At just under 15 oz, this set delivers everything you could need on the trail or in camp for very little cash and weight.
The Esbit CS985HA Alcohol Stove & Trekking Cook Set provides various options for cooking out on the trail. It has a 985 ml pot with a volume indicator in liter/oz. increments on the side and a 470 ml pot/pan, which also serves as a lid.
Constructed from extremely light, hard anodized aluminum, the set includes a stand that supports the pots and includes a base for Esbit solid fuel tablets and a solid brass alcohol burner. The alcohol burner is constructed from brass and allows variable temperature control. Plus it holds the denatured alcohol in it during transport.
Everything can be stored and carried in the large pot, which comes with a mesh bag and fits compactly in your backpack.
SHOP NOW
What I like most about this set is that a quick fire can be made with the fuel tabs when you don't want to mess with the alcohol burner. When denatured alcohol is available, the Esbit burner delivers a hot adjustable flame that runs miserly on the fuel.
Denatured alcohol is available everywhere in the paint sections of hardware stores, camping sections of sporting goods stores, as HEET gas line de-icer as an option, and even high proof liquor. There are plenty of options to keep you going even if you cannot find "camp stove Denatured Alcohol."
I love simple things that just work. the Esbit Burner is in essence a heavier duty version of a pop can stove many people are making these days, but this one works right out of the box. In all, it's a great little set that, despite its size, can be packed full of items in your pack.
SPECS
CS985HA Alcohol Stove & Trekking Cook Set
985 ml pot with volume indicator in liter / oz. and 470 ml pot that also serves as lid.
Pots include 2 hinged, stainless steel grips.
Includes stand, 985 ml pot, 470 ml pot, alcohol burner, and base for a solid fuel tablet.
Constructed from extremely light, hard-anodized aluminum.
Alcohol burner constructed from brass with a screw top and rubber gasket.
Alcohol burner has variable temperature control with a fold-away handle that helps to regulate or extinguish flame.
Stand, alcohol burner, and solid fuel base can be transported in big pot.
Stores in included mesh bag.
Dimensions-packed: 5.8″ x 5.0″ (14.7 cm x 12.7 cm)
Weight: 14.7 oz. (417 g)
MSRP: $49.99
SHOP NOW