Review: Resco Patriot and Manus Watches, Made by a Navy SEAL
Major Pandemic 01.06.15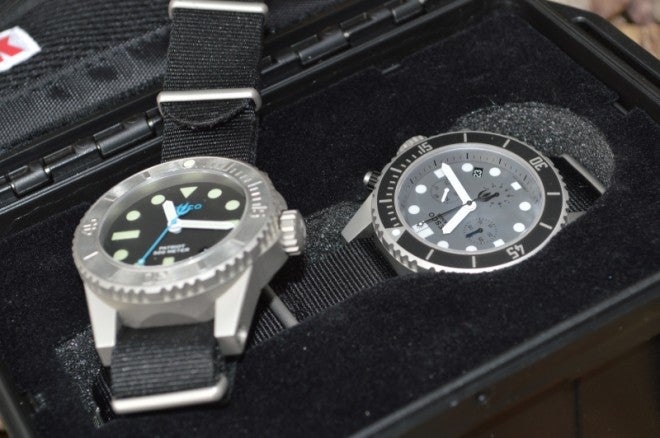 I am a connoisseur of watches and love all those high dollar watch brands. The major premium heirloom quality watch brands like Tag Heuer, Breitling, Omega, Ebel, Rolex, and other notable brands have a legacy of time measuring quality that has proven to not only retain their value but also in some cases even appreciate in value longer term for owners. Most watch fanatics would admit these brands are worth the price.
Conversely, I am not a fan of most "military watches" that pose as hardcore, quality dive watches. Even more infuriating are those watch manufacturers that pose themselves as the "official [insert military branch] watch." When you dig down into the quality and movements of these $200+ watches, most of these so called premium watches are little more than well marketed $50 Timex watches with low end, very inexpensive quartz movements. In some cases, the "military watches" offer very poor time accuracy. In almost all cases you will find they are not "official military" watches either. Honestly, the military probably has more men and woman wearing simple, inexpensive Casio G-Shocks and Timex Ironman watches than anything else. For $20-$50, these watches serve their purpose. I certainly have a few of these inexpensive watches, as well, because I don't mind when they get banged up or get paint on them.
At some point, many of us want a really nice, well crafted heirloom quality watch. If you are the rugged type, you may also want this watch to hold up to the beating over and under water, which brings me to my next point: If an enlisted military man/woman wants a really nice premium hand crafted heirloom watch with a internally jeweled precision automatic movement certified for dive use, they usually have to start with a wad of cash around $3,000, but that is just a starting point. A $6,000 price point for a prestige name watch is not uncommon, and you would be stunned how many $10,000+ watches are out there. Resco wanted to offer a premium watch with all the quality of the top brands in a rugged stylish dive watch that serviceman could actually afford to buy, wear, and use.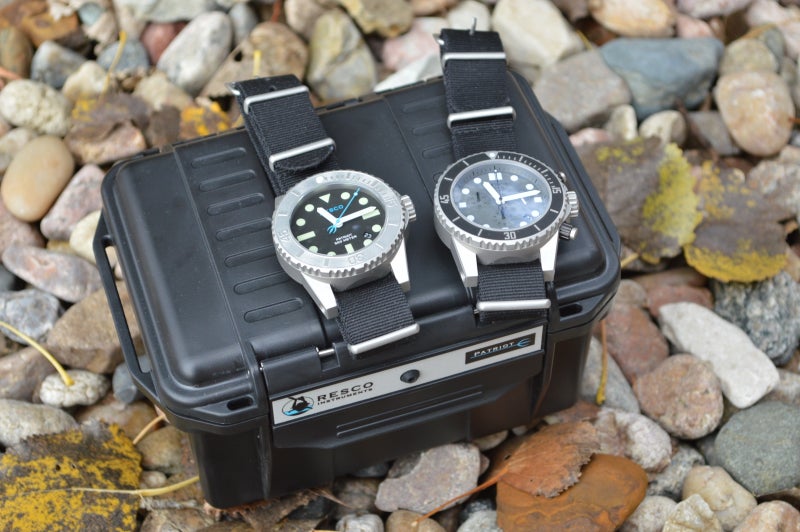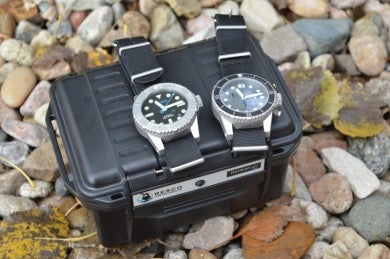 At last year's 2013 God Guns and Giving, the Resco brand caught my eye. I saw an absolutely gorgeous Resco watch up for auction, which I bid on and didn't win. This year I saw another Resco watch up for auction and again didn't win the auction, but knew I wanted one–well two because Mrs. Pandemic said she wanted one as well. Since we have an open policy on pre-Christmas gift surprises, I thought I would go ahead and order the Resco Patriot and Manus. It turned out to be quite a surprise that netted a "You did very well."
About Resco
I had the opportunity to speak one-on-one with the founder of Resco, Rob Smith and his wonderful wife Nicole, at the 2013 and 2014 Mercury One God Guns and Giving events. Their generosity to the event touched me, which lead to a handshake and then a discussion.
Rob explained that he was always into watches even as a kid. He would tear them down and rebuild and fix them continuously. That hobby became a passion that remained even after he became a Navy Seal. Yep, Rob is a real life active duty Navy Seal building watches when not deployed. Beat that, everyone who claims to be a Navy Seal watch manufacturer. So if you want a real Seal watch that is actually made and then worn by many of Rob's Seal Team brethren plus a few notable folks such as George Bush, then you really only have one choice: a Resco timepiece.
The kicker is that the quality does not match the price, but in a very good way. The Resco watches are every bit as well made as any of the other heirloom dive watch brands but at a significant price reduction. The Resco bodies are actually machined in the same factory as Omega's and the crystal bezels are made in the same factories as the high priced brands, as are the seals and internal movements. The prices are also extremely reasonable. Resco's Manus is under a $1,000, and the Patriot with a Swiss automatic jeweled movement is only $1,705. The downside is you may need to wait a bit for your watch because they only make 500 watches a year. Get in line now.
All Timepiece Movements are not the Same
Watch movements are broken down into quartz battery powered movements and mechanical movements that can be either wound or are automatic self winding. The true watch nerds will note there are technically other timepiece movements, but the vast majority of movements are either quartz or mechanical.
Generally, high quality battery driven quartz movements deliver the most accurate time varying only .5-2 seconds a day while mechanical movements typically vary 2-5 seconds a day. In this review, I have both a Resco Patriot mechanical self-winding movement and a Manus Chronograph, which features a 4.5 year battery powered quartz movement. There is a place for both watch movements.
If you wear the same watch continuously and are not a desk bound sedentary soul, then an automatic movement is the ultimate doomsday watch movement that will continue working and keeping time literally forever as long as you keep moving at least 8 hours a day. A little internal weight bounces to keep the watch wound as you move. For those that sit at a computer all day and then in front of the couch at night, an automatic movement will be a frustrating timekeeping device that will require manual winding at least once a day.
The new high end quartz movements with multi-year batteries are excellent for the watch owner who bounce between watches each day or are not particularly active people. If the movement is a chronograph movement, such as the Resco Manus, and the timer functions are used, a battery powered movement can ensure there is plenty of power for all that mechanical movements while still delivering accurate timing.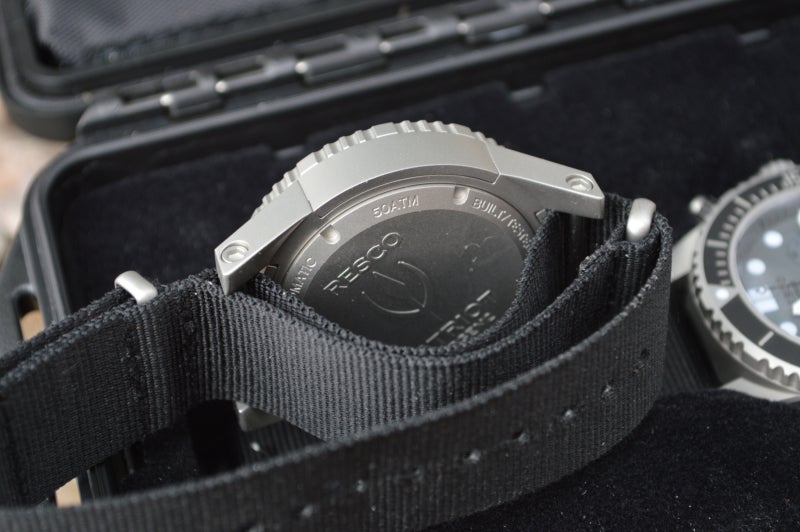 You will hear the number of "jewels" thrown around a lot in high end watches. These "jewels" are not the rubies and diamonds you can see on the bezel, but are actually tiny little jewels used as very low friction pivot and axis points within the movement. In most cases these are synthetic industrial jewels, but for mechanical movements, they are critical to the smooth, efficient operation and precision of the timepiece. Those movements with more "jewels" are typically regarded as being of higher quality, but that is not always the case, depending on the complexity or simplicity of the movement.
Shared Features of the Resco Patriot and Manus Watches
Both the Resco Patriot and Manus watches share a slightly domed 3mm thick sapphire crystal with a single inner AR coating. If you are not a high end watch person, the translation is that the "glass" used on these watches is extremely scratch resistant. To date, even I have never scratched or broken a sapphire crystal on any of my watches, and I am very hard on things.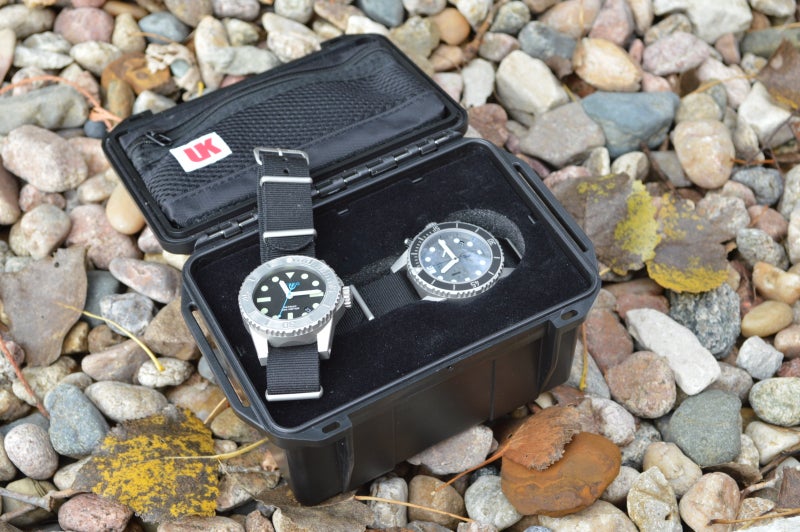 The milled 42mmx13mm cases are 316L stainless steel bead blasted with 20mm strap lug ends with heavy duty hex screw lug pins. Resco dumped the totally crappy and stunningly weak watch strap spring pins used by many watch companies and went for full stainless steel watch band lugs held in place by hex screws. The cases are elegantly substantial on both Resco watch formats, the way a creative Seal would design a watch to take the level of performance and abuse he can dish out.
The Patriot is certified to 500 meters and the 4.5 year battery powered Manus to 200 meters. All watches are shipped with Pelican style hard cases and standard thin military nylon straps. The supplied case delivers a safe storage option for the watch and approximately five optional watch bands plus the included watch band hex wrenches.
I have found the cases useful to store all my various 20mm watch bands. I never have been just a single watch band kinda guy and enjoy fiddling with them. It always makes me feel like I have a whole new watch every time I swap out watch bands. The stock nylon watch band is decent quality but wears quickly and from my perspective does nothing to show off the true quality of the Resco watches. Invest the $30-$50 in a new watch band from Panatime. It's money well spent.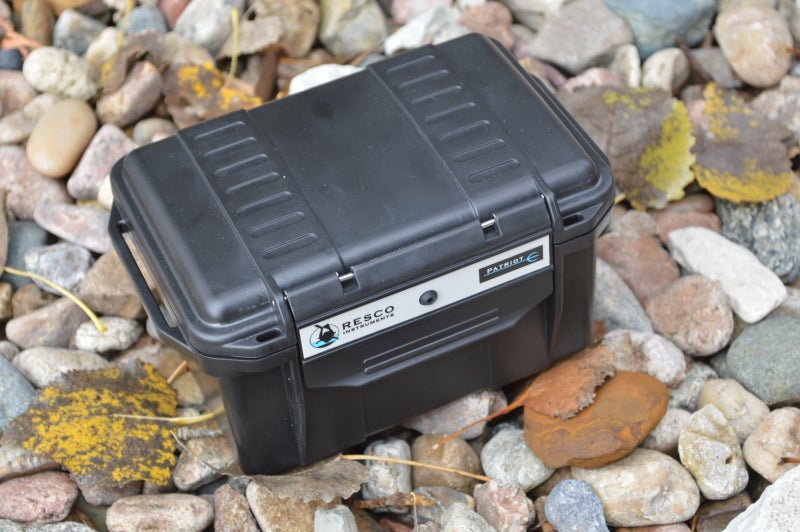 Both watches feature a rotating dive bevel. I consider this an essential tool on a watch that allows instant timing and a simple reminder of anything that may come up in life. For divers, a rotating bezel allows them to set the bezel zero to the time they entered the water so they can easily read how long they have been in the water and do not run out of air. Generally dive bezels do not offer the accuracy of a chronograph or any beeps or reminders, but it is enough for me to be able to look down to see that I need to be somewhere in 20 minutes or that my pork shoulder has been in for six hours. If a watch does not have this feature, I do not own it. The Patriot and Manus rotating bezels are beautifully machined with an artistic wave background along with the standard dive markings and luminescent single dot.
The Resco Patriot
The Patriot features a C3 SuperLuminova dial that offers hours of luminescence after the lights go out. I love the style of the Resco Patriot dial, which is uncluttered with just hour markings and date window. Resco uses a Swiss Val 24 Self-winding mechanism with ball bearing rotor. The movement is set in an INCABLOCK shock absorber to greatly reduce extreme shock damage to the movement. The Swiss Val 24 movement features a 28.800 vibrations per hour, 4 Hz 25 Jeweled precision mechanism.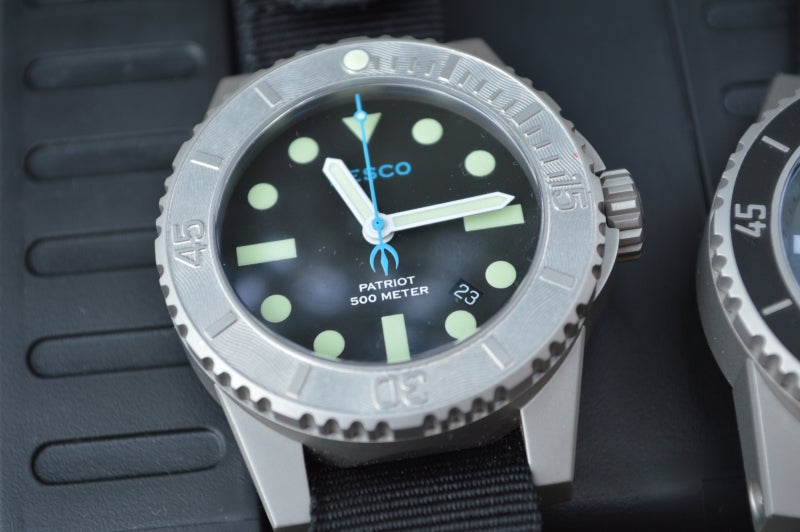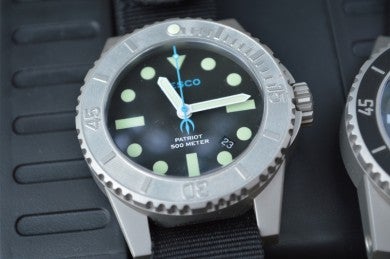 There is a lot of chatter about ValSwiss movements, but what it comes down to is that the ValSwiss movements are an equivalent quality movement to those used in the "demand regulated watch movement market."
According to my research, there are so few top tier watch movement makers that they can price fix by regulating supply. Basically ValSwiss came out with a competitively priced movement that competes equally in quality to those movements from companies like ETZ. In fact, Resco uses ETZ movements in some watch models, but the price jumps up about $1,000. Watch politics aside, the Val 24 movement is about as good as it gets unless you just have to have one of those demand regulated movements to satisfy and exclusivity ego drive. My Resco Patriot with the Val 24 movement keeps exceptional time as long as I keep active. I have zero complaints with the movement or the overall quality and time keeping ability of the watch.
The Resco Manus
The Manus offers chronograph functionality via a 13 jewel Swiss Ronda Quartz movement powered by a 4.5 year battery. Honestly, I was pretty jealous of my wife as soon as I saw the Manus and really wanted to keep it for myself. It is a beautifully made and very precise Chrony. I now have my eye on the Manus Pelagic Blue model, which I must admit after full review of my wife's Manus, I am now lusting after it. Do I need another watch beyond those currently owned plus my new above Resco Patriot? Nope, but I want one anyway.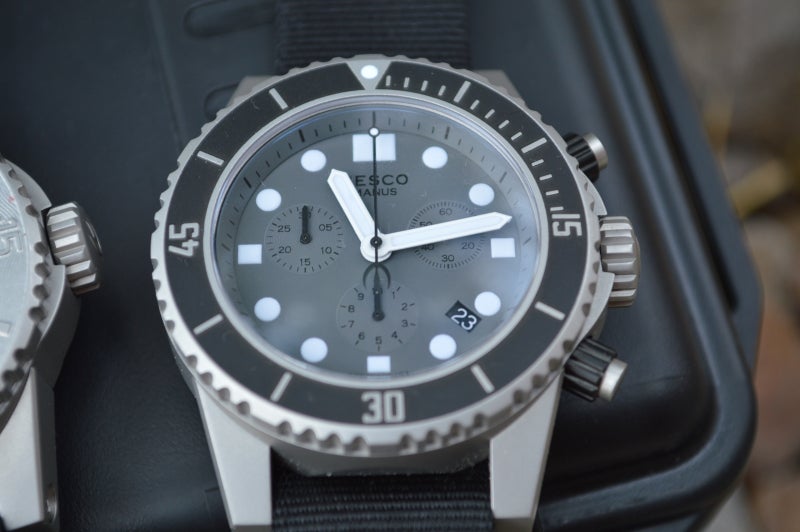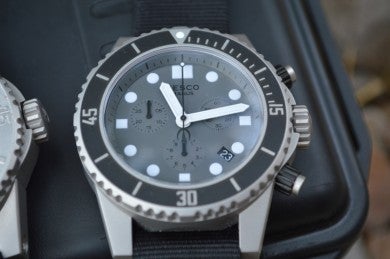 For various timing tasks, a Chronograph (stopwatch) movement can be oh so handy even if you are not a professional diver or Navy Seal. I never thought that functionality would be used as much as it is and conclude as many arguments as it has. Sneaking the Manus off my wife's wrist for testing, I found the Manus to be an exceptional quartz movement watch, which I must admit I like even better than my Tag Heuer.
The Chrony function allows for an all zeros reset of the "1/10th Second," "Second," and "Minute" dials plus the normal normal start, stop, and rest functions you would find on a stop watch. Operation is simple and just requires you to loosen the water tight stop/reset crowns for operation. The top crown starts and stops the stopwatch functionality, and the bottom crown resets the zeros with a long hold. The large watch second hand acts as Chronograph second hand while the small right hand 0-60 dial functions as the watch's continuous operational second hand. If Mrs. Pandemic would allow it, I would also have a Manus Pelagic Blue on my wrist.
Final Thoughts
If you want a very high quality heirloom watch that will not break the bank, I cannot recommend Resco enough. It will be a premium timepiece that you will cherish and pass on to many generations to come.
Resco Patriot Specs
Case – 316L Stainless Steel Bead Blasted – 500 Meters
Dial – Matte Black with C3 SuperLuminova
Movement – Swiss Val 24
Self-winding mechanism with ball bearing rotor
Stop second device
INCABLOC shock absorber
28.800 vibrations per hour, 4 Hz I 25 Jewels
Crystal – Domed Sapphire – 3mm thick – Single inner AR (Anti Reflective) coating
Size – 20mm lug end, 42mm Diameter, 13mm Thickness, Hex Screw lug pins
Strap- Watch will ship with your choice of Thin Nylon strap
MSRP $1,705
Resco Manus Specs
Case – 316L Stainless Steel DLC – 200 Meter
Screw-down pushers
Stainless Manus also wears well with pvd lugbags. Additional lugbars can be purchased in our Straps and Bands section
Dial – Matte Grey with BWG9 SuperLuminova
Movement – Swiss Ronda Quartz. 4.5 year standard battery life, 13 Jewels
Resco covers first battery change. Customer is invoiced return shipping fees
Crystal – Slightly Domed Sapphire, 3mm thick, Single inner AR (Anti Reflective) coating
Size – 20mm lug end, 42mm Diameter, 13mm Thickness, Hex Screw lug pins
Gen2 lugbar is used on the Manus
Bezel Options
12 Hour, Diver or Tidal; make note of bezel option in the order instructions section. We will ship with a Diver Bezel if you do not make note of bezel preference.
Strap – Watch will ship with your choice of Thin Nylon strap
MSRP $985