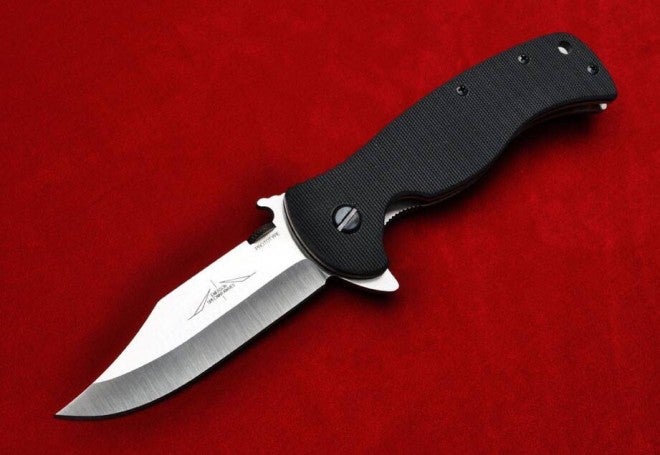 Emerson Knives is a company that I love to watch. I love their beefy knives. I love the use of simple and solid materials (G10 and 154CM). I love to see their willingness to experiment. They can do that because they occupy an ideal space in the market–big enough to have the manufacturing capacity to do a lot of different things and small enough to not worry about selling 25,000 knives in Wal-Mart (their collaboration partner, KAI USA, does that for them). They also happen to have an incredibly devoted following, another reason they can experiment so much.
Their most recent experiment, strictly a prototype at this point, is called the Emerson Sheepdog.
In many ways, the sheepdog is a pattern that borrows from a large number of Emersons–a pronounced Bowie shape and a parrot beak handle with a large index slot for your finger. It also has a Wave opener and a thumb disk (this is an Emerson after all). The materials are also classic Emerson–G10 scales over titanium liners with a blade of 154CM. It even has the classic Emerson pocket clip. If it ain't broke, don't fix it, right? But that is not the whole story. In fact I missed the last piece of the puzzle when I was looking at the Sheepdog for the first time.
This knife is a flipper.
I was pretty shocked to see that, after all Emerson is built on another deployment method (the Wave). But if Spyderco can make a flipper, I guess Emerson can too. This model seems marketed more to the non-military use (hence the Sheepdog name). The specs are in line with many Emersons–medium sized to large blade with a chisel ground cutting bevel. Many of the most hardcore Emerson designs, like the custom Emersons and the CQC6, are full chisel grinds, meaning they are flat on one side and profiled on the other. The more "mainstream" Emersons take a less extreme approach, grinding the blade on both sides, but saving the chisel grind (which is easier to field sharpen and can get sharper easier than a v-grind) just for the final cutting bevel.
Even without handling it, I have had enough experience with Emersons to say that the Sheepdog will hold up. It will cut stuff. It will take a beating. As an aside, I wish the chisel grinds were ground on the opposite side–all Emerson's with Wave openers are handed designs and the right handed knives should have the profile ground on the right hand side instead of the left hand side if Emerson wants to truly take advantage of the chisel's cutting geometry. But with just the cutting bevel ground, this is not as big an issue. I am also a bit concerned that three distinct deployment methods will make the knife look busy and hard to get out of a pocket. Time will tell. For now, though, it's nice to see Emerson challenging themselves and putting out a new knife with a completely new deployment method.

SHOP NOW