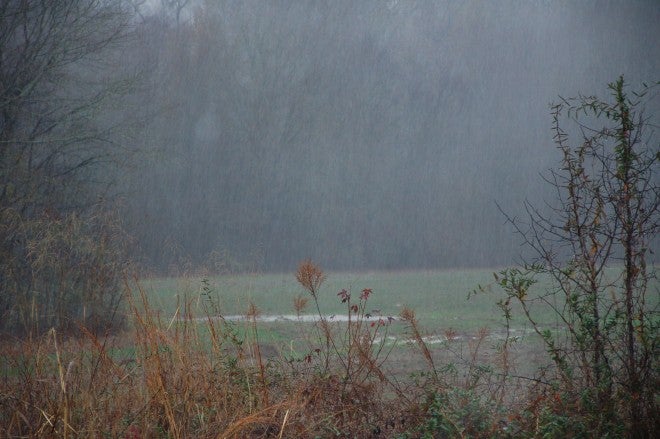 Deer hunting seasons are far from over in the South. However, being January now, we are into what regional hunters laughingly refer to as the "monsoon" season. January and February are typically our coldest, windiest, and most assuredly our rainiest.
As I type this, it is the 2nd of January and it has been raining for two days off and on. I just got back from deer camp three days ago after three previous days of intermittent rains through the area. The whole camp is saturated. Every ditch is filled to the brim and the Big Black River bordering our property is on the rise. Again.
The weather report for the coming weekend was 100% precipitation in the form of rain. Add to that a weather forecast of thunderstorms with the potential for tornadoes. Really? In January? Well, after all it is the Monsoon Season. So what does this mean for deer hunting?
For one thing, it keeps a lot of deer hunters at home or in camp. That alone can be a plus especially if you are primarily hunting on public lands. You could find you have much of the hunting areas to yourself, but then that does not make hunting conditions any better if the weather is nasty.
Hunter wise, you just have to watch the bad turn of atmospheric conditions as they come and go to know when to hunt. Sometimes there will be short avenues of time between storms, downpours, or other sour conditions. Deer will take advantage of these momentary lapses of moisture to move to feed or breed, so deer hunters need to be ready to move, too.
Fortunately, many deer hunters now are tuned into the latest weather conditions with an app on their iPhones or other technologies. I still monitor the National Weather Service and local weather forecasts on the computer and television. I do advise checking several weather sources though to cross compare the predictions. You might be surprised how widely they differ sometimes.
Savvy deer hunters will be ready at the drop of a buck grunt call to head to the woods if there is any sign of a break in the weather. Some, like me, keep a hunting bag packed in the closet just in case we can muster a day or two as one front leaves and another is coming across the Midwestern plains. I can throw it all together pretty quickly, load up the four-wheeler, raid the pantry, and be in camp in an hour.
Still, hunting in rain is not generally pleasant. If you have access to a southern style shooting house with enclosed sides and a waterproof roof, then that is your best bet for rain hunting. If the breeze turns cold as well, you can still use one of those little portable single bottled propane gas heaters to take the edge off.
In vogue today are the enclosed fabric ground blinds. The more deluxe and expensive models can be or made virtually waterproof and offer good protection from winds, too. Put a comfortable chair inside on a ground cloth and such a hunting blind set up in a good deer rich area can be quite an effective strategy.
Absent of a deer hunting stand to get you out of the elements, then you have to dress accordingly to stave off the mean soaking effects of even a slow drizzle rain. In the south and elsewhere, this means layering of course, but also warm layers including maybe a goose down vest under a good waterproof coat.
Don't forget to consider a good face mask, high quality gloves, chemical or electric boot heater inserts, and other accessories that can help keep you warm and dry. Keep hand and body warmers in the pockets for ready use.
Gore-Tex® of course, is an ideal material added to many garments to make them resist water entrenchment. Buy this material in boots, hats, gloves and even rain suits to keep you dry as best as anything can. Wool is pretty good for keeping you warm even when wet, but wool does little against a cold wind. Get a windproof liner garment underneath and you might be okay with wool.
As strange as it might sound, I have actually carried a large golf type umbrella on the rack of my ATV just in case. I can remember one rainy hunt perched atop a tall ladder stand in a steady rain. The big umbrella kept the rain off and helped to keep my gun dry under it, as well. I had several deer walk by the stand and they paid never-no-mind to me sitting there under that red and white umbrella. Wish I had a good photo of me in that stand. I never thought the idea original, but I never heard of any other deer hunter doing it.
Poor visibility can be an issue under rainy weather conditions, too. With even a hint of a droplet rain, there often comes a fog or a ground cloud that can easily obscure shooting lanes, wildlife food plots, or even open timber. Even so, deer like to creep about under these conditions, so if you are party to it, these can be great times to be after a big buck.
Using quality optics helps, particularly binoculars. I never use a riflescope to view a hunting lane or food plot as they just are not up to par for that job. You need a good 8 or 10×40 at the very least. Always have a clean handkerchief or lens cleaning cloth to keep glass clean and dry. Invariably a rain mist will blur binocular optics, so keep them clean and dry. I keep my binoculars under my orange hunting vest, which is over my coat. If I have them on a bench, I cover them up.
Be mindful as well of providing protection for your guns and ammo in the field during bad weather. Take a waterproof gun case if you have to, but there are also gun slips that can offer a measure of protection. Put a piece of electrical tape over the muzzle and cover the action to keep water out of the rifle and barrel.
Will deer move in a rain? Most assuredly nobody really knows, but if you are at home in the recliner, you'll never know. It is widely accepted that deer move prior to and just after any kind of a major storm front. You can learn when that is by watching reports on barometric pressures. As it sharply rises or drops, grab that gear bag and go.
Deer can hold up for some time when weather conditions are really bad. If one of the rare arctic fronts blows through, then southern deer hunker down big time. Last year in Mississippi we had two such polar fronts come through. Hunting was tough, but right afterwards it was very productive. Eventually all deer have to get up from their beds and protective cover to tap the native browse, get a drink, and test the winds for estrus.
If rains are light, then deer will move at any time. Hunt them accordingly. Pattern your deer so you know when they move. At my camp they just don't seem to move much in the mornings until around 9AM. They move again from noon to 2PM then during the last half hour of shooting light. This hasn't changed where I hunt for ten years rain or shine. Study your deer and know when they are most likely to move.
So, rain can delay deer hunting, but it certainly does not have to stop it. Hunters just have to adjust to the conditions as best they can and keep after it. Pick your times to take advantage of changing weather conditions and when and where to hunt. But try to go.