Hands-on with the Silencerco Salvo 10
Jon Stokes 01.19.15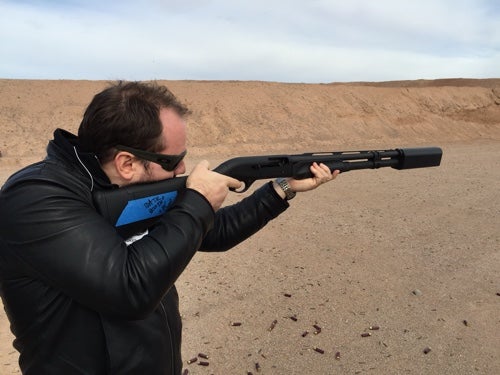 I feel like I'm the last person in the gun press to actually shoot Silencerco's famed shotgun silencer, but I was glad to get my turn at the SHOT 2015 Range Day. We got a walkthrough of the function an design of the Salvo (video to follow soon), and then I proceeded to shoot a few rounds out of a Benelli M2 without ear protection.
My reaction to the experience was basically, "Yeah, this is how it's supposed to be. Less recoil, less noise. It's actually pleasant to shoot a 12 gauge now." Not being a shotgunner, there are a number of items on my wishlist that I'd get for $1,400 before I'd shell out that amount for the Salvo, but the it is definitely on the list, now.
A Salvo-equipped shotgun could, in theory, make for a great home defense gun, since shooting an unsuppressed 12 gauge indoors is not anyone's idea of fun. But the problem is that it adds 10 to 12 inches of length to the barrel (depending on the model), which makes it much more unwieldy indoors. I wonder if it wouldn't be possible for them to offer a customized Mossberg barrel with the Salvo permanently attached to it and accounting for 10 inches of the legally required 18.5. They'd have to change the design of the unit pretty drastically to make that work. It's probably a dumb idea, but a guy can fantasize.