Elcan Specter TR 1-3-9: The One Optic?
Jon Stokes 01.21.15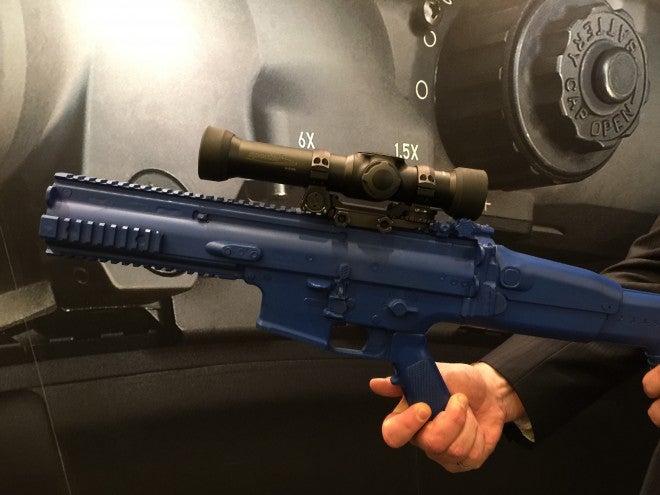 I was able to stop by the Elcan booth at SHOT 2015 for a little hands-on time with Elcan's Specter offerings. I had already shot with the Specter DR at Range Day and was beyond impressed with the optic's combination of clarity, wide field of view, generous eye relief, and overall quality, so I actually spent most of my time looking at their (relatively) new, $3,100 MSRP Specter TR 1-3-9.
Like the name implies, the Specter TR 1-3-9 is a variable-power optic that offers 1X, 3X, and 9X levels of magnification. There's a very fast, easy-to-turn selector knob on the optic that lets you quickly move between all three levels, and the reticle stays illuminated at each level. The true 1X magnification level gives you a red dot, and when you zoom out it offers and illuminated reticle.
At over 10 inches long and 30 ounces, this is a brick of a scope. I gotta say that I wasn't quite as impressed with the glass on it as I was with the Specter DR. Comparing the two side-by-side, the TR seemed to be a bit darker, and the FOV a bit cramped. As much as I fantasize about putting an Elcan optic on my LM8MWS in .308, I think I'd have to go with the shorter, lighter, cheaper, and brighter DR.
Still, I think the Specter TR should be on anyone's short list for The One Optic, because that's exactly what it was designed for. I personally am holding out on that The One Optic purchase, because unlike ARs, which seem to innovate now only in colors and other cosmetic features, optics are one place in the gun world that's still improving at a healthy clip. This gives us all another option.
Speaking of options, here's what I'm liking for a The One Optic in order of "want":
Leupold Mark 8 CQBSS H-27D
Elcan Specter TR 1-3-9
So, what am I missing, and/or is the order all wrong?