Got $56,000? Colt Would Like to Sell You a Model 1877 Bulldog Gatling Gun
Rob Reed 01.22.15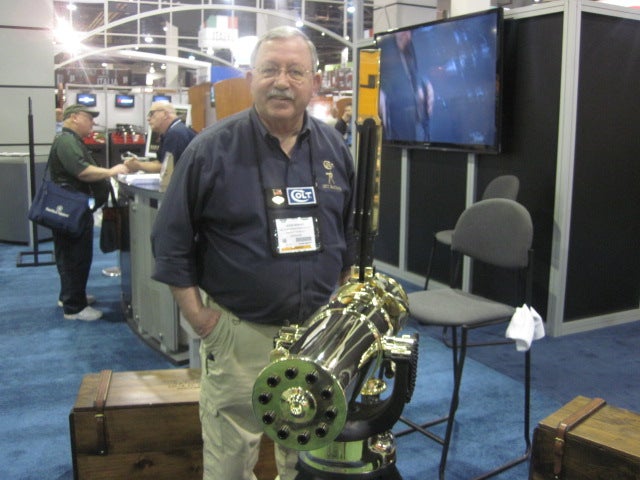 If you have $56,000 burning a hole in your pocket and want a neat reproduction of a historic firearm, check out the Colt Model 1877 Bulldog Gatling Gun
These guns were originally manufactured in 1877 and went out of production for over 138 years until the design was revived by U.S. Armament Corp. in 2009. U.S. Armament Corp. V.P. John Buhay told me that while initial sales of the gun were strong, they were based on personal connections he'd made among machine gun collectors and dropped off when that market became saturated. He said the decision to make the gun for Colt under license opened the gun up to a much wider market.
The Model 1877 Bulldog Gatling Gun fires the .45-70 Government round through five fully enclosed brass barrels. The gun comes complete with a brass and iron tripod with wooden legs, transit chests, tools, and accessories.
The success of the relationship between Colt and U.S. Armament Corp. has led to the Colt Classic Remake Program, in which selected classic Colt firearms will be remanufactured and sold.
Watch the video from the SHOT Show floor to see John Buhay demonstrate the workings of the gun.