The New Leatherman Tread Bracelet Multi-Tool
Russ Chastain 01.22.15

I'm not much for jewelry, but I don't like to be without a Leatherman. When I travel by air, I really miss having my handy-dandy Juice for all those incidental things that come up.
Here at the 2015 SHOT Show, Leatherman has just introduced a thoughtful new product that will appeal to people who like jewelry, watch people, and all of us who hate flying without our tools. They're calling it Tread, and it's pretty nifty.
The TSA-approved Tread is essentially a chain, at a glance resembling a motorcycle chain or tank tread, and the links are actually tools.
Each link is made by metal injection molding and has a number of tools built in. Links can be removed, added, rearranged, or whatever, so you can adjust it to fit your wrist within 1/4″ or so.
The clasp even has function: it's a bottle opener and no. 2 square driver.
Looking over the Tread, it looks very versatile, at least when it comes to the wide variety of tools built into the links. There are also hex wrenches built in, a cutting hook, oxygen tank wrench, and more. In fact, here's a rundown:
Cutting hook
Bottle opener
Carbide glass breaker
Pick/Sim card tool
No. 2 square drive
1/4″ socket drive
Box wrenches: Oxygen tank wrench, 3/16″, 1/4″, 5/16″, 3/8″, 10mm
Hex wrenches: 3/32″, 1/8″, 3/16″, 1/4″, 5mm, 6mm
Screwdrivers: 3/32″, 1/8″, 3/16″, 1/4″, 5/16″ flat; Nos. 1 and 1-2 Phillips

Weight is listed as 5.3 ounces, but will of course vary as you add or remove links. Available in stainless steel with or without black DLC coating, the band is 1.2 inches wide. Shipping is slated to begin in May.
If you opt for the watch, known as the Tread QM1, you'll have to wait a while longer. It's not scheduled to ship until September. It will be Swiss-made, with a scratch-resistant, curved, double-dome sapphire anti-glare crystal. Rotating bezel ring, glow-in-the-dark markings, and 200 meter water resistance come standard.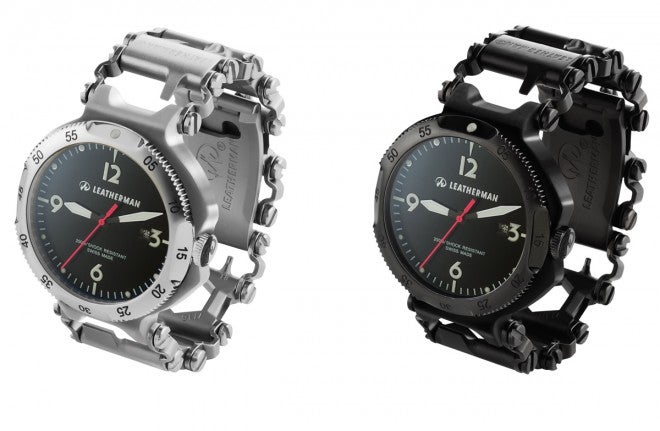 The Tread was created after Leatherman President Ben Rivera was turned back at the Disneyland gate for having a Skeletool in his pocket. Good for him. I too have been turned away for having a Leatherman, and it isn't pleasant.
You might not think a bracelet wouldn't be good for driving screws, but when you flatten it out, it stiffens pretty well. It's not ideal for most jobs, of course, but it's something that can be there when you need it–and it's travel friendly.
MSRPs are on the hefty side: $150 (stainless) and $200 (black DLC) for the bracelet, $200 (stainless) and $240 (black DLC) for the QM1 watch version.