Ready Aim Rifle and Bow Carrier by All Day Gear
Russ Chastain 01.22.15


At the 2015 SHOT Show, I took a turn through the press room, an area where exhibitors place information about things they wish to call to the attention of us writers. I noticed a small card showing something called the Ready Aim Rifle Carrier by All Day Gear. I've been down a similar road before, having previously reviewed a similar product that didn't really cut it. If there is a better way to carry a rifle or shotgun when hunting, I want to know about it.
When I found the booth, a husband and wife greeted me: Scot and Sandy Gump. Scot, the inventor, stood with a long gun lying horizontally in a simple but effective hanger strapped around his waist.
The hanger is made of fabric, with U-shaped polycarbonate inserts to shape it. The interior is lined with soft fleece that should be quiet and won't harm your gun's finish. The camouflage exterior is also made with quiet fabric, so rubbing against it won't announce your presence to all the critters. The part that goes against your body is mesh-covered foam, so it's breathable.
The polyester belt and shoulder strap are two inches wide, and the waistband adjusts from kid-sized to 53 inches. Buckles are quick-release. Scot told me the shoulder strap is not there to support the weight of the gun, but to provide some balance in the event that the gun is positioned so that it's heavier on one side than the other.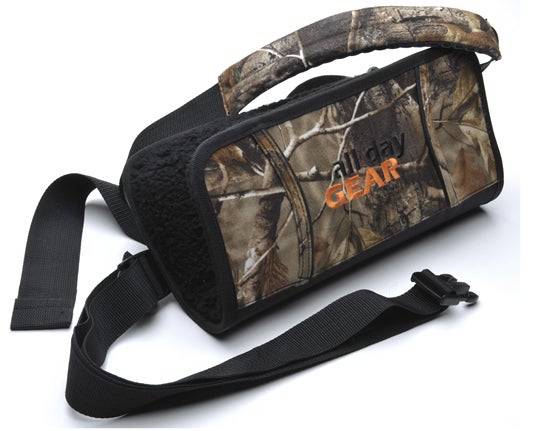 We hunters know that slings are often a pain. They put weight on one shoulder or the other, they love to slip off your shoulders, and they flip-flop around when you aim at game, possibly giving away your location. The Ready Aim Rifle Carrier keeps the gun in a fairly stable position so you can take your hands off of it to call, rattle, take a drink of water, eat a snack, or whatever while it conveniently waits in a ready position.
To raise the gun, simply pick it up. There are no latches. Sandy emphasized that the intention is to hold the gun just firmly enough that the carrier stays in place when you remove your rifle or shotgun.
Sandy said of her husband, "He can stand out there all day like that!" Holding a heavy rifle or shotgun, that is. No wonder they named the company All Day Gear.
Scot was inspired to come up with this invention by watching his son struggle to carry a rifle while hunting. He created a prototype, friends and family encouraged him, and the rest is history.
The Ready Aim Rifle Carrier looks pretty doggone handy–check it out.