Colt Leaks Model 1903 General Officer's Pistol Recreation at 2015 SHOT Show
Rob Reed 01.23.15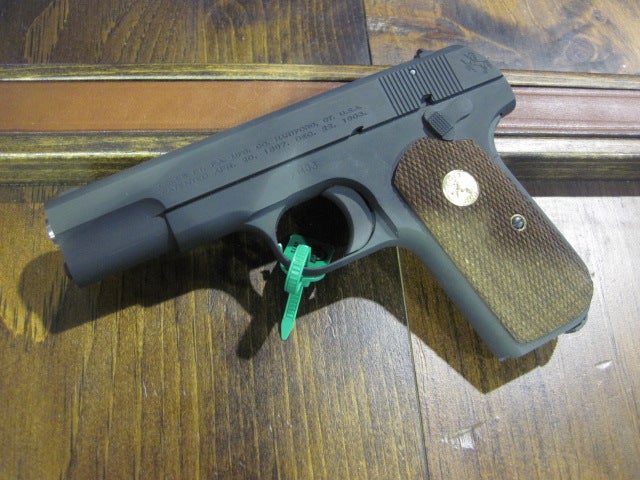 As today is genius firearms inventor John Browning's birthday, which makes it an incredibly appropriate day to write about Colt's "soft leak" of their recreation of one of the master's long out-of-production classic pistol designs.
The company has commissioned a license-built limited run of the Colt Model 1903 General Officer's pistol in .32 ACP. This Parkerized version of the popular civilian Colt Hammerless design was issued to American Generals starting in World War II. The manufacture of the pistol ended in 1945, and remaining pistols were issued until supplies ran out in the 1970's.
While I have yet to see any official announcement from Colt on this project, images of a sample pistol displayed in a glass case at Colt's SHOT Show booth have appeared on the web. When I asked a Colt rep about the pistol in the case, he directed me to Curtis Wolf, the man responsible for the pistol, who then pulled a second pistol out of his pocket for me to handle, photograph, and drool over.
The Colt Model 1903 is a single-action pistol with the hammer concealed under a hump in the frame. The "hammerless" designation was more of a marketing conceit as the pistol was designed for discrete carry from the onset. The original civilian versions were offered in the rich Colt Royal Blue finish and a Nickel finish, while the military issue version was given the more durable, but less attractive, Parkerized finish.
The reproduction gun I handled matched the details of the General Officer's Pistol down to the patent marks on one side and the U.S. property marks on the other.
The reproduction pistols are being manufactured by U.S. Armament Corp., under license from Colt, as part of the "Colt Classic Remake Program." Curtis Wolf, President of U.S. Armament Corp., said this program was an extension of the success the two company's had with the earlier recreation of the Model 1877 Bulldog Gatling Gun. Another gun being produced under this effort is a reproduction of the original Colt manufactured commercial version of the Browning Automatic Rifle.
"This is the only way guns like these can be made," Wolf said. "If it wasn't for this program, we'd never see these classic designs made again with the Colt name."
Watch the embedded video to hear Curtis Wolf describe the process used to recreate the gun and discuss future plans for the Model 1903.