New from LWRC: CSASS is a Lightweight, Premium AR in .308
Jon Stokes 01.23.15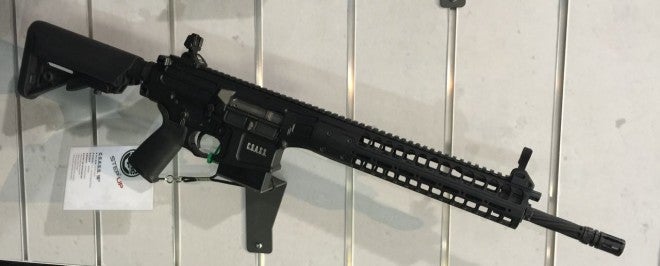 Back when I first got into black rifles, I faced a choice: LWRC or LMT. For reasons of convenience (LMT was available at my local gun store) and parts interchangeability (LMT's Modular Rail Platform gives you amazing flexibility and modularity), I picked LMT. But I do love to fantasize about the grass on the LWRC side of the fence.
The company's brand new CSASS rifle is a case in point; it was created in response to a federal RFP for a Compact Semi-Automatic Sniper System.
They took some of the engineering from their new IC family of carbines and incorporated it into a state-of-the-art 7.62×5 1 dream gun. This thing is loaded:
16.1″ spiral fluted barrel
SOPMOD stock
8.75lbs weight (about a pound lighter than the REPR)
Monoforge upper receiver
Geissele SSA trigger
Fully ambidextrous lower
24-position adjustable gas block
Reduced weight via relief cuts in upper
They packed all of this into a svelte 8.75 pounds, making this one of the lightest "AR-10"-format rifles on the market. It's handy and well-balanced, especially for a piston gun (they can run a bit barrel heavy). That combination of an adjustable gas block and a piston operating system make this a perfect gun for suppressed shooting. Pair this with Silencerco's new feather-light Omega can, and you'd have a beast of a lightweight DMR that his just as hard as rifles that are two pounds heavier.
When it hits the market in June 1, it'll probably cost a little bit more than the REPR. I couldn't get exact pricing, but I will update when and if I do.