The T-Rex: A $700 Survival Knife from Puma
Jon Stokes 01.23.15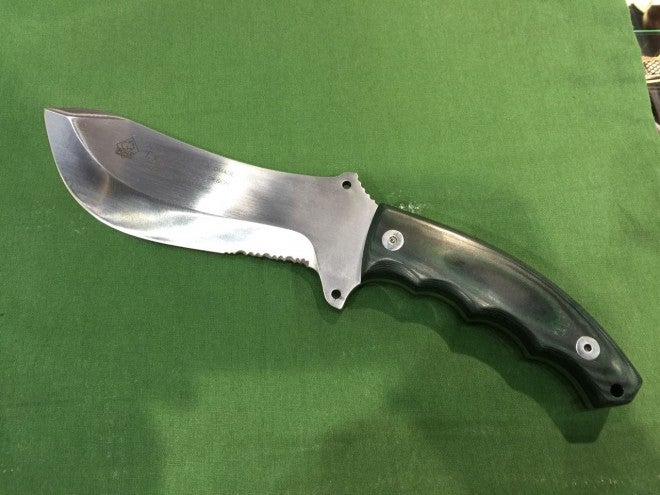 I mostly know German knifemaker Puma for their premium traditional folders and fixed blade hunters, which were highly coveted when I was growing up. But Puma typically takes a beating on knife forums nowadays. The consensus seems to be that their heyday was 20 years ago and that they just haven't kept up with the times. Given that they're putting out a ton of low-end to mid-range knifes in old-school stainless flavors like 440A, I'm not surprised that this is the knife knut consensus on the company. Knife knuts go for the latest and greatest techno-steels, and honestly that's as it should be. Knifemakers should stay current or be left behind.
But I certainly saw some knives at the Puma booth that give me hope that the company's high-end products are catching up, and this may trickle down to the rest of the line. The T-Rex is a case in point. This monster of a survival knife, pictured above, ticks all of the boxes: a modern steel in Bohler N690 paired with beautiful canvas micarta handle scales. The blade shape, a design attributed to one "Matho" (I have no idea, and Google doesn't seem to know either) is a little reminiscent of the Tom Brown Tracker to me, and it feels fantastic in the hand.
I know a good knife when I get my hands on one, and I really liked the T-Rex. In terms of fit and finish, it doesn't quite take your breath away the way that the Fallkniven Northern Lights series does, but it definitely holds is own with, say, the Al Mar SERE Operator that I handled right before hitting the Puma booth. Only time and testing would tell how it stacks up to the Busses and Fallknivens that make up most of my fixed-blade collection, but I have high hopes on the chance that I can get my hands on one.
The N690 steel that they selected for the knife is an Austrian stainless that's popular with German and South African knifemakers, and it's often compared favorably with VG10. It's not one of the super-sexy exotics that you find in this year's batch of high-end fixed blades, but it's certainly no slouch either. And as always, heat treat and edge geometry are everything, so it's impossible to tell if this knife can keep up with the competition with nothing but a spec sheet and some fondling to judge by.
There is one glaring problem with this knife: the $700 price tag. That much scratch will get you a lot of knife from many custom and semi-custom shops. Unless the Germans have rediscovered the "Damascus Secret" in their heat treat of N650, then $500 would be pushing it for this knife. But $700 is just nuts, especially given that I later handled a drop-dead gorgeous $700 Damascus full-custom from Lionsteel that was handmade by the company's founder (more to come on the latter).
Price aside, I'm going to follow up with these guys and try to talk them into sending me one to try out. I want to be convinced. I have fond memories of Puma from my Boy Scout days some 20 to 30 years ago, and if these guys are moving in the direction of the kinds of modern materials and designs that generate buzz among today's knife knuts, then that's a story that would be worth talking about.
Also, check the gallery for a look at some of the stunning, handmade fixed blades below. I literally can't find anything about these online, which means I'm going to have to do some more digging to find out where they retail and for how much.