New Military 1911A1 and 40th Anniversary CZ-75B From CZ-USA
Rob Reed 01.30.15

In addition to the Bren and Skorpion pistols CZ-USA recently came out with two more traditional pistols that were on hand at the 2015 SHOT Show.
The CZ 1911A1 is the company's take on the classic military 1911A1 pistol. It appears CZ-USA drew on the experience of their subsidary, Dan Wesson, in the creation of this "mil-spec like" 1911.
The CZ 1911A1 is faithful to the overall appearance and general construction of the military issue pistols. The frame and slide are made from forged carbon steel treated with a dark black oxide finish. The characteristic arched mainspring housing, spur hammer, and small thumb safety of the original are replicated in this clone. The grips are checkered Walnut.
The pistol does include some upgrades designed to make it perform better than the military originals. The frame and slide fit is tighter, the barrel is made from stainless steel, and the sights are taller and more useable. The front sight is also dovetailed into the slide so it can be drift adjusted or replaced if desired. The solid trigger is aluminum, not steel, and the factory spec calls for a 5-pound trigger pull. The mainspring housing, slide stop, and magazine release are all serrated. The gun ships with two 7-round magazines. The MSRP is $849.
I handled the CZ-1911A1 at the CZ-USA booth at the 2015 SHOT Show. While it is not an exact copy of the military pistol, it does give the "look and feel" of a G.I. gun. With the exception of the front sight, I didn't notice the small changes until they were pointed out to me. I'm looking forward to trying one on the range to see if this lookalike truly performs better than the originals.
The second CZ-USA pistol is the 40th Anniversary edition of the company's flagship CZ-75B. This 9mm pistol has become extremely popular world-wide since the introduction of the first "short rail" CZ-75 in 1975. The CZ-75B 40th Anniversary Edition is a limited run of 1,000 pistols. Each pistol is hand engraved in The Czech Republic by CZ master engraver Rene Ondra. The pistol is then polished and finished in a deep glossy blue with the controls, extractor, grip screws, and magazine baseplate finished in rainbow titanium nitrate. The California birds-eye Maple grips are dyed to match the colors of the frame and controls. Each pistol comes in a leather bound presentation case with two 16 round magazines and a certificate of authenticity. The MSRP is $1,499.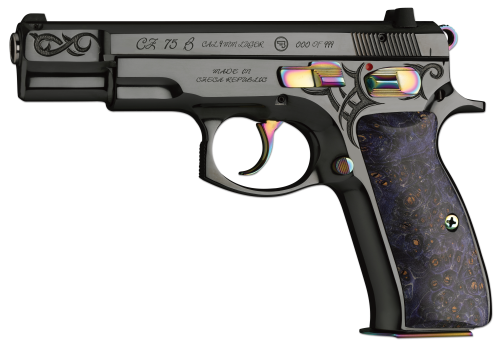 I also saw the CZ-75B 40th Anniversary Edition at the 2015 SHOT Show. The engraving and coloring work to reflect and catch the light. To see the effect, watch the video from the CZ-USA booth at the SHOT Show.