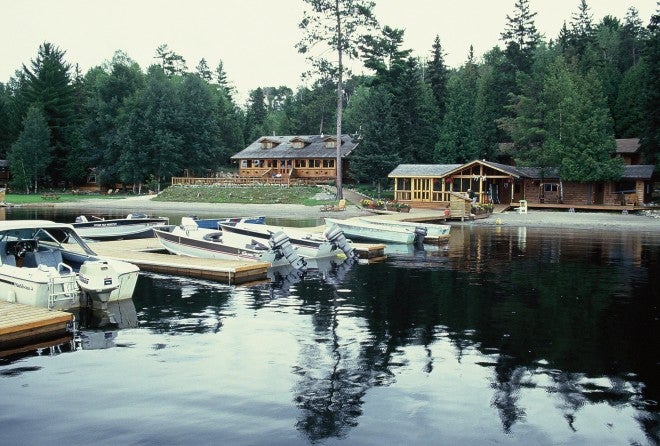 Sometimes in fishing you just know what's going to happen even before the first cast is made. There's a certain feeling of confidence about a place that is just so perfect, so "fishy," that you can't fail to connect with bass.
That's how I felt that golden warm summer morning as we slowly drifted away from the rocky, heavily-timbered shoreline of little Upper Bass Lake. Four of us were tightly packed in a small aluminum skiff, and while everyone rigged lures to rods, I spotted a rocky hump with weeds growing on it in the air-clear water. A quick check of our fathometer showed the bottom below the boat was 25 feet down, but with polarized sunglasses I could see weeds and the rocky bottom of a hump about 8 or 10 feet deep.
That's when that "fishy" feeling came over me.
As the boat glided toward the hump I fired a cast to the spot with a 1/4-ounce, crawfish-colored crankbait. The lure landed beyond the rocks, and I cranked it down with a fast retrieve. The lure dug deep, bumped the hump once, twice, three times, then WHAP!! A good fish crashed the lure.
Instantly a smallmouth jumped, and I was stunned to see a solid 3 1/2-pounder in the air. The fish jumped again, ran, then leaped a third time beside the boat.
The first jump got the attention of my fishing friends, who were still rigging rods and tying on lures. But they ignored the rest of the fight as their hands moved fast to string line through rod guides and tie on lures so they could begin fishing, too.
No one was yet ready with a rigged rod when I brought my smallmouth beside the boat, which was a big problem because following my bass were six other bronzebacks none smaller than the fish I had hooked.
"Quick! Quick! Get a lure down there, Hurry!!" I barked at my companions. "JJeeeeezzzzz! Those bass are trying to steal my lure from the fish I've got hooked. Drop somethin' in the water. NOW!!"
Still no one had a rod rigged, and my shouting made them all the more nervous and frustrated as they tried to tie on lures they kept dropping and kicking around in the boat–all while my bass and his buddies sloshed water at boat side.
Suddenly I realized I had a jig tied on a light-action spinning rod resting in the boat at my feet. I grabbed it, stuck the rod holding the hooked fish under one arm, then opened the spinning reel bail on the second rod and flipped a 1/8-ounce yellow grub to the school of frenzied smallmouths.
The lure didn't settle six inches before a 4-pounder sucked it deep, and I set the hook.
"Aaahhhhhhhhh! Will someone please help me and take one of these fish?" I said to my friends whose heads were buried in tackle boxes in the boat bottom.
Not often have I fought a pair of smallmouths simultaneously that cumulatively weighed over 7 pounds, but that's the way our trip began on Upper Bass Lake, a portage-in spot off Lake Obabika in east-central Ontario, located north of Toronto and a 2 1/2-hour drive from the town of Sudbury.
And the fishing remained just as good through that day and for the next several days that friends and I tapped the remarkable, smallmouth-filled waters of Lake Obabika and its surrounding portage-in spots.
Ontario's smallmouth bass fishing is well known and world class, but for some reason the province's better known waters are in the western region. Yet the eastern part of the province has some lakes jammed with big smallmouths, too. And surprisingly some of them, like Lake Obabika, are easy to reach even by automobile.
Obabika is a huge, deep, clear Canadian-shield lake. I doubt a pair of good bass anglers could cover all of it in a month of daily fishing. There are long "arms," coves, bays, rocky outcroppings, islands and narrows everywhere, which afford sheltered fishing in even strong wind. Lake Obabika Lodge is on the lake, and there are some privately-owned cabins that dot the shore. Most are weekend retreats for city-living anglers out of Sudbury and Toronto.
Smallmouths are the most abundant and important sportfish on the lake. Obabika has some pike and lake trout, but smallmouths are the primary target. Bronzebacks average 1 to 2 pounds, we caught 3 to 4 pounders daily, and the lake record is a 6 1/2-pounder, which is a huge, old Canadian smallmouth. Curiously, the lake has no walleyes, nor do most of the surrounding "portage-in" lakes. But those little walk-in jewels are stiff with bass, offering great fishing and rarely are other people encountered.
My first full day fishing was on such a lake, called Upper Bass Lake, described at the beginning of this story. We ran to the far end of Obabika in a big, stable 16-foot aluminum skiff, then unloaded our fishing gear and packed it about a 1/2-mile across a wooded, rocky ridge to Upper Bass Lake. That day we easily caught 100 smallmouths and had many fish in the 3-pound class.
We took bass on just about everything, but crawfish-colored diving crankbaits, small in-line spinners, small plastic worms, grubs, and tube lures were most deadly. Every hump, rocky point, and large, submerged boulder held fish.
Other prime portage bass lakes also can be reached off Obabika, such as Wawiagama and Clearwater.
Obabika is a 22-mile-long wilderness lake with meandering channels and nearby ponds accessible by portage within the Temagami-Smoothwater-Lady Evelyn lake system. It's also part of the Sturgeon River system, which feeds the French River and ultimately Georgian Bay.
It's open from mid-May through September, with good bass action available all through those months. Big fish are best in June and from mid-August through September. From what I experienced, chances for 3 to 4 pounders daily are good for savvy anglers who fish correctly.
Lake Obabika Lodge is on the lake and is a great place for anglers to headquarter. It's a popular spot, and reservations should be made well in advance of the season.