Browning Black Label 1911-380
Oleg Volk 02.05.15

Browning Black Label 1911-380 was the pleasant surprise of the 2015 show. Unlike the other micro .380s I tried on the same day, it was very comfortable to shoot and showed great accuracy. All nine shots touched at 7 yards and usually formed one hole size of a quarter.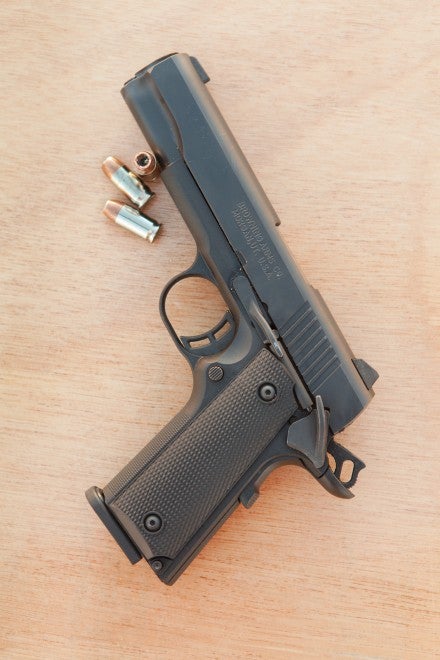 A polymer-framed 1911-style pistol, it features the original controls and shape, but at 85% of the 45's dimensions and about 1/3 of the weight at 15 ounces. The weight reduction comes mainly from the polymer frame. It feels even smaller than it looks because the weight is low for a relatively long pistol with 4.25 inch barrel.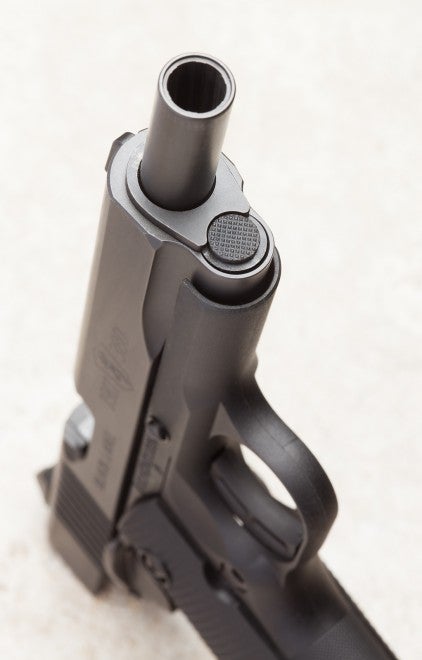 That much barrel gives it an increase of muzzle velocity by 100-120fps over the shorter competitors like Colt Mustang. Take-down is very similar to M1911, complete with a knurled recoil spring cap retained by a separate bushing, but the barrel is link-less. The magazine holds a useful 8 rounds, and two of them are included with the pistol.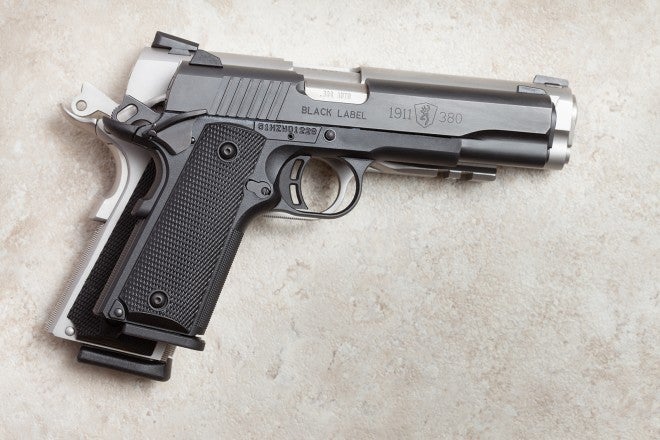 Sights are plain black but very functional in daylight. I shot about fifty rounds of Winchester JHP ammunition through it, firing with either strong or weak hand was likewise comfortable and without malfunctions. This pistol is less of a hide-out gun and more of a lightweight update of the popular Colt Hammerless .380, producing as little felt recoil and greater accuracy with 30% less carry weight. It would be ideal for training teenagers or for carry by people with small hands. 1911-380 is nearly identical in size and weight to Browning's earlier 1911-22, so that the pair makes a perfect trainer/carry match.
Compared to 9mm M1911 types, this 380 wins in compactness, light weight, and low recoil. Compared to the slightly smaller 380s like Kimber micro-1911 and similarly sized, heavier Armscor pistol, it wins greatly in the comfort level with far milder recoil. As a backup to a full-size 1911, it wins in the similarity of ergonomics and manual of arms. The only down sides found so far are the daylight-only sights and a magazine disconnector. The finish of the pistol is plain, but the fit is excellent, which shows in the reliability and the accuracy. It was designed to fit the same niche as Glock 42 and provides stiff competition to the Austrian pistol.