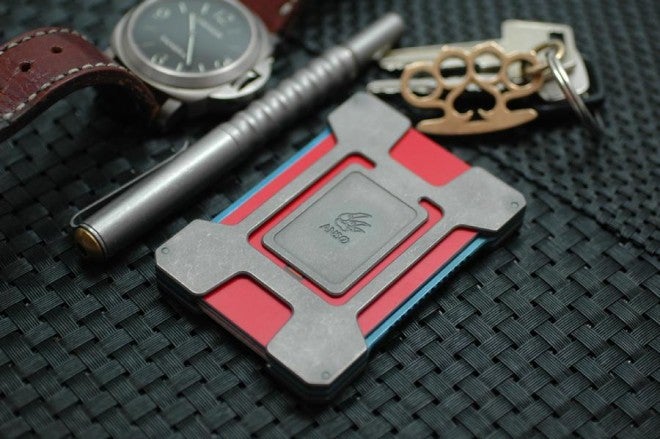 Jens Anso (pronounced Yens An Sue) is one of the finest custom knife makers around. His designs are both useful and original. His knowledge of materials is first rate, and his completely fresh approach makes for some stunning blades. And while he is a fairly accomplished knife maker, he is also an industrial designer and has made quite a few interesting, non-knife EDC products.
Among his designs are a few different versions of a carabiner-based multitool, a few pens, and a few different one-piece multitools. Virtually all are universally beloved. Last year he released a small run of card holders and they sold out quickly. The design, a sandwich of titanium and G10 (the titanium is the bread and the G10 the meat), looked amazing and was very light. It was, however, hard to scale up for a one man shop and ultimately the batch sold out and was not restocked.
Well, Anso decided to scale up the design with the help of an American company and launched the project on Kickstarter. Here is the page, with a great video explanation.
As a Kickstarter project, the Matrix hits a chord. There are dozens if not hundreds of wallet/cardholders on Kickstarter. Some are really gimmicky baloney, nothing more than a rubber band and a few rigid pieces of plastic. Others are beastly designs, seemingly meant to both carry money and block bullets. The Matrix seems to ignore both ends of the spectrum. It is totally different than a normal card holder, but it is not like the weird stuff elsewhere on Kickstarter. Above is an image of the wallet from Anso's site, www.ansoknives.com:
There are few things that lead me to believe that this product will be a winner. First, unlike a lot of folks on Kickstarter, Anso has a proven track record of not only delivering products to consumers, but scaling up his designs and having them delivered, to spec, by large companies. He has had collaborations with Spyderco, Boker, and Fox Cutlery, and many of the designs have been well received. I personally loved both the Pingo (which was a collaboration with another Danish knife maker, Jesper Voxnaes) and the Zulu, both of which were made by Spyderco.
Second, the tension mechanism is tried and true. Essentially the design relies on a bent piece of titanium, the same thing as the lock bar on a titanium framelock. We know from experience that this design works and is simple. And finally, there is the design itself. It is clean, allows for a user to show an ID without removing it, and allows for instant access to the top card, the bottom card, or any card in the middle.
The Kickstarter's goal was around $1,800. It has currently raised around $48,000 (the goal was in Kr, so the conversion rate isn't precise and changes daily). There are plenty of backers, so this project is a go. If you want in on a very unique card holder, you still have a few days left. Anso's creativity and track record lead me to believe this will be a functional, long-lasting, and interesting piece of gear.