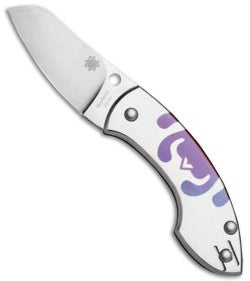 The Spyderco Pingo was one of my favorite knives that I've reviewed in the past two years. It is frankly the complete opposite of everything I think I like. I thought it would be either the worst modern style knife (no lock or one hand deployment) or the worst traditional folder (ugly plastic handles and jelly bean shape). But in a perfect example of good design winning out over everything else, I loved the Pingo. It was light, it had an amazing blade shape, and it cut like a deli counter Hobart.
For a lot of folks the Pingo was the Dragonfly–a small, well designed knife perfect for an EDC role. Those folks live in countries with restrictive knife laws that ban both locks and one handed deployment. Under those constraints, there is little better under $200 than the Pingo. The Anso/Voxnaes blade shape was surprisingly awesome, working something like a mini Rock Lobster. The high hollow grind was great, and the handle was stunning.
But it seemed…well…um…cheap. The gaudy Spyderco logo on the plastic handle helped make the great design seem like something less than awesome. Given the legal restrictions, there were very few nicer carry knives in the Spyderco line up (remember no one handed deployment eliminates a bunch of higher end Slipits like both the Terzuola and the titanium UKPK). Well, Spyderco released a huge batch of blades just before SHOT Show, and among them was a simply gem-like version of the Pingo.
There was a hole in the market, as evidenced by things like the Stag Handled Cuscadi Pingo (I would have preferred Stag to titanium. Geez, it's official. I am an old man).  People craved a nicer version and Spyderco obliged.
The titanium Pingo has, of course, titanium handles, the wonderful handle and blade of the original, and it runs Elmax steel instead of N690. It also costs $210 street, making about $160 more than the original. The titanium also adds some weight. The original Pingo was a pocket feather at 1.9 ounces. This one is not exactly burly, but 3.0 ounces is substantially more.
The Ti Pingo will sell. There is that hole in the market I referenced above, but there is also a certain charm to this knife, one that lends well to a Sprint Run version. The knife also not that expensive. The leap is big, but that is because the original was so budget friendly. This isn't like the Ti Militaries, Natives, or Chapparals. This isn't a $350 production knife not made by Chris Reeve. $210 is steep for a small blade, even one with titanium and Elmax steel, but it's not nutty (see: Spyderco LionSpy). I figure that this is a price increase proportionate to the materials, once you add in the recent Spyderco tax. They seem to be moving towards the higher end of the market, especially in the last year. Releases like the G10 and VG10 Kiwi 3 that would have been $60 knives before are now $100 knives. So with that pricing trend in mind, it's easy to see how Spyderco came to the price tag.
All that said, I can't help think that the logo is still a garish scar on an otherwise stunning blade. If the entire handle was that bluish purple color, I'd be happier, but you are still looking at one hell of an EDC knife, especially if you are contending with legal restrictions.