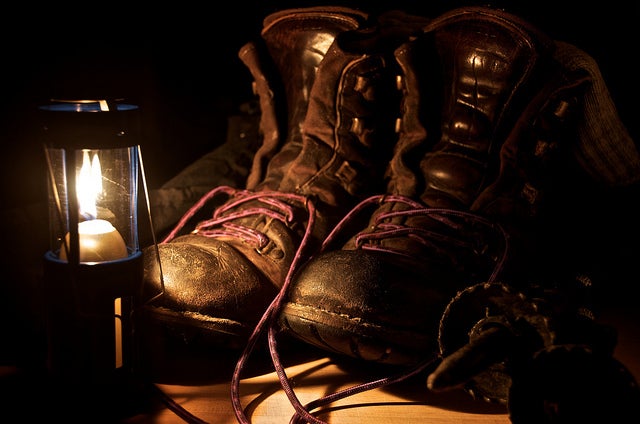 Proper outdoor footwear is literally the foundation of your outdoor adventure. It's so important, I'm dedicating several articles to help you get it right the first time.
When you're planning a hike in Ontario, you should literally start from the ground up and select a proper pair of boots before anything else. I've walked thousands of miles and worked for years in several well-known outdoor stores fitting boots. In this first article in the series, I'll share a few tips on footwear to build a solid foundation for an awesome hiking experience.
Note:: For all footwear suggestions, these are boots that I like and recommend because they fit me. If they don't fit you, my recommendation doesn't matter. Take them all with large grains of salt. YMMV!
Find the Right Boot Height and Weight for Summer, Spring, and Fall
Get the lightest, lowest shoe you can find.
Many outdoor enthusiasts embrace a dangerous philosophy I call "The Doctrine of Footwear Overkill." You can recognize adherents of this philosophy day-hiking a well-groomed trail in full-grain leather high-top boots. Later, you'll see them staggering along, pausing now and then to apply moleskin and soak their battered feet.
High-top, heavy boots have their place, namely in very cold weather, in extremely steep terrain, and with (50 lb+) heavy loads. Other than the cold, you won't deal with many of these factors in Ontario, so you'll be able to get away with much less boot. If you're worried about turning an ankle, cut down your pack weight and use trekking poles. It's highly unlikely that a 3-inch high strip of leather is going to prevent you from turning an ankle anyways! Remember that each pound of weight on your feet is equivalent to 6 pounds in your pack. So use the lightest footwear you can, and use the "extra" weight to bring some whiskey or a good book!
Gear Tips:
High End: 
The Merrell Moab Ventilator is more supportive than a sneaker, lighter than a boot, and about as breathable as flip-flops!
Middle-of-the-Road: The Keen Oregon PCT is an exceptionally solid boot. It's "high-end" in terms of quality and fit, but a bit heavier than I like. If you like more support, this may be your go-to boot!
It'll work in a pinch: Any cheap running shoe with decent traction will work in a pinch. Sure, they may fall apart in a month, but isn't that better than wrecking your vacation with blisters?


SHOP NOW
Find the Right Boot Height and Weight for Winter
There's no escaping it. You'll need a heavy boot for winter. Plan for a winter boot to weigh more than 3lbs per shoe. At this weight, you'll need to dedicate plenty of time to traipsing around to make sure your ankles and knees are prepared to accommodate these weighty boots.
Gear Tips:
High End: Baffin makes serious boots for slogging through very cold climates. 
The Baffin Impact is a massive boot for walking in bitter cold. If you can get used to clomping around, you'll be rewarded with no black toes!
Middle-of-the-Road: The Keen Summit County III boot is much more articulate than the Baffin, but slightly less warm. Keep this one above zero, and you'll hike happy!
It'll work in a pinch: Many off-brands produce waterproof overshoes. Layer one of these over a decent pair of hiking boots, and you'll add a few degrees of warm, though not enough to venture into serious cold. If you can't afford to make the investment in a pair of decent cold-weather shoes, save up until you can. It's not worth the risk.
Waterproof Footwear
I'm convinced that waterproof footwear is only useful in a very narrow range of conditions. Summer weather isn't one of them.
During Ontario's brief, toasty summer, you're likely to encounter a lot of rain, but you're also likely to encounter plenty of standing water, humidity, river and stream crossings, and hot weather. For every minute your waterproof boots keep you dry in the rain, you'll spend 10 minutes dumping water out of them after a stream crossing goes awry, airing them out because your feet have turned into a sweaty mess, or cursing the blisters they've given you when the liners bunch up.
For summer hiking in Ontario, I strongly recommend light, breathable fabric or leather boots. They will wet out rapidly when submerged, but they'll dry fast on your feet as you walk, and you'll end up drier than you would with a pair of waterproof boots that retain liquid as well as they keep it out!
As the weather gets colder in late September, waterproof footwear becomes much more desirable. Nothing dries as quickly, and feet don't sweat as much in cooler temperatures. Look for footwear that includes a waterproof-breathable membrane like GoreTex (stay tuned for the new Gore SURROUND technology in footwear).
During Ontario's blast-frozen winter, you're not getting away without a fully waterproof boot. Not only does the membrane keep your feet dry if you break through thin ice, it also adds a valuable degree of additional warmth by preventing heat-loss from evaporating sweat. Yes, it makes clammy feet more likely, but hey, it's better than black toes!
SHOP NOW
Gear Tips:
High End: Stay tuned for new GORE-TEX SURROUND technology. This membrane wraps the foot and permits venting from the bottom of the foot, too, through a specially constructed mid-sole and outsole. Look for it in ECCO and Salewa boots.
Middle-of-the-Road: I've had good experiences with most big-name water-proof breathable membranes in boots, including GORE XCR, eVent, and many of the "house-brand" WPB membranes.
It'll work in a pinch: High-quality leather treated with a quality waterproofing agent is remarkably water repellent and surprisingly breathable.
SHOP NOW
Sole
There are lots of quality sole compositions around these days. Vibram, Continental, 5.10, and others make quality sticky rubber compounds in a variety of different patterns. I'm not convinced a anyone can tell the difference between the various sole compounds at all, and if they can, the preference is highly subjective.
Additionally, I don't see big differences if the tread pattern is swirly circles, chevrons, diamonds, or the initials of the bootmaker!
I think sole selection is much more simply made by considering tread depth alone. Generally speaking, the looser and steeper the terrain you plan to hike, the deeper the tread pattern you should purchase. The firmer the terrain, the shallower the tread pattern. The logical extremes of this method of selection are obvious: For long, steep approaches up shallow pitches, an approach shoe with a nearly flat sole is typically worn. For rock climbing, where the surface is extremely flat and steep, a rock climbing shoe with a flat, sticky sole for maximum surface area is essential. For loose, rocky ascents a deep tread pattern is traditional.
Features
Modern footwear is chock-o-block with fascinating features–everything from new tongue designs to integrated bottle openers and straps that allow the footwear to be hung to dry. Be skeptical of new features and consider them secondary to fit and weight, but if you find a nifty feature that works for you, go for it! One innovation I've gained some appreciation for is BOA lacing technology. These wonderful little mechanisms allow you to customize the fit of a shoe by rotating a dial. Correct: No laces, no knotting, and no laces loosening!