M855/SS109 "Green Tip" Ammo Still In-Stock Online
billj 02.21.15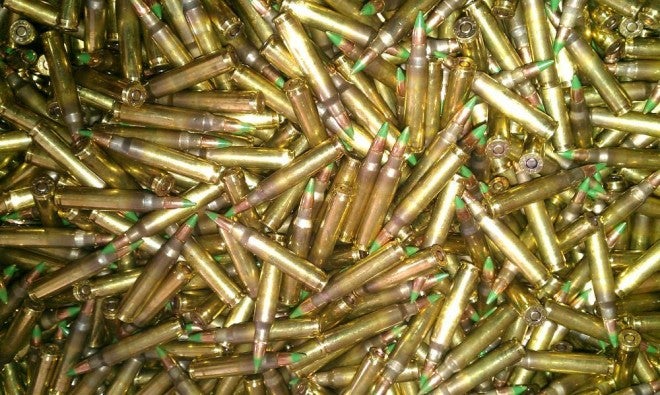 Despite the fact that the BATFE has NOT banned M855, panic buyers have begun depleting the stock from many vendors. Arguably one of the most plentiful flavors of AR ammo (aside from Eastern Bloc imports), M855 is really not all that great performing of a round, especially compared to a most of the others that are available. But, as with any perceived threat, people have been buying it up to either stock up or turn around and try and profit from (and even some vendors have been reported as re-listing their stock at a higher rate).
If you are fan of the round and still want to buy some, you can make use of some of the ammo search engines:
IronSights
IronSights has a pretty big list of in-stock M855 ammo (51 listings) with very few out of date links. Additionally you can save the search and get alerts.
Ammo Seek
Ammoseek lists 26 entries, most of which appear to be in stock. They also allow you to save the search.
GunWatcher
As of the time of publishing, GunWatcher has a large list (65 listings), but it's pretty stale. I'm not sure if you can save searches or not. The registration appears to be broken.
AmmoNow
This site only had one listing and no ability to share the search results link. You can go to their site and search.
WikiArms
WikiArms is not showing any in stock.
GUNBOT
Gunbot is not returning any listings (and you can't search by terms).
Ammo Spy
AmmoSpy didn't appear to have any listed. Note: you have to filter on manufacturer (I tried Lake City) and grains (62) since there is not a way to search on terms.
Update: From the comments, here's a better link for AmmoSpy with about 20 results.
Disclosure: The author is an employee of IronSights.com.