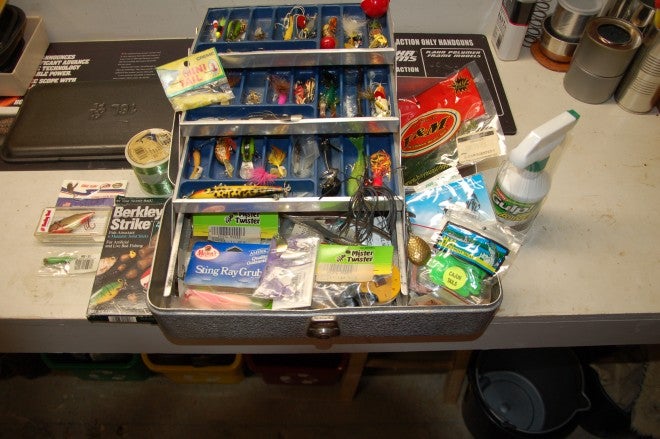 By now you're tired of hunting. Most of us are in the garage looking for a project before we have to get the lawnmower going, and I have just the ticket: it's time plan your next fishing trip and to start gearing up for the spring fishing season. Dig out those tackle boxes and fishing gear and get to work because if you're planning to travel and fish, you don't want your gear to fail you while you're far from home.
Many anglers don't take good care of their fishing gear. I've seen way too many boats pulled into a garage or driveway after the last fishing trip and never touched again. Some forever. Just imagine the condition of the rods, reels, and tackle boxes?
"The first order of business is to find everything. Then the second phase is to throw away everything that is broke, don't work anymore, was a bad purchase to start with, or just don't need" says Kerry French, a consummate crappie fisherman.
"I threw back the boat cover to discover a reel with a missing cover. That can cost nearly the same as a whole new reel. It's gone. There were two rods with broken tips. I will consider buying new ones. The trolling motor foot pad switch was sticking. Some Liquid Wrench will fix that. The anchor rope needs replacing and the outboard needs a complete tune up," French continued.
So to begin with, check around to lay your hands on all your fishing gear. Put it all in one location. Inspect everything with a fine tooth comb. If you own a boat, start there. Some have a designated corner in the garage or other spot in a storage room. Collect it all together, and then check each piece.
That means rods, reels, tackle boxes with tackle, electronics, motors, everything. Set aside what needs repair, parts, or otherwise some adjustment or attention. Clean and oil anything that needs it.
Get ready for some sit down bench work. You may balk, but don't. Take every fishing reel apart. Start by replacing the line with new stuff. Think about your most likely fishing exploits and add the correct type of line and pound test right now in advance of the fast approaching fishing season. It is a small cost now to avoid loosing a great fish later due to a frayed or weakened line.
With each reel, break it down to clean thoroughly. This could be as easy as a wash out with warm water and soap or perhaps blown clear with pressured air. Lube each reel according to the manufacturer's recommendations with the right lubrication materials. Spin a wrench on the crank handles to tighten.
Inspect every rod from handle to tip. On some rods the handles can be replaced
with cork or factory grips. For the tips, replace broken eyes. They don't mend easily. For rods that are severely cracked, they might best be replaced altogether. Avoid problems later by fixing these things now.
Open each tackle box and empty them out on the bench or kitchen table lined with newspaper. Start to reorganize the whole thing from scratch. Clean out every nook and cranny. Go ahead and throw out anything past saving. Make a list for new replacements that need to be bought.
Line up favorite lures for hook sharpening or decide which ones have seen one too many casts. Maybe they should just be added to a classic collection or a hanging wall display. Tighten all hook attachments.
Check plastic worm bags. After a few months in the garage they are probably all stuck together in one messy mass. Worms are fairly inexpensive so I would toss them in favor of an updated fresh selection. Inventory all consumable tackle goods like hooks, sinkers, bobbers, rigging connectors, crappie jigs, etc. Make a list of what to buy and make sure you do.
If your tackle box has a flashlight, which it should, replace the batteries. Make sure the electric fish knife works and/or sharpen fish cleaning cutlery. Are there landing nets to inspect? Minnow buckets? What about ice chests for the catch? Is it time for a Yeti®? Working over all the little details now will potentially save distresses later. Also shop around for new gear you might want.
All of these tasks make for a fun project well in advance of the fishing season. Maybe a good college football game is on the radio or a pro-football scramble on the portable television. Now can be a super time to tackle such projects. Just think, come spring you'll be far ahead of the curve for hitting the regional lakes or reservoirs for another year of fishing.
Check dates on boat and trailer licenses. Get a fishing license now before you forget it. While you're at it, grab a fresh bag of corn meal and some spicy fish seasoning. That idea makes the work go quicker.