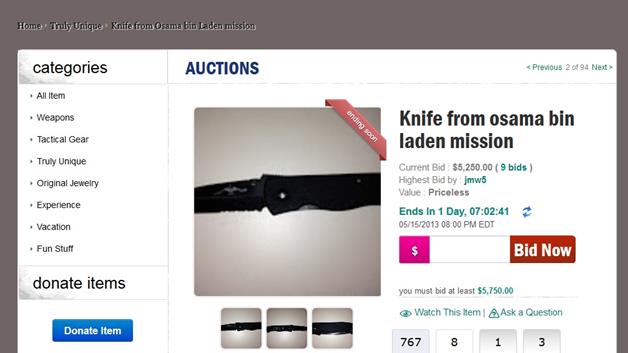 On May 2, 2011 news broke that Osama Bin Laden, mastermind of the 9/11 attacks, had been killed by US forces. Members of the US Navy SEALs along with support from the US Naval Special Warfare Development Group undertook a daring and simple raid deep within Pakistani territory. The mission, dubbed Operation Neptune Spear, was the perfect mirror image for the 9/11 attacks.
Like the attacks that launched Bin Laden into the international spotlight, Neptune Spear was simple, bold, and personal. This was not a drone strike or a bomb drop. SEAL Team 6's plan was much more audacious. They would fly two helicopters to the compound where Bin Laden was held up, jump out, find their quarry, and end his life. Despite losing a helicopter (and not having a tape measure), the plan worked, thanks to the truly heroic men and women tasked with this mission. After their return and some amazingly fast, cutting edge DNA testing, the news broke that a man of truly comic book level villainy was dead. It was one of three "remember where I was" moments in my life, the other two being 9/11 itself and the Challenger explosions.
But this is not really a story about Bin Laden or SEAL Team 6; their stories have been told elsewhere. Instead this is a quick story about a single piece of gear that went on this historic mission–Mark Owen's Emerson CQC-7.
Now, of course, the owner is not really named "Mark Owen." That is a pseudonym he took to protect his identity and his family. Owen is also the the author of "No Easy Day," a book describing the Bin Laden raid in great detail. But his knife, the waved, chisel ground, tanto tipped classic from Emerson Knives Incorporated (EKI), is now a blade of legendary status, somewhere in the pantheon of blades that includes Jim Bowie eponymous knife and Excalibur. But unlike those blades, which were myths or lost to the mists of time, the Mark Owens CQC-7 is very real.
The CQC-7 is one of EKI's evergreen designs and it is one of their first blades made. I had a chance to review its smaller brother, the Mini CQC-7, and it proved to be every bit the beast that EKI's reputation would have you believe. The full sized CQC-7 is a bit bigger, coming in around 3.3 inches. If you want to get really technical, Owen's knife was the CQC-7BW with serrations. The design is quite simple, and though I wish it were chisel ground on the other side, it is an excellent cutter. The G10 handles are over a simple but durable set of titanium liners. The knife, like the vast majority of Emerson blades, is a liner lock. Owen's blade is particularly scarred. In the shots of it, the blade has clear use marks.
Owen put the knife up for auction in 2013 and it sold for $34,500. All of the proceeds benefited Special Operations personnel and their families. Truly a worthy cause and a great price for what is easily the most legendary of blades in this century, and probably will go down in history as one of the most legendary ever.