If you are feeling confident in your sanity, go read some of the forum threads on the Mora Knives. For some they are the symbol of the true outdoorsman—basic and capable. For others, they are junk whose reputation is buoyed by phonies, hipsters, and other folks that don't know better. I am not really in either camp. I appreciate the low cost of a Mora, but sometimes you want something a little nicer. And when you dig, you realize that the Mora is but the latest iteration of a design going back hundreds of years. The puuko is probably the foundation of the Mora, and that knife is one that has an impressive heritage. The puuko, the knife of the Sami people, is one of the most storied tools in history.
The Sami people are the northernmost indigenous people in Europe, and their traditional territory is spread across Sweden, Norway, Finland, and Russia. Their lives, prior to the Black Death, were basically entirely separate from Europe. After the Black Death they mingled more with southerners (which is basically everyone when you travel SOUTH form your home to reach the Arctic Circle). When they did, they brought with them some excellent tools. Traditionally Sami worked outdoors herding reindeer and working on or near the water. Given the conditions and the tasks, their blades had to be sharp, simple, and robust. These are all traits found in spades in the traditional puuko. They are also found in spades in the Ahti Leuku, a marvelous fixed blade with traditional touches and superb details.
Description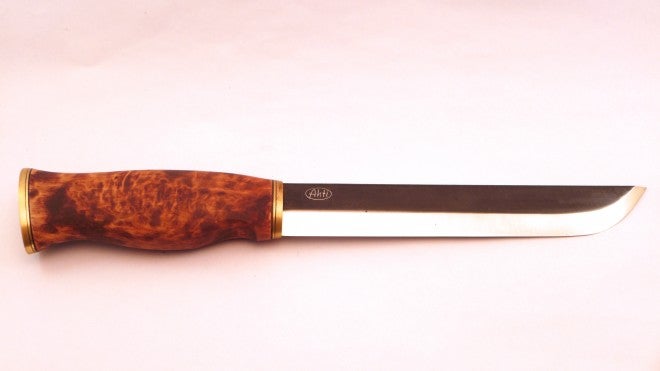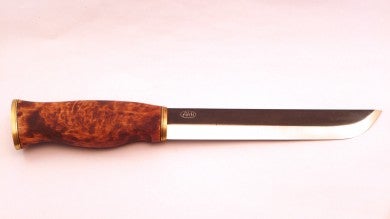 Here is a good product page for the Ahti Leuku 18 (the 7″ bladed model). Ahti, makes two kinds of knives, all in the Sami design lineage. Each knife is made by hand by Reino Kamppila. The knife reviewed here is his largest blade, the Leuku 180. It was a traditional high carbon model as opposed to his stainless steel models.
The knives have wonderful curly birch handles. They are shaped and contoured in a way that slab-style handles really can't be. They're also sanded to a medium grit to retain some traction, and they are then stained with a rich, color-popping stain.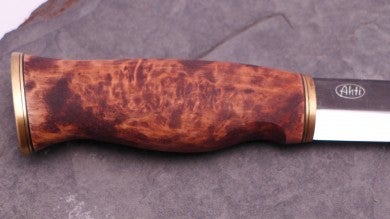 All of the fixtures are brass, and they are finished in a nice but not gleaming satin, befitting the knife's origin as a tool. The Leuku comes with a wonderful tube style sheath, customary for Scandinavian knives.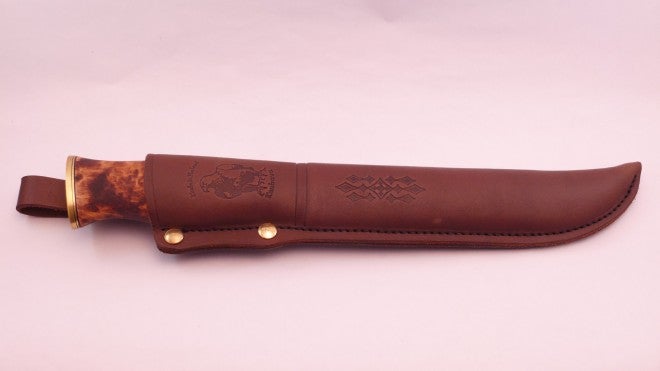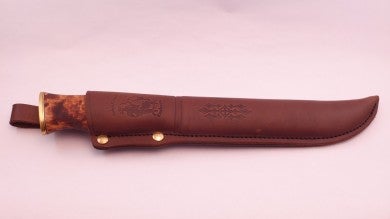 The sheath has a free swinging belt loop and a plastic insert; its leather is meticulously finished with excellent tooling. The blade itself has, of course, a Scandi grind, and the top half (the flat of the blade) sports heat treat scaling. The actual Scandi grind is satin finished. My Leuku had a true zero edge that real Scandis should have.
The knife is a full tang knife, and there is visual conformation as tail brass cap shows off a portion of the tang.
Design
The Ahti Leuku is a masterful embodiment of the form—traditional and gorgeous. It also bears mentioning that the knife design, as it comes down from Sami tradition, is marvelous. This is as pure a cutting tool as mankind as has made. There is no BS, no silliness, just simple, useful, and clean cutting power. The knife works and works and works and asks for more. And thanks to the wonderful handle shape and the traditional wooden handle, there is nothing like a hotspot, not even so much as warm twinge.
The evolutionary refinement of the Scandivanian work knife is truly impressive, and the Ahti Leuku shows that off quite well. But working within a tradition leaves little freedom. There are no recurves or baloney here. Skilled makers, however, can find places to put their flourishes to make the knife unique. Here we have the deep colored stain that really brings out the figure in the wood, which is different from other Scandinavian designs, such as those from Helle, which emphasize the light colored woods. Additional the words, patterns, and lines tooled in the leather sheath are crisp and lend a sense of authenticity to the design without being overly beholden to the form.
Testing
Having perhaps the Platonic idea of a work knife and not putting it to work is a crime. I will admit I was wary as that edge and the prospect of sharpening it were daunting, but when I realized that I could basically do anything to it and nothing would happen, I was less reticent. I did a lot of wood processing with the knife. I also did some brush clearing using it as a virtual machete. Over the fall of 2014, the Leuku was a regular on my belt. It cut green wood, dry wood, brush, and everything else I could find the woods I hike in. In hand, it was truly superior thanks the generous wooden handle.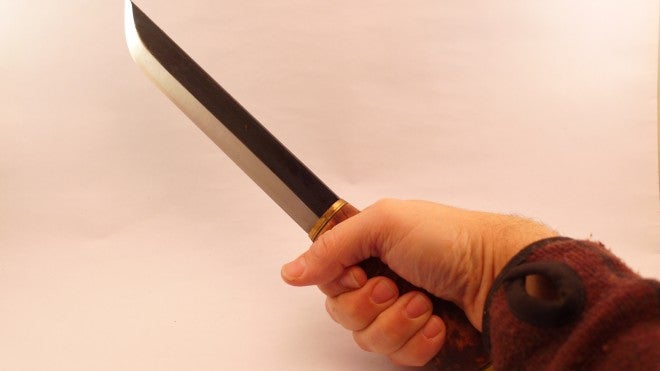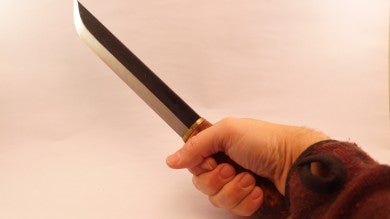 Implementation
There is something unquestionably strange in having such a basic and utilitarian design being so nice, like a bicycle with air conditioning. But this is more than just a work knife.  It is the distillation of a form, and in that sense, the materials–curly birch, high carbon steel, and nice leather–come together here very well.  Add to that absolutely dead simple construction and very tight fit between the parts, and you have not just a good knife, but a great one. It's pleasing to the eye, to the hand, and most importantly to the shoulder.
The refined and rarified grind is exemplary. The Leuku separated tree limbs so easily that more than once I had to check to see if I missed. Scandi grinds are hard to maintain, but in their original state they are a revelation. Sharp does not begin to describe this. My Leuku was sharp enough to filet paper, though I must confess, I had it sharpened by an expert prior to taking possession of it. He assured me that he simply brought it back to its original sharpness. How sharp? It could filet a piece of printer paper. Laid flat on a surface, the paper began to curl as the Leuku was passed over it. That really is sharper than the knife needs to be, but that keen of an edge, backed up with good steel and a great blade geometry, meant that the Leuku handled every cutting task with ease.
I wasn't quite ready to pummel the knife like I would with a slab handled blade such as the BK9, but I did baton with it and it was okay. At 7″ it's a little short for someone like me that happens to be only okay at batonning.
A quick point about the sheath–it is fabulous. The free hanging tether and the slim size meant that the knife was quick at hand but not a leg splint like some of the really bad sheathes out there.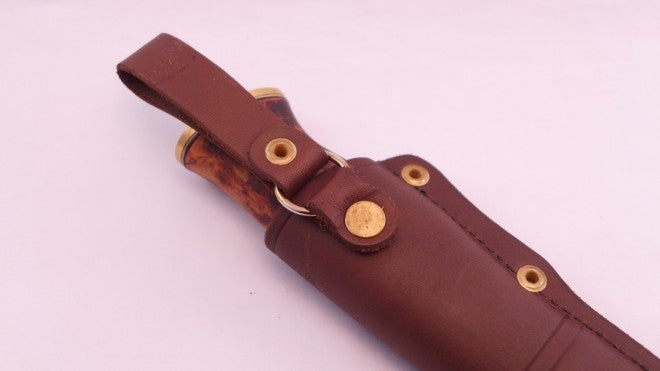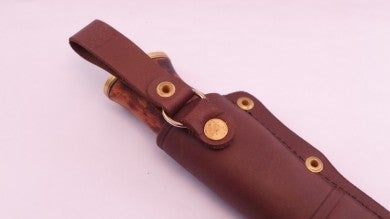 The tube design was snug without being cumbersome. Given the difficulty of making a good sheath, I am impressed with the Ahti sheath here.
Conclusion
The Leuku is an excellent rendition of a traditional Sami knife. It might be a bit big for detail work at 7 inches, but the edge is plenty keen to handle anything you'd want to do. I feel like the knife was plenty durable, but probably not a ballistic caliber chopper like a Busse or a Cold Steel. What it lacks in silly brawn, it makes up for with utterly perfect, completely refined ergonomics and a no bullshit blade. I really liked the Ahti Leuku. If I had to buy one knife from their line, I'd probably opt for a smaller blade and keep a hatchet as my big edge, but with a bit of skill, the Leuku can do it all.