Review: Ruger 2015 Charger Takedown .22LR Pistol
Major Pandemic 03.04.15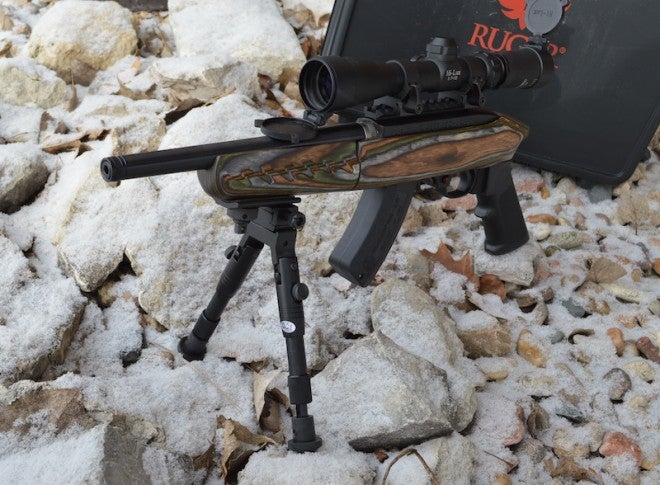 A few years ago in 2007, Ruger introduced the 10/22 Charger pistol based on the legendary 10/22 .22LR action. It was a huge success for a very brief moment, but then it was mysteriously discontinued from the Ruger product line. Most assumed that it was a very poor selling gun for Ruger, but public outcry pushed Ruger to reintroduce it in 2015 with some new features many people were asking for.
People raved about the accuracy of the 2007 Charger, but as equipped, the early version was bulky, featured a pretty heavy stock, and needed a different scope base. Many users also wanted a factory threaded barrel since it became a popular suppressed platform. Ruger's 2015 reintroduction of Charger delivers on what buyers were asking for in two formats. Ruger now offers the Charger in a fixed barrel and the quick Take-Down barreled version, which I am testing here.
The new Ruger Charger offers a full-sized, factory installed, picatinny optics rail. This is an actual 1913 picatinny format rail and not the historical Weaver style base. The new rail offers more flexibility for all the optics that are designed and optimized for picatinny rails, and it provides significantly more mounting positions. The user does not need to instantly replace the scope base just to get their optic mounted in the right spot. A top picatinny also allows the use of the QD mounts and AR-15 optics that require picatinny slots. Personally, I think Ruger should use this base on their entire 10/22 line or at least toss one in the box.
The Charger also features improved ergonomics with a smaller and less bulky stock that is compatible with any AR-15-style grips.
Factory 1/2-24 barrel threading is now provided on both models to attach whatever muzzle accessory you might want to screw on.
The Charger Take-Down model features the same quick disconnect mechanism of Ruger Take-Down rifle version, which is to say it works perfectly and delivers an extremely compact pistol with higher accuracy potential.
All the new models include an extended magazine release and Ruger's new 15-round magazines, which makes things fun and delivers reliability, but in this less bulky design, I would personally swap back to a 10-round magazine.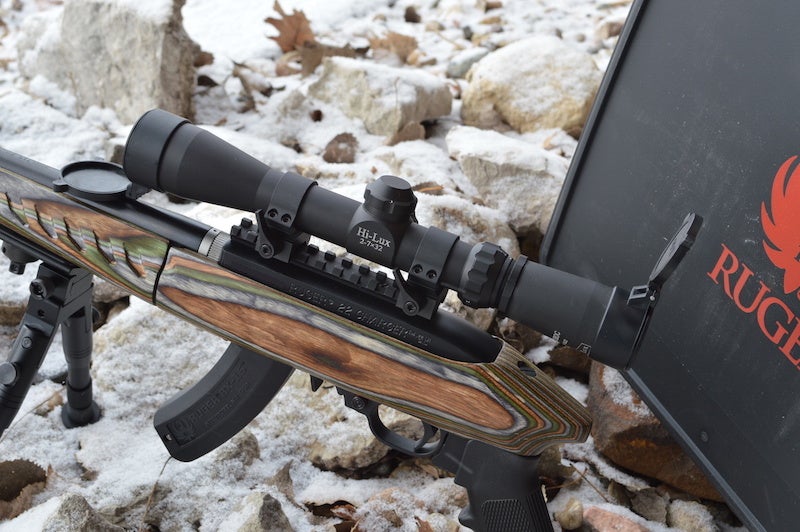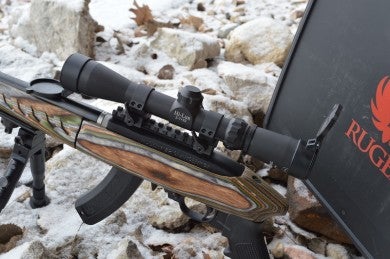 Both models feature Ruger branded bolts (which is new) and a bipod setup.
There are some frustrations with the accessories included on my Takedown Charger model. The bipod is the most cluggy piece of junk I have ever seen. Where a simple Harris style bipod could deliver all the functionality a shooter could need in a compact package, this "thing" is the antithesis of compact. The included bipod requires the installation of two adapters, includes a useless 1/2″ spring loaded leg extension adjustment, and has to be the worst designed bipod I have ever used. Once set up and standing on the bench, it works, but the bipod's bulky design seems to go against everything Ruger did to trim down the look of the Charger. It's nice that it's included, but I think they should have gone with a standard Harris style bipod.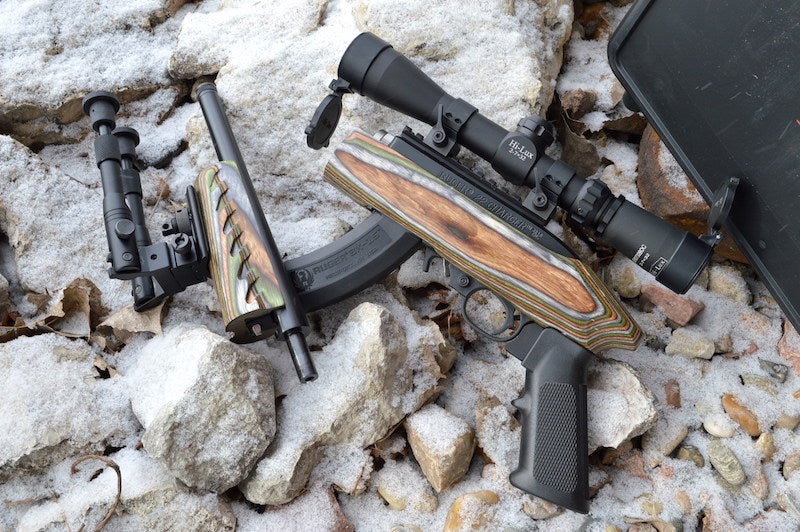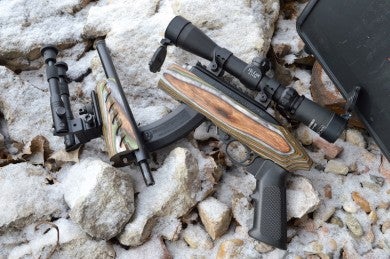 Other marginal frustrations are a really cool case included with the Ruger Takedown Charger. It looks like a spy case that holds all the Take-Down model components. It's cool until you mount a scope on the receiver or a muzzle device on the barrel, and then this cool little hard plastic case with molded foam internals becomes useless. I wish Ruger would have either left cutouts in the case for typical optics or included something similar to the soft sided case they include with their Take-Down Rifle.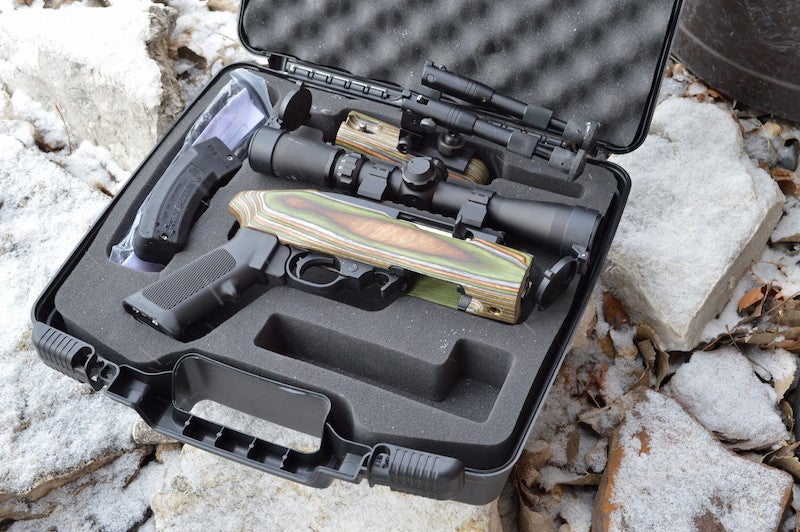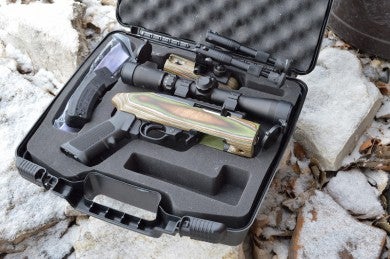 Along with a totally proven 10/22 action and accuracy, I like the ergonomics of this version far better than the original Charger. The original Ruger Charger was excessively bulky and exclusively designed as a bench gun. This new 2015 Charger delivers something slim that could be a great pack pistol that realistically can be shot from any supported position or tree limb. The size and accuracy of the Charger also makes scoping this pistol realistic and relevant if limited to a lower power 1-7 magnification range.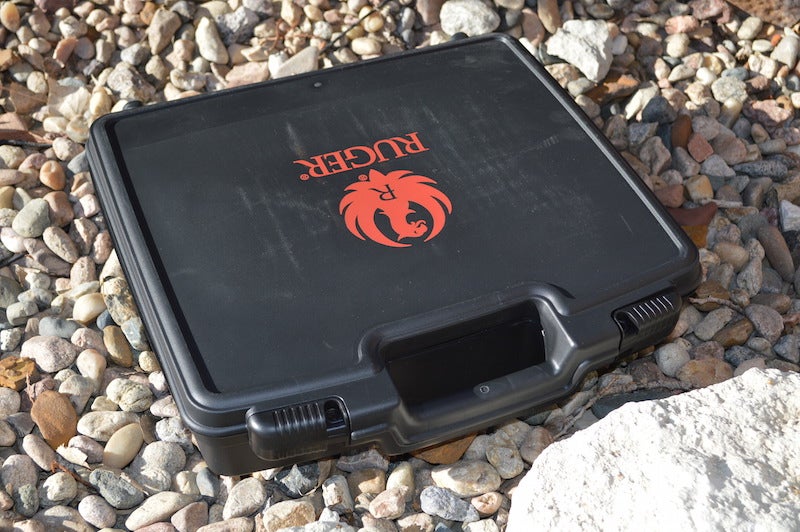 With Lapua Center X, SK Plus, and CCI Standard velocity, I had no problem delivering .75″ or less 25-yard 5-shot groups with a Leatherwood Hi-Lux Long-Eye relief 2-7X scope (originally designed for the Ruger Gunsite Scout rifle). For now, I have a Bushnell TRS-32 red dot, which makes this charger a fun plinking gun.
The new 2015 Charger is a really nice little Takedown squirrel and small game gun, and it's also a great pack gun when you want more precision and accuracy for longer range shots on small game. With a scope attached, the take down size is not quite as small as it could be, so you might want to consider either a short optic or quick-release rings such as those I used on this build.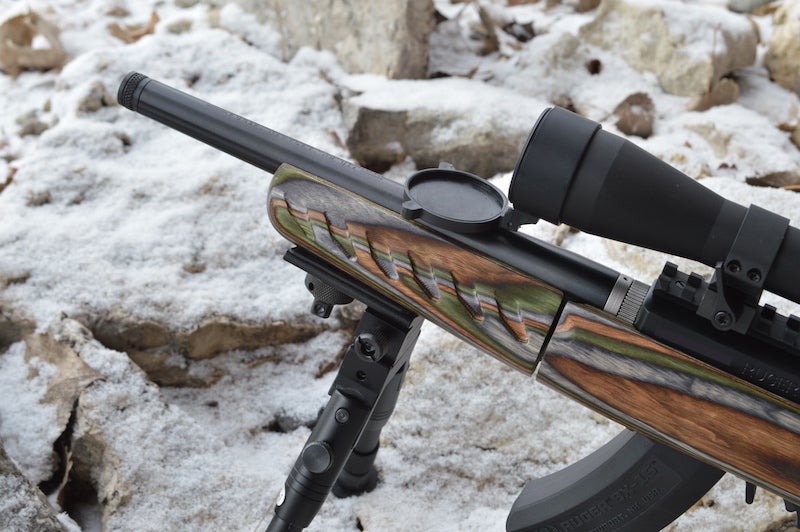 Final Thoughts
Ruger has in theory added some nice accessories and value to the new 2015 Charger models, but I would really trim things down in a build and will try to circle back around later on with that article. My vision of a later build is to continue the trim and lean look with a good, compact, low power handgun scope, a standard 10-round Ruger rotary magazine that would be flat with the stock, no bipod, a workable sling, and a nice, thin, and simple soft case that can slip in a pack.
The death of the original Charger was likely related to sales and the design that made it exclusively a bench gun. This new version with slimmer stock is much better suited for supported shots out in the field and is all around a more useable model. The original stock limited the idea, but the new stock even offers the flexibility to swap out grips with any AR-15 compatible grip you wish. I like the take down version's small stowable size, which can slip into even the smallest daypacks.
SPECS
Caliber: 22 LR
Capacity: 15
Material: Alloy Steel
Finish: Matte Black
Barrel Length: 10.00″
Grip: A2-Style
Grooves: 6
Twist: 1:16″ RH
Takedown version Green Mountain Laminate
Total Length: 19.25″
Weight: 3.22 lbs.
Barrel Threaded: 1/2″-28
MSRP: $409