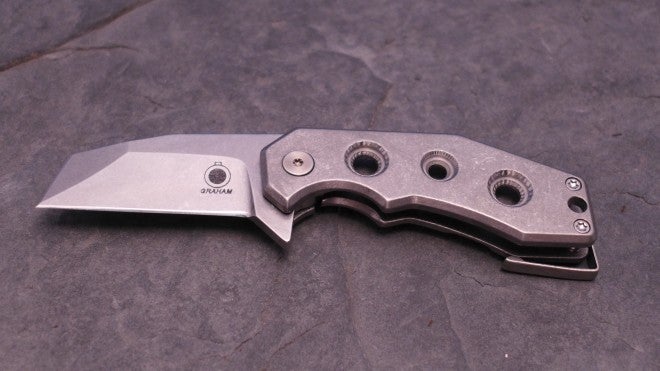 The Midtech Revolution began with two makers–Ken Onion and Les George. Ken Onion is generally credited with coining the term, which refers to a knife midway between a custom and a production knife. The idea was to get a few parts batched out by machines and then hand fit them one at a time. That was a few years ago. More recently, Les George took the idea and ran with it, introducing his VECP folder. It was a stripped down, batched out version of George's Rockeye folder.
Jon Graham released his first midtech, a 3.5 inch version of his Razel, last year. It was produced by Chad Nichols. Nichols has been known for some time for his pattern welded damascus, which is used throughout the custom knife world. But in the past two years, his midtech work has been booming. That knife was well received, even if a few had sticky locks. Then, in the fall of 2014, he announced that he was going to have a new midtech, his Stubby Razel (known as the Graham Midtech Stubby Razel or GMT Stubby Razel), for sale.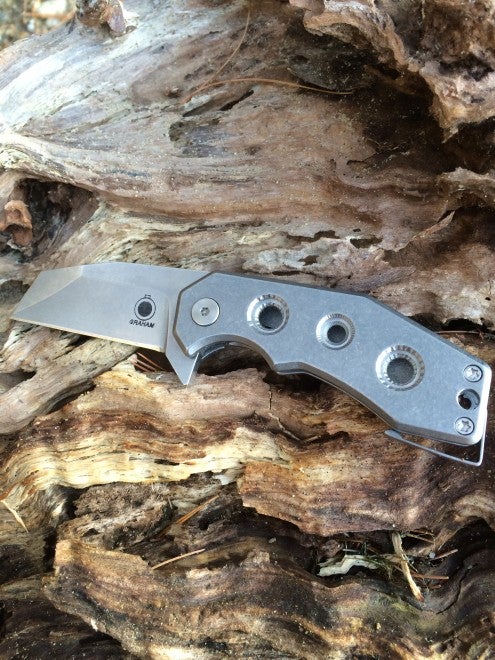 The knife has no product page as this has been an in-person, Instagram, or forum sale item only. Retail is $350 for a base model and up to $450 for some limited runs with acid stonewashing or flame treated handles. If you want to get one, sign up for Jon's Instagram feed.  As such, I am going to run through the specs:
Weight: 3.06 ounces
Blade Length: 2 inches
Overall Length: 5 1/2 inches
Handle Length: 3 3/8 inches
Blade Thickness: just over 1/8 of an inch
Handle Thickness: just over 7/16 of an inch
There are, so far as I can find, no other reviews. The blade steel is CPM154, a powder metal version of 154CM. The handle is titanium. The knife is a framelock. It uses a flipper deployment. The knife stays in place with a unique tail clip design found only on Graham-designed knives. The blade shape is another Graham innovation. Here it is a something of a wharncliffe shape with a sharpened edge on both the front edge and the more traditional "bottom" edge of the blade.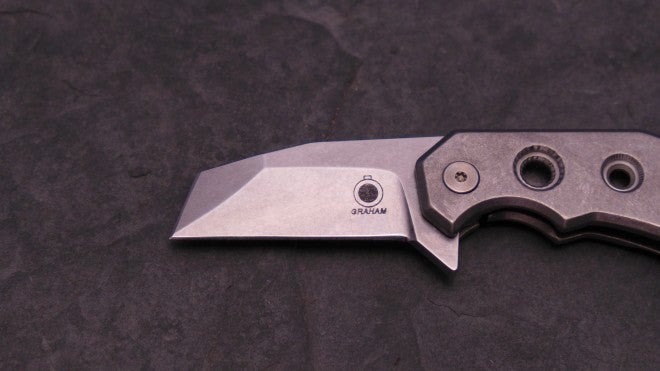 Testing
I have owned the GMT Stubby Razel since November, and it has been one of my favorite carries. When not testing other knives, I have gravitated to the GMT Stubby Razel, even over my beloved Spyderco Dragonfly II in ZDP-189. The knife went with me on a number of late fall and early winter hikes. It has also done general EDC duty: cutting open packages, trimming threads, cutting up paper, and doing some mild food prep.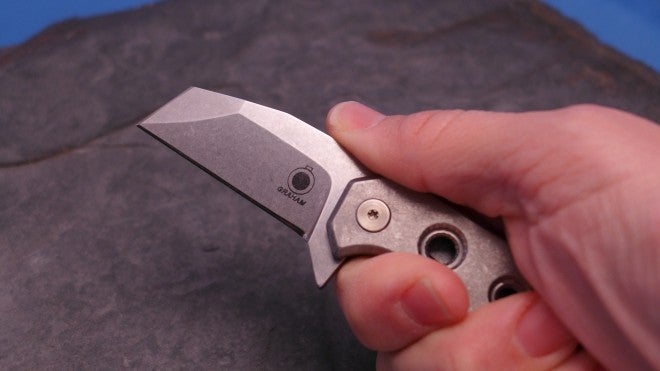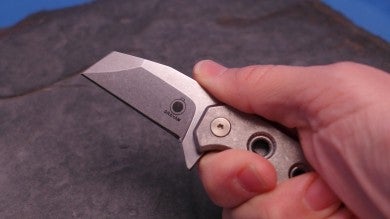 On the hikes, despite its rarity and price tag, I did some delimbing with the Stubby Razel. I also debarked a few of the limbs and prepped some for fires.
Design
Graham designs are so distinctive and so different that it is impossible to mistake his work for someone else's. They are as useful as they are different, but that difference creates a knife that can, in many ways, appear awkward or even ugly. Some of this comes from the fact that they go so against the grain, but there are, on most Graham knives, a few awkward transitions or visually unpleasing elements that do not arise from the unconventional design. For example, in this knife there is an excellent true arc as an indexing notch (a place on the handle for your index finger). Behind that is a messy combination of a partial true arc and an angled lines. It's not a deal breaker, but these sort of missteps exist on all Grahams.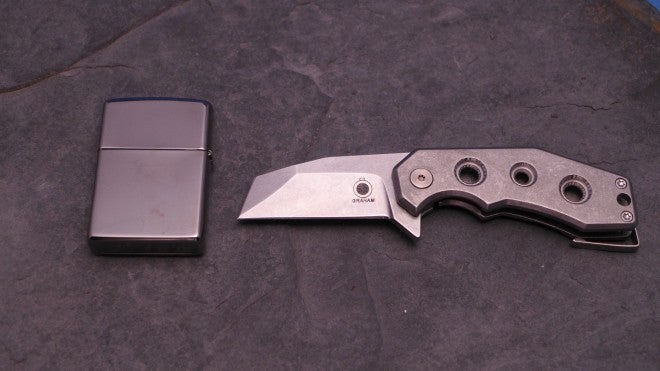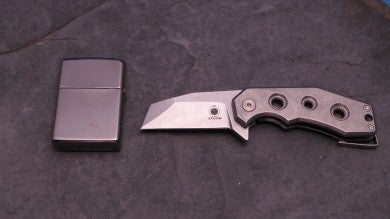 That prissy and preening concern aside, the design, with its double sharpened edge, the GMT Stubby Razel is simply a superior work tool. The deep carry, low visibility tailclip is amazing. The flipper is perfectly proportioned. The handle, despite its awkwardness, works very well, even considering its diminutive size. While no one would mistake a Randall Model 28 Woodsman (dare I say, the most visually pleasing knife ever made), it's use-first approach is something you will appreciate when carrying and cutting with the knife.
Implementation
"Impeccably solid" is perhaps the best fitting description of the GMT Stubby Razel. There are a lot of knives out there that have these same (or similar) materials, but none that I have used, including the much vaunted Sebenza, which comes close to the rock solid feel of the Stubby Razel. There is not a smidge of blade play, lock rock, or even lock bar wiggle. The flipper fires fast and thoughtlessly every single time.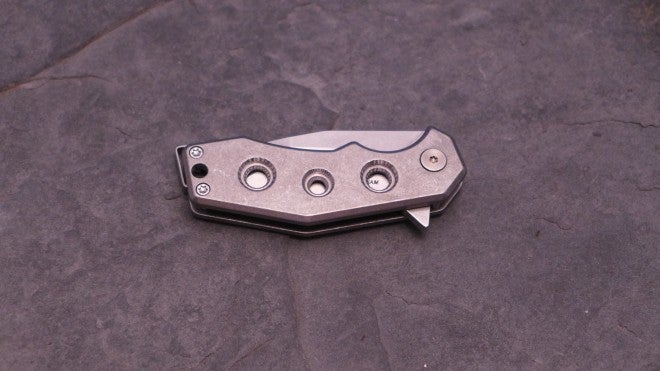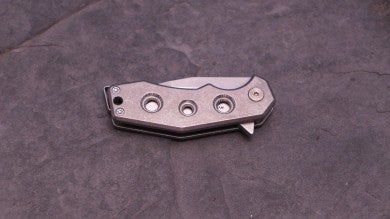 There was some complaints on the first run of sticky lock bars, but I can say with certainty that mine has nothing like that. Mine was hand selected, but general feedback has been unanimous–sticky lock bars are rare. The clip appears flimsy given its dimension, but it has been literally perfect in the pocket. This is the best finished knife I have handled in a long time, even better than my beloved Techno. Techno has been flawless for over a year, but the Stubby Razel is also flawless and, somehow, more crisp. What a treat.
Conclusion
Jon Graham's custom books have been filled and closed for what seems like an eternity. His CRKT collabs, while clearly Graham in origin, weren't exactly what the market wanted (hence their discontinued status, though the fixed blades look pretty authentic). The GMT Stubby Razel, on the other hand, hits just about every mark out there. It is the right size for everyday carry and has enough of the unfiltered Graham DNA in it to make it awesome. It also tucks into the pocket better than any knife I have ever used, thanks to the unique tail-mounted pocket clip. The knife hides in the part of your pocket that never gets used, the little triangle up against the seam. Stowed away, with the most discrete clip on earth, the GMT Stubby Razel is ready at hand to do some real work.
The double sharpened edge is great, eviscerating even the bulkiest of clam packs. In the woods, the thick but keen edge helps process wood efficiently. In many ways, this is the best of the midtechs out there, the only one of reasonable size and one of two with a bit of the Graham magic. And isn't that bit of magic why we are interested in midtechs in the first place?