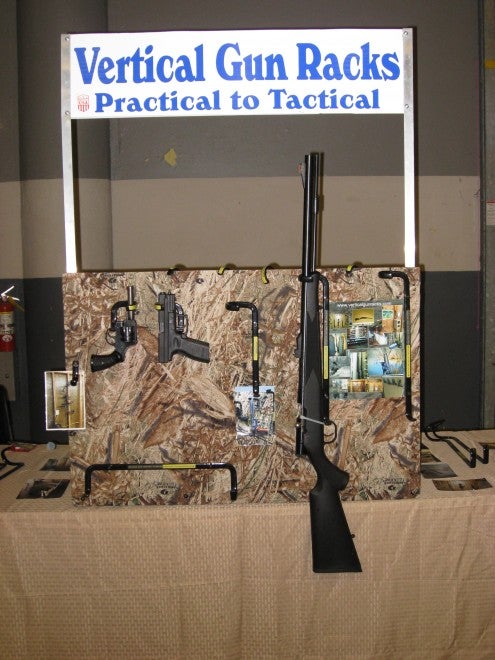 Honestly there are some outdoor products and super handy gear items out there that simply don't need 750 plus words to describe them. However, I think Alloutdoor.com readers would really appreciate knowing about some of these "I wish I had thought of that" items.
A couple of gun shows ago when I was working my buddy's Glock booth, I noticed a new vendor on the show floor that I had not seen set up before. I walked by the display several times and talked to the booth operator Mike Nussbaum, owner of Vertical Gun Racks.
Mike showed me his new entrepreneurial idea in the form of uni-body aluminum formed gun racks in various designs and configurations. The aluminum strips are formed then coated in a heavy rubber coating that is super soft and thus protective for the guns stored on them. The racks are pre-drilled so they can be attached to flat surfaces virtually anywhere.
He has models that can be mounted in horizontal applications as well as a rack that is attached to a wall, etc. vertically that holds a long gun, rifle, or shotgun. This up and down orientation is a space saving mode that can be installed in gun rooms, closets, workshops, laundry rooms, next to an exit door, or virtually anywhere. The horizontal mount models can be put in all sorts of handy, accessible places around a house, shop, garage, barn, or wherever.
The first thing I thought of was putting one in the deer hunting shooting houses at our hunting camp, but obviously my thinking was way too narrow. These racks are really designed to make a firearm readily available for self-defense or property protection uses.
Now, Mike will be the first to tell you and there is a statement on their materials that they do not suggest or recommend the storing of loaded guns on their racks. I suppose it is like having to wear a helmet on a motorcycle or ATV, but then lots of people don't do it. For safety purposes it is best not to have a loaded gun on these racks.
Without forgetting or slighting their other rack, Vertical Gun Racks also makes a pistol rack. This is a rubber coated "hook" that, once installed, will hold any handgun, revolver, or semi-auto ready for quick access as well. You simply place the trigger guard over the lower part of the bar and the barrel rests against the hook bar.
Pricing for the gun racks (including one vertical rack) is $19.95. Pistol racks sell for $14.95 and a Camp Bundle of ten in a pack goes for $150.00. You can get additional details about Vertical Gun Racks at www.verticalgunracks.com.
As Mike says, "These gun racks go from practical to tactical," which certainly fully describes the options these racks offer. They are made in the USA and are intended for gun storage and a space saving solution. I think if you'll try one of these, you will want to order more.