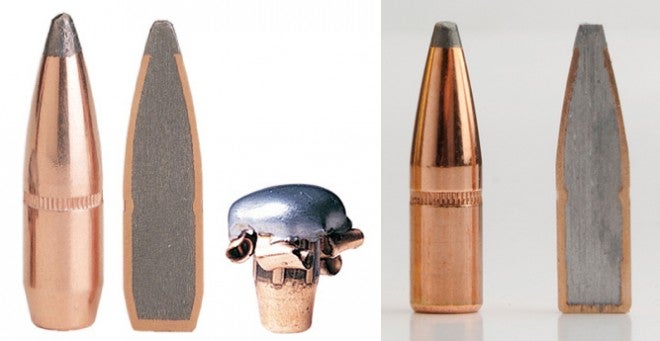 A lengthy post at Rifle Shooter Mag does a good job of examining today's hunting bullets. Not only does it compare bonded and non-bonded bullets, it looks at many popular hunting bullets one by one.
I figured it was worthwhile to boil down the basics to help hunters get to the meat of the subject, so to speak. So, here goes.
Basics
Most modern hunting bullets, especially the most successful ones, consist of a lead core inside a jacket of tougher metal, usually copper. For most hunting applications, it's desirable for a bullet to hold together instead of rupturing or shattering on impact, so a solid connection between jacket and core is helpful. Copper and lead don't naturally blend together, but instead depend on a mechanical or chemical connection to stay together.
Non-bonded bullets include the earliest jacketed hunting bullets, but also include more elaborate and/or modern means of wedding the jacket and core. Some bullets, such as Remington Core-Lokt and Hornady InterLock, use a crimped ring to help secure the jacket to the core.
The Nosler Partition is a non-bonded bullet that pioneered the use of a jacket that's hollow at the front and rear, with lead cores filling those voids in the finished bullet. The idea here is that, even if the front lead core completely separates from the jacket, the rear core will stay with it, driving it on through the target animal to ensure good penetration.
Bonded bullets are made by various methods, some of which are not known except by the manufacturers that use them. Some depend on melting the lead core inside the jacket to more-or-less solder it to the jacket; others may rely on electrochemical processes such as plating.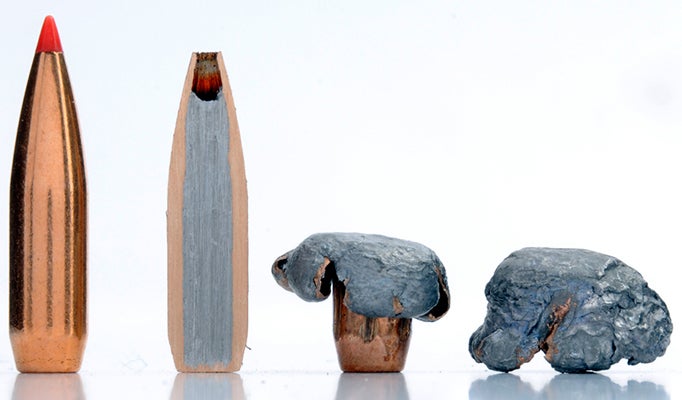 Who Needs 'Em?
Most of today's hunters don't need a bonded bullet. The whitetail deer is the most-hunted big game animal taken in the USA, and they generally do not require the extreme penetration for which bonded bullets were devised. The same is generally true of pronghorn antelope. But for hunting tougher game like wild hogs, bears, or bigger game in the deer family such as elk, red deer, caribou, moose, and such, greater penetration can make or break a hunt, especially if you have to take a shot at a critter that isn't standing broadside.
For an in-depth look at many of today's hunting bullets, check out the RifleShooter post. In the meantime, happy hunting – and may all your hunts end in one-shot kills.