Ultimate Custom AR-15 300 Blackout Pistol Build
Major Pandemic 03.19.15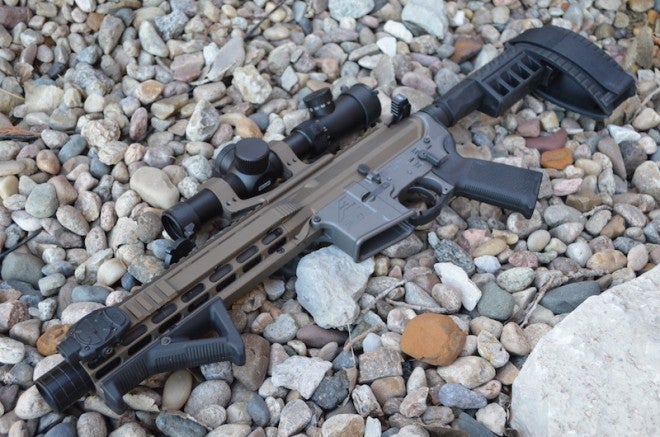 Everyone kept telling me that the 300 Blackout was the ultimate AR-15 cartridge and way better than the .223. So despite my skepticism I decided to give the round a go in a really nice AR-15 pistol build to see if I could get myself to like it.
I wanted to set up this AR-15 pistol differently and use the cartridge the way JD Jones intended the original 300 Whisper to be: more than just a short range gun to terminate critters around the neighborhood at night without waking up neighbors. I wanted to stretch its legs a bit at some longer ranges in a pistol format.
I was not expecting miracles, but I was hoping to hit some decently small steel gongs at longer distances. My goal was simply to hold close to 2 MOA 6" groups out to 300 yard mark and even further out. The accuracy held with a 12" 500-yard 5-shot group with some less than predictable midwestern winter crosswinds. This is by no means stunning national match accuracy, but it did show me that the 300 Blackout round can and does have some significant advantages in flight over the .223 round. The 300 Blackout has a very mild report even in a pistol build and with sub-sonic rounds.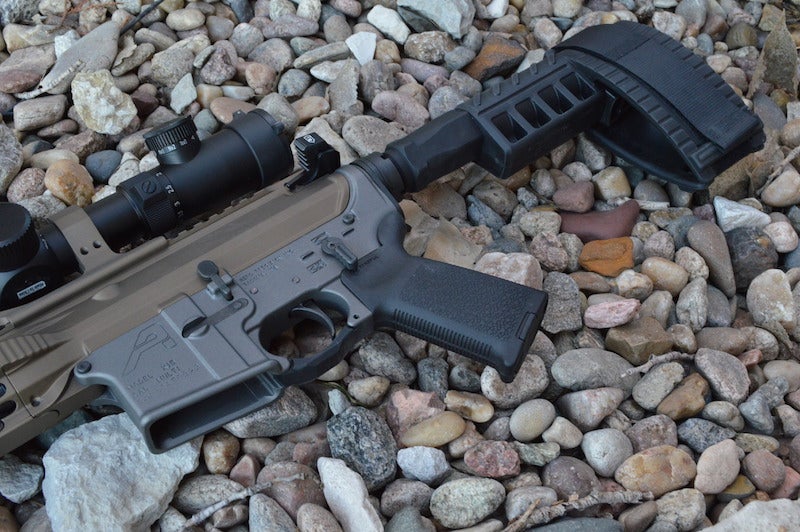 Aero Precision COP Cerakoted Burnt Bronze – $575
I have been a huge fan of Aero Precision quality and precision, and nothing conveys the quality and capabilities of AP like their COP (Continuous Optic Platform). The COP is one continuous single forged unit creating the receiver and forend. Obviously there is some added style, but the most appealing aspect of the Aero Precision COP is that is can be configured in any manner required by the shooter.
The kit comes in a tool roll complete with a variety of interchangeable 3, 6, 9 o'clock rail panel configurations for the AR-15 builder to pick and choose from. The best part is that at any point down the road, you can swap out the rail sections based on your need or mission requirements. I have found that when mounting lasers, the system even holds a 1 MOA zero.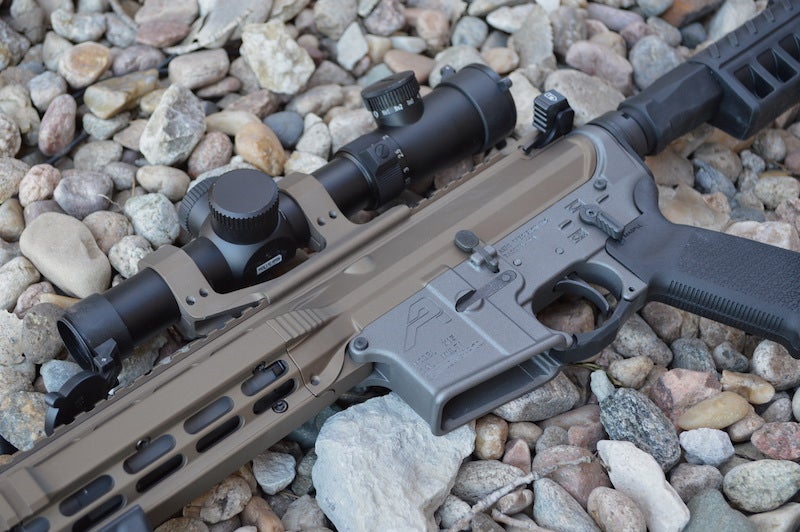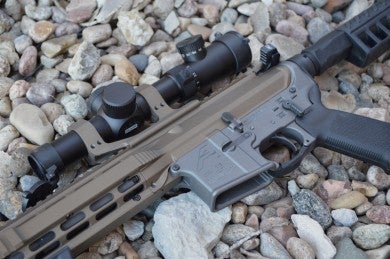 The other notable feature of the COP platform upper is that is it arguably the strongest AR-15 upper platform on the market. It is not light, but it is stunningly strong and stiff, which I believe aids in some some degree with accuracy, but from a durability perspective it is beautifully beefy. My only complaint is that I think AP should open up the handguard and gas tube channel a bit more for increased room for components. The space constraint in, under, and inside that handguard and gas tube channel delivered my biggest design headaches for this build. More than a couple gas block options and brakes options I would have liked to use were just too big to physically fit under the handguard.
Aero Precision 30mm Mount Cerakoted Burnt Bronze – $70
There are very few optic mounts on the market that I can call "artful," but the AP mounts are just gorgeous with design lines that blend into any standard flattop upper so well that from a distance it almost looks like a optic/upper monolithic machined part. I bought the Burnt Bronze Cerakote version to match my COP upper.
The mounting is also a breeze that only required four machine screws to mount the optic to the mount versus the excessive 12-screw style mounts that require 6 screws per mount. AP did a beautiful job on the design of these mounts, which are available in either single rings for Red Dots and double rings for scopes as well as a variety of colors.
Aero Precision Lower Cerakoted – $150
AP has two different Milspec AR-15 receivers. An ambi version and this standard version. That noted, Aero Precision's lowers are anything but standard, and are some of the highest quality AR-15 lower MilSpec style receivers I have testing on the market.
Beyond the precision and beautiful machining, I bought this lower cerakoted in Tungsten to really enhance and contrast the look of the Burnt Bronze AP COP upper.
HiperFire 24C 3G Competition Trigger – $225
HiperFire triggers are amazing–like "daaammmmn" amazing, and their 24C versions are the top end of their line. Hiperfire has the original 24C and this 24C 3Gun trigger, which drops the flat blade trigger for a more traditional curved trigger design. It is an amazing cam'ed action trigger that magically delivers faster lock times, higher hammerfall energy, and one of the lightest and most crisp feeling triggers on the market. I figured why not drop in one of the best triggers on the market if you are going to the trouble of a build this high end?
Ballistic Advantage 300 Blackout 8.0" Stainless Premium Series Barrel – $195
BA makes stunning quality barrels. I used one of their barrels on my 5.45×39 build and I flogged that glorious barrel with thousands and thousands of rounds, water tank dunked it when it got hot, or sometimes just poured water down the barrel. Choosing another BA 8.1″ 300 Blackout barrel on this build was an easy choice.
The barrel features a .300 Blackout Chamber, 416 Stainless Steel, 1/7 Twist Four Groove, 5/8×24 Threaded Muzzle, .750″ Gas Block Journal, Pistol Length Gas System, 18 Ounces, Bead Blast Finish, FailZero Nib Coated Extended M4 Feed Ramp Extension, and is HP and MPI Tested.
As noted earlier in the article, the accuracy from a round I really didn't like when I started was surprising from a pistol format.
YHM Lower Profile Gas Block & Pistol Length Gas Tube – $40
I really went back and forth on whether to add an adjustable gas block on this build, but the two limiting factors were the 300 Blackout round itself and the very tight space within the AP COP upper.
Testing the Ballistic Advantage barrel on a standard AP Upper with a Syrac Ordnance adjustable gas block satisfied me that if I wanted full cycling reliability on the sub-sonic rounds, I should just run a standard low cost and well made Yankee Hilll Machine low profile gas block with a stainless gas tube. This gave me the clearance I needed under the COP handguard. I am saving the Syrac adjustable gas block for another build.
The setup works great and delivers 100% functionality regardless of what 300 Blackout round I stuff into the chamber.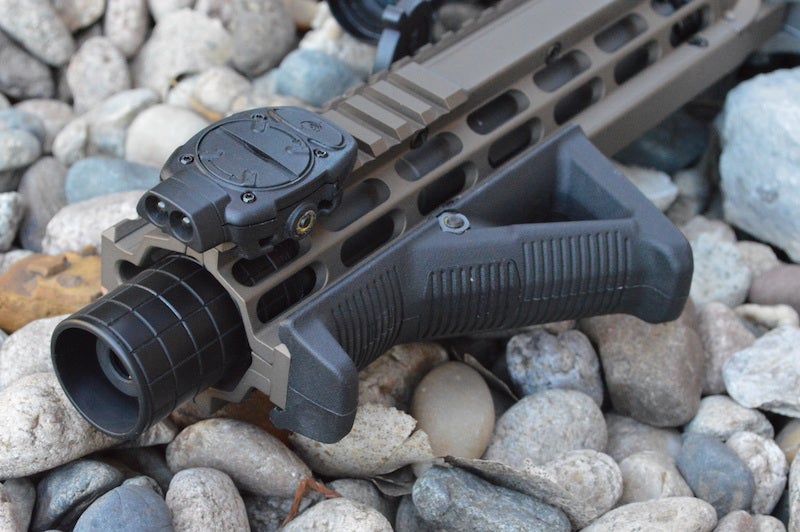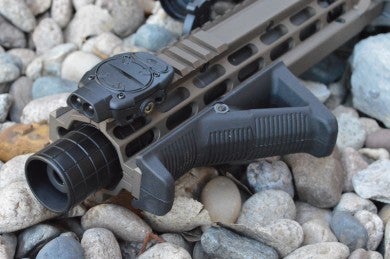 Kineti-tech Muzzle Brake and Sound Redirector – $59
I wanted that stumpy look where the handguard would overhang the muzzle brake. The problem was that the AP COP is not internally large enough to fit the PWS CQB brake that I wanted to use, which is entirely enclosed for the first two inches of length, thereby allowing maximum forend length and safe gas dispersion.
The problem was that the PWS CQB does not fit inside the Aero Precision COP handguard, which means I either needed to start turning or milling things down or look for another solution. After much searching, I found the very reasonably priced Kineti-Tech Muzzle Brake & Sound Redirector combo, which is mighty freaking cool for the price.
The concept is simply a choice of a radial or ported A311 Stressproof Steel brake with a screw on T60601 Aluminum blast shield/sound redirector. The blast shield just screws on like a supressor over the externally threaded Kineti-Tech brake of your choice. You end up with a decent braking effect with a concussion that is directed forward of the shooter. The Sound Redirector also makes it more pleasant for those around you at the range all while having a relatively minimal effect on the muzzle brake function.
Sharps Rifle Company Relia-Bolt & Balanced Carrier – $199
Early this year, I reviewed the Sharps Reliabolt and was impressed with the design and engineering thought that was put into the bolt.
Sharps engineers looked at all the potential bolt and carrier failure points and redesigned their Reliabolt to improve reliability in extreme wear, impacted weapon, and alignment situations. I personally have never had any issues with even standard phosphated bolts with proper lube, but I can understand how the Sharps design would greatly enhance reliability and continue operation in near catastrophic weapon conditions.
Later, Sharps also tackled the carrier to deliver a true balanced carrier I used here, which smooths operation and increases functional reliability. This a beautiful looking and functioning carrier for the money.
Phase 5 Tactical P5T – Hex2 Buffer Tube $59.99, ABL/CHA Charging Handle $80, Revo Sling mount  $65
I love it when I start writing about a company and then years later I am able to sit back and see they have matured into a well respected company with quality that exceeded even their previous standards. Phase 5 was just kicking off back when I started MajorPandemic.com and now–geez. These guys are knocking out stunningly awesome, high quality USA Made products.
Phase 5 Tactical created this rather awesome looking Hex buffer tube for pistols. It is heavier than other buffer tubes, but it also has to be the most trick looking buffer tube on the market.
After the popularity of the Sig Brace, P5T began offering the Hex2 version, as well, which delivers an integrated comfort stop for the SB15 brace. This delivers a bit more comfort while shooting with the brace and increases leverage of the brace by extending the overall length.
P5T just introduced a new Ambidextrous Charging handle called the ABL/CHA. It is a heavy duty billet part that allows easy weapon charging and clearing with either hand. A great, solid product with a lot of style that I have had zero issues with during testing.
It is good to see the innovative Revo Sling mount is still in the Phase 5 Tactical lineup. This was a great single point sling mount that replaces the buffer tube plate and provides a rattle-free single point sling mount, which provides ambi-rotation from side to side for more comfortable transitions. The Revo Sling Mount is compatible with any milspec buffer tube regardless of whether the tube is intended for carbine or pistol.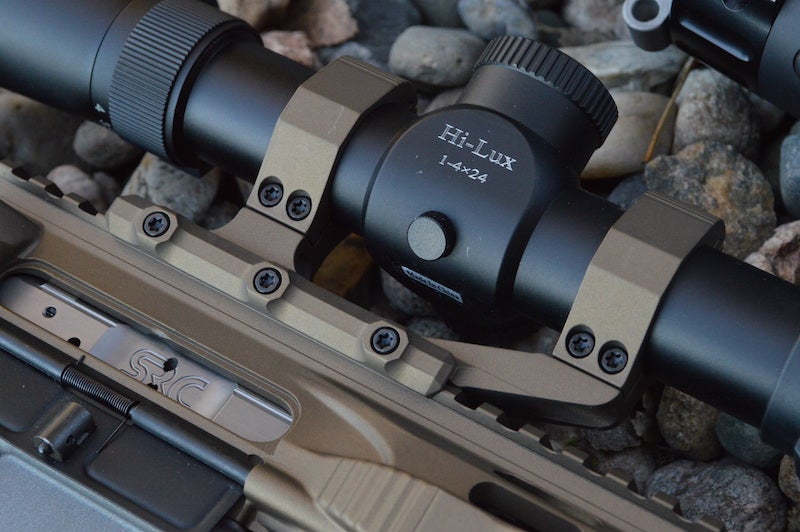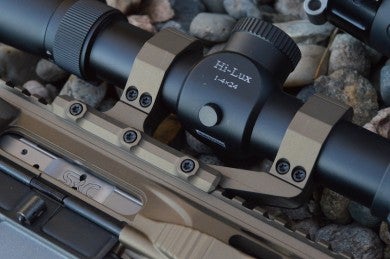 Hi-Lux Leatherwood CMR4 – $450
To actually attempt some level of accuracy, this build needed more of an optic than just a red dot, and that duty fell to a wonderful Leatherwood Hi-Lux Optics 1-4x CMR4. With hyper velocity Hornady 300 Whisper rounds, the trajectory roughly follows the BDC reticle of this wonderful optic. The clarity of the optic really extends the capabilities of this build without jumping too high up on magnification.
I have often heralded the CMR, and I continue to love everything about this scope. The optic delivers an amazing level of clarity that most optics twice the price cannot match.
If you are familiar with the earlier version of the CMR, the CMR4 delivers even more refinement with an improved and extended sub-tense reticle for longer shots, ergonomically correct left hand side covered/capped windage adjustment turrets, resettable zero, windage zero stop, and many other features. It is probably my hands down favorite optic on the market under the $1,000 price point.
If I am going to build a top end build, the Leatherwood Hi-Lux CMR4 deserved a spot on the pistol.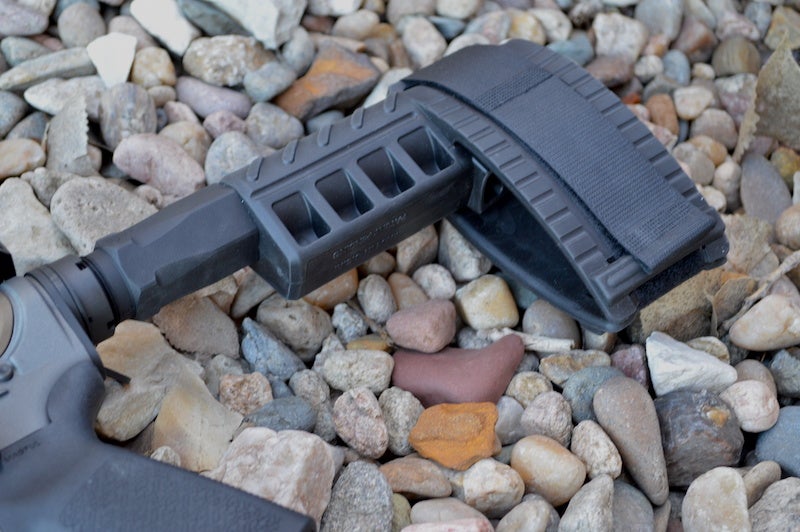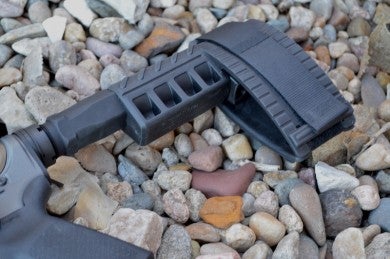 Sig Sauer SBX Brace – $129
The SBX is the new and improved version of their SB15 AR-15 pistol stabilization brace. This version is more compact, less bulky, and lighter while still providing all the same stabilization functionality of the original brace. Obviously there has been a lot of discussion around the concept of an arm stabilization brace and its legality. We will see how the "detrimental reliance" lawsuits unravel against the ATF, but for now we all can still buy and used them legally.
Battle Arms Development BAD ASS Ambi Selector $ 79 and EPS Enhanced Pin Set $40
There stock pivot and takedown pins and selector switches, and then there are the groundbreaking designs that Battle Arms Development created. The B.A.D. designs delivered the first ambi-selector switch with style never seen before and features never thought of. Battle Arms absolutely delivers on the cool factor, but they also offer unique features such as short throw switch design on the ambi-selector. Their Enhanced Pin Set delivers a super easy install and and simple design removal features, which prevent your punch from scuffing your high dollar receiver. Battle Arms adds that custom touch to any build, especially this one.
Miscellaneous Parts – $150
Parts kit, Magpul Pistol Grip and Forend Grip, Seekins Precision Billet Magazine release & Trigger Guard, Mission First Tactical Torch Backup Light
Build Cost
Surprisingly with all the top shelf gear included in this build, the cost was high but not as high as I had expected. This full build came in at $2,566 which is admittedly up there for an AR-15 pistol. But considering what is in this build, this AR-15 pistol seems to be much more full featured than I expected for that price considering "custom rifles" in that price range.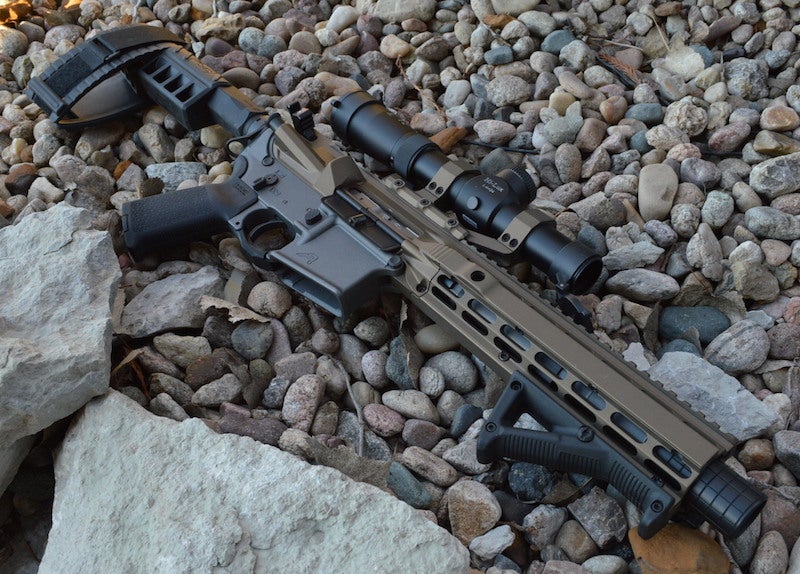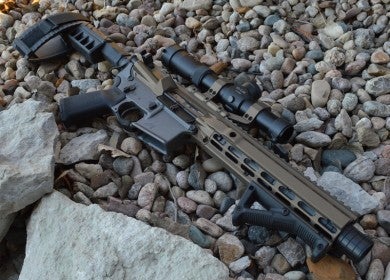 Final Thoughts
So did all this premium high end AR-15 Pistol with ultimate components in a super slick setup change my mind about the 300 Blackout? Well, sort of, as this was my first experience with the 300 Blackout in a pistol length barrel. The 300 Blackout is not the "OMG it's like the best round ever" for me, but remains for me a round reserved almost exclusively for hunting like the 30-30 Winchester. I have had discussions with many 300 Blackout ammunition manufacturers who, although delighted with its popularity, continue to officially and unofficially note through ballistics specs that the 300 Blackout is close but does not have the same energy as the .223/5.56 Nato rounds. They do note, however, that almost everyone inaccurately associates penetration depth with power, which is incorrect.
I continue to believe the 300 Blackout in all its forms is better suited for the AR-15 pistol format than 16"+ barrels with the exception of a whitetail and hog hunting AR-15.
With most powder burn lengths occurring within the first 8"-10", the Blackout makes sense in a shorter barrel format where it can work reliably. From a training and general plinking perspective, it's just too stinking expensive unless you are a constant reloader, and still then bullets are more expensive than .223.
There are a few points that I now like about the round in the AR-15 format, most specifically that it delivers 30-30 Winchester power and penetration in an AR-15 format but with two power options and 30+ rounds on tap. In this gorgeous build I have to admit that it has been a bit fun to shoot. In this pistol format the 300 Blackout delivers enough reliability with all rounds velocity loadings that it has found a place in my safe.
Sources