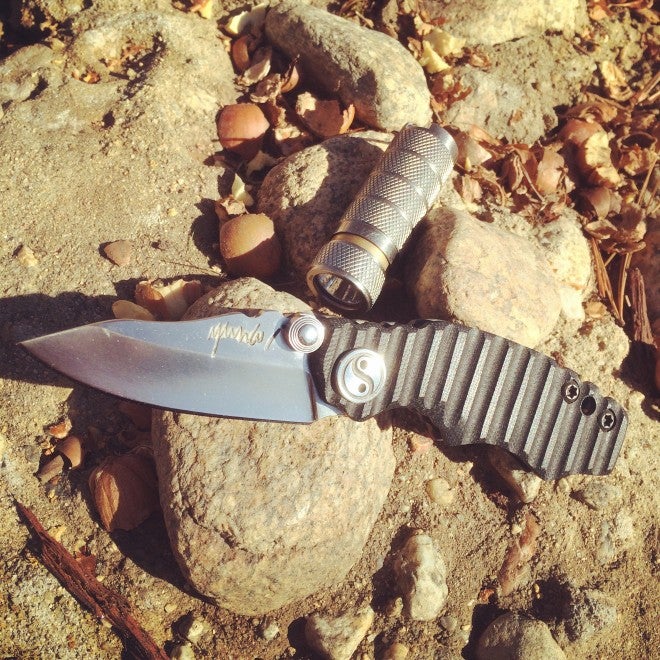 There is a debate in the knife community about what constitutes a custom knife. I tried to answer that question here, but as I wrote that and then thought about the issue, I found that it became even more difficult for me to really define the term "custom knife." The waters are very muddy, what with midtech knives and "factory customs" like the ZT0392 (a knife made by Hinderer for ZT sold in very limited numbers) becoming more popular.
One of the debates is over the origin of parts. It seems clear that if EVERY SINGLE part on a knife is made by the knife maker, then it is a custom, but this is very rare. Almost everyone uses COTS (commercial, off-the-shelf) parts to some degree, whether it is a pivot, a pocket clip, or even some screws. Then there are folks that have a few of the more challenging parts laser or waterjet cut–things that are difficult to cut by hand like lockbars. In these knives, the blades are cut by the maker, but the high complexity parts are made by machines to spec.
I think all of the above are appropriately called "customs," but there is something to be said for a tool wholly constructed by a single individual, from the lockbar to the pivot, down to the screws and their threads. These sorts of knives, what I called handmade customs, are exceedingly rare and exceedingly expensive. But, in an effort to have a wide knowledge base, I tracked one down and tried it out. It was, without question, a notch above anything else I have used in terms of fit and finish.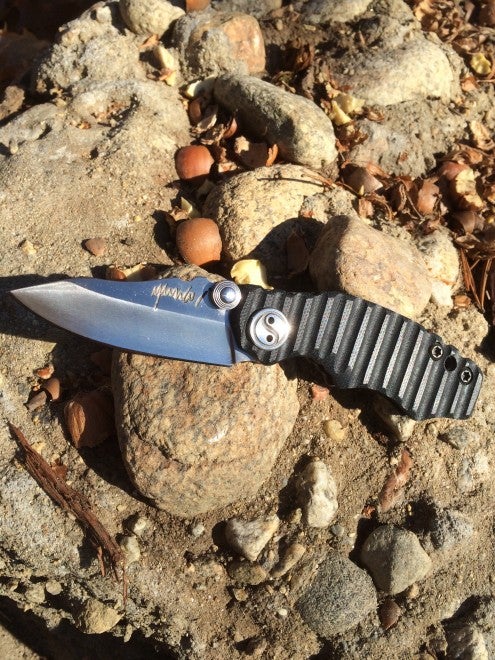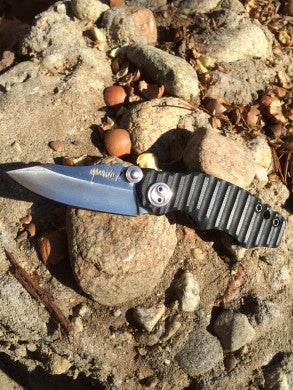 The knife I acquired was the Yuna Knives EQ-1, a small, EDC blade made by Trisak Jeeracheeveekul, a custom knife maker from Thailand. His business, based on a portmanteau of his nickname and his wife's name, is Yuna Knives. They are available from Trisak directly through his website or on the secondary market in exceedingly small numbers. The wait the last time I checked for a knife directly from Trisak had reached "Randall Territory" and was more than three years. In the last two years, I have seen less than a half dozen available on the forums. The handmade nature of Yuna Knives make them scarce commodities.
Description
Here is the EQ-1's product page. The knife is designed as a small, general purpose folder. Here it is in my hand being compared to the tooth of a Tyrannosaurus Rex (how is that for cool size reference?):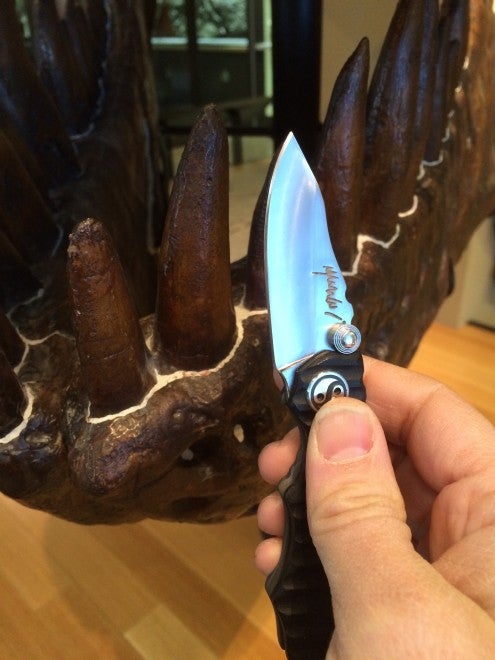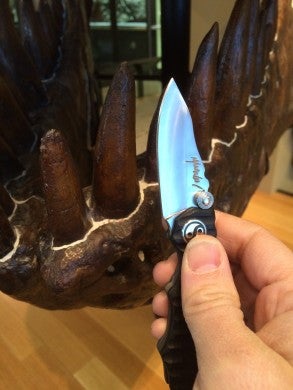 Many Yuna Knives are designed to work with a knife-based martial arts called Amok, but the EQ-1 is not necessarily one of them. The EQ-1 has been shorn of many of the "tactical" features of some of the other Yuna designs, like a spiked pommel.
The knife opens via an oversized thumb stud. The blade shape is a straightforward clip point. The grind is one of the steepest hollow grinds I have ever seen, more extreme than most knives, but not quite as steep as a straight razor. The blade locks open via a titanium framelock. The handle scale opposite the frame lock is a deeply corrugated piece of black G10.
The pattern is Yuna's own design, predating the similar pattern found on the Benchmade Volli by at least eight years and different from the more ubiquitous Anso pattern. The clip is also made of titanium.
The blade itself has a handrubbed finished, which means that it is sanded by hand instead of on a machine like a buffer or grinder. My particular EQ-1 runs ZDP-189 steel, and this is a step up feature from the base model, which runs ATS-34. Note that most Yuna knives that ran ZDP-189 now run M390, which is more widely available (traditionally ZDP-189 has been available only in Japan and bar stock was extremely hard to find, even in the small amounts custom makers need; this is why all of the Spydercos that run ZDP-189 are made in Seki City). Yuna knives all have a custom pivot, which is a Yin/Yang design. Here it also acts as an overtravel stop for the lockbar.
Testing
One of the things with a knife this small is that testing is pretty straightforward. General utility task–opening packages, knicking strings from shirts, and the like–are common, but I also like to run EDC knives through two other tasks: breaking down boxes (CURSE you recycling!) and food prep.
In all of these tasks, the EQ-1 performed at least acceptably well, but two–food break and boxes–really let the EQ-1 shine. The incredibly acute hollow grind made the knife a deft kitchen cutter, and the ZDP-189 let it plow through boxes with ease. I would imagine that in VERY thick cardboard the hollow grind could cause issues, but in my case, it was never a problem.
Design
There are two things you will notice immediately upon seeing the EQ-1 in person: first, it is quite small; and second, the thumbstuds are huge.
Personally, I don't mind either thing, but I can see how some folks are put off by spending custom knife money on a tiny blade. But here is the thing–thanks to Trisak's clever use of the thumbstuds as a blade stop in both the open and closed position, the EQ-1 packs a ton of blade into a tiny package.
The corrugated G10 offers an impressive amount of grip–maybe too much. There were instances when I was driving the blade through thick(ish) cardboard that I noticed some hotspots. There is chamfering around the edges that did a good job of cutting down on the pokey nature of the pattern, but it wasn't enough to make it vanish entirely. If this were a hard use knife or a fixed blade, this pokey pattern would present issues, but in a small EDC knife it wasn't too bad.
Implementation
In woodworking, my other hobby, there is this perennial debate about how to cut dovetails–with a jig and machines or by hand with a dovetail saw. One is faster (machines) but the other allows for such minute tweaks that the fit is much better. Handwork, especially at this point, still exceeds the precision of most consumer grade machines (though Grimsmo's videos on YouTube and Brian Tighe's work with CNC machines is starting to change that). Here, Trisak's lavish attention to detail is clear–the blade, its function, its deployment, and its lockup are all 100% flawless, perfect.
I have had no blade of any kind that is equal to or superior to the EQ-1 in terms of fit and finish. The blade deploys with a flick of the thumb, locks up flawlessly, and stays put forever. If there is any rational reason to buy a completely handmade knife, this is it–utter finished perfection.
Conclusion
The joys of a completely handmade custom are evident upon handling the blade. There aren't a whole lot of folks out there still making 100% handmade knives, but Yuna Knives are just that. The EQ-1 is extraordinary. Its grind is unique, its size is wonderful, and the final touches are without rival. I am not thrilled with the corrugated handle scale, but that's about the only complaint I can lodge. If you get a chance, and they are exceedingly rare, it's worth it to just handle a Yuna. They are singular in the knife world–different, refined, and fun.