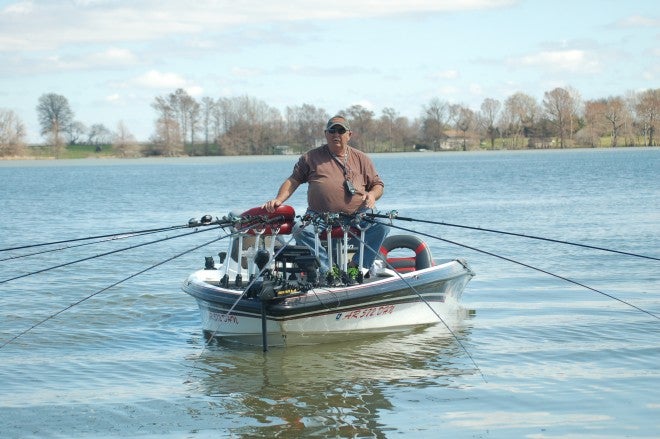 Spending a day fishing with Jerry Gross of Meatgetter Jigs is like taking a graduate course in crappie fishing science. I was very fortunate to jam the whole course into one day on Lake Washington in Mississippi, one of the top crappie fishing lakes in the country.
By the time my buddy and I spent all day crappie angling with Jerry, we had another cooler full of crappie slabs to filet out. It took us nearly two hours to clean all the fish we caught and more than enough for a good fish fry that evening. All total in three days of fishing, we caught 45 slabs, and the spawn was not even going on yet due to cold and wet weather the weeks before our trip. The catches were not in bundles, but were steady and stable all day.
White crappie filets dipped in cornmeal and crisp fried in hot Canola oil is the best thing going. Add some fried taters and some hushpuppies, fresh sliced sweet onions, and a glass of southern iced tea and well, it is one of the best fried fish on earth. For cream add some cole slaw.
Lake Washington is in the heart of the Mississippi Delta just south of Greenville, west of Hollandale, in Chatham, MS. This is also Washington County. The lake is roughly 5,000 acres of surface water, a crescent shaped oxbow lake, meaning it was formed from a break away from the Mississippi River channel eons ago.
The circumference around the lake is 25 miles with the lake itself being 9 miles long. The lake runs from 0.75 miles to 1.25 miles wide. Depths range from 2-3 feet in the flooded timber to deep holes running as deep as 22 feet. Most of the center of the fishing lake is 6-8 foot deep. We fished in the timber in 3-6 feet depths and out in the lake up to ten feet deep.
We spent one day minnow fishing in the timber right up tight with trees, cover, and structure in shallow waters. With the spawn not yet cranked up, we were intermittently catching one or two slabs here and there. It was not a frenzy that sometimes can be used to describe crappie fishing in classic Mississippi oxbow lakes, but it was productive nonetheless.
We were using 14-foot crappie rods by B&M Poles of West Point, Mississippi, 10-lb line with a crappie hook, two small lead shots, and a slide bobber float. The rods were equipped with mini-Shakespeare thumb control casting reels. These or longer poles are perfect for reaching out to the flooded area cypress trees, under limbs, and around other fish structure found in this lake.
Jerry Gross on the other end of the crappie fishing technology spectrum had his specialized crappie fishing boat rigged with a Spider Rig. That means he had mounted two special Spider Lock fishing pole holder brackets on the front deck that were capable of holding eight rods at one time, four each. These racks are fully and easily adjustable for pole angle, making it easy on the anglers. Each rod was rigged with twin hook fishing rigs so he could have 16 minnow/jig combinations in the water all at the same time.
He uses a twin seat mount available from www.cumberlandcrappie.com that allows two anglers to sit side-by-side, each working four rods at a time. Jerry often pulls this seat rig, installing just one seat on the center post to work all 8 rods and 16 baits entirely by himself. Talk about a crappie fishing machine; he is it.
What really blew me away were the electronic technologies on his boat. I am still not sure I fully understood it all. The heart of it is a Hummingbird Model 998 that maps his fishing routes via a GPS to record as a waypoint every spot where he catches a fish. He makes the rounds up and down the lake one day, then has his whole fishing success route recorded for the next day.
The Hummingbird 8-inch LED color panel reads out all the vital information, including water temperature, lake water depth, a map of the entire lake if desired, and it tracks the waypoints up and down the lake or wherever. This unit has sonar that reads out from both sides of the boat for searching structure and fish locator identifications.
The GPS tracking system is tied to the trolling motor and is controlled via a handheld device kept on a lanyard hanging around Jerry's neck. All he has to do is punch in the pre-saved GPS route, and the trolling motor takes over moving the boat from one waypoint to the next. He can adjust the travel route at any point as fishing action changes throughout the day.
Jerry's Meatgetter Jigs offers a whole product line of traditional crappie jigs in many varieties and hundreds of color combinations. His big hit right now is a "flashie jig" (my term) he markets as his Minner Critters that are added on to the hook with the minnow hooked below. These work to get the attention of the crappie as the bait goes by. They come in many colors and color combinations with a shiny sparkle twine woven into the critter skirt mix to create a sort of glitter effect sparkling in the lake light.
You might be asking why a jig manufacturer fishes with a minnow. Jerry had a great comeback when I asked just that question. "Crappie don't get to weigh 3 pounds by eating plastic," says Gross. His Minner Critter jigs are used to supplement minnows, and he changes up to use all kinds of color combinations. On the day we fished the top colors seemed to be orange, electric chicken (which is yellow), and purple (LSU style), and blue/white.
Jerry is a serious crappie angler. The whole time he works with his clients as a fishing guide, he educates them about crappie fishing. He uses one story after the next to teach the techniques of crappie fishing, how the baits work, the technology, and the whole nine yards. I guess if Jerry had not learned to make and sell fishing jigs or guide anglers to fish, he probably would have made a good barber with his gift of gab.
Jerry is also a walking historian on Lake Washington and the surrounding areas, having fished there for well over 20 years. I learned a lot about the nearby Delta community of Glen Allen and the properties around the lake, including an old antebellum house sitting on the lake shore, an old dock left from the once-in-a-life time Delta Yacht Club, and an old "round" barn built in the 20s to store cotton seed. There is a lot to learn and see around Lake Washington.
If crappie fishing Jerry Gross style sounds interesting to you, then visit Jerry on his Facebook page and follow his exploits. He is pretty good about posting his fishing trips and information on the lakes he fishes, his tournament fishing, and his Meatgetter Jigs products. You can contact him through his FB about booking fishing trips or buying his products.
As to Lake Washington, if you go there to fish, you basically only need to know one thing beyond Jerry Gross: Pam Hammond and her Roy's Store. This "resort" fishing camp facility has it all. Bought by Pam back in 1984, it was a small grocery store with a gas pump. Today it is cabins, an RV Park, a fishing campground, dock, store with a café, with all the fishing supplies and amenities you will need to fish Lake Washington.
Supply wise, Roy's has bait and fishing supplies, tackle, cabins, piers, boat slips, boat ramps, fish cleaning stations, deer cleaning area, small washerette, complete café (mainly for breakfast and lunch with the #3 best rated burgers in the whole of the Delta region). The store has all basic groceries, gas, and ice, fishing and hunting licenses, full RV hook-ups, a bathhouse on site, and a post office. There are three sizes of cabins with full services. Go to www.royscabins.net to see all the full details on this fish camp area or call 662-827-2588.
Fishing for crappie is one of the best angling sports. It is a prime fishing pastime in the south and especially in Mississippi. The Magnolia State has several of the best crappie lakes in America, but combining a lake like Lake Washington, a fishing guide like Jerry Gross, and a resort package like Roy's Store makes the whole package one good deal.