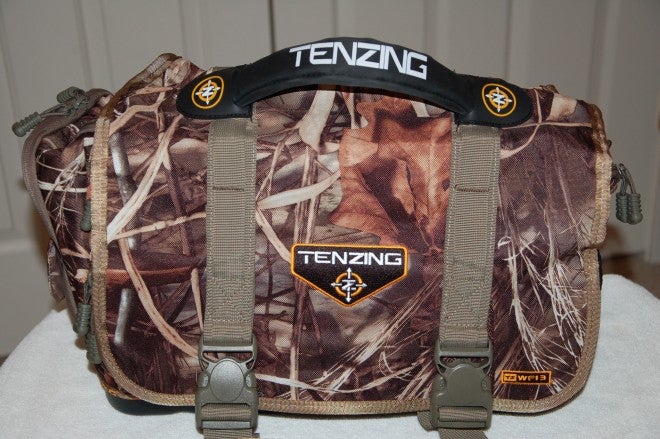 The hunting and outdoors market is as saturated with gear carry bags as an Arby's fine French Dip roast beef sandwich is with aujus gravy. The big difference? I know from experience that sandwich is a good one, but many of the sporting bags on the shelves these days are hardly worth toting home, much less to the duck blind or hunting stand.
Thank goodness though there are some really fine hunting bags out there with all the qualities and features that demanding hunters require. These really good bags are not window dressings either, but perform well in the wilds under the most ardent of hunting weather and conditions.
One such hunting bag is made by a relatively new name in the market, though it is gaining in stature and reputation among serious guides and hunters. Tenzing Outdoors makes a wide variety of hunting bags for multiple uses. The one I have used and thoroughly put through the ringer is the TZ-WF-13 Waterfowl Bag.
The Waterfowl Bag is marketed as a blind bag for duck and goose hunting. It has so many unique features built into one gear carry bag that it is difficult to understand or appreciate until you use one.
This Tenzing bag has 27 custom compartments, a padded shoulder strap with sewn on zipper pockets containing six looped duck foot holders, a durable, waterproof base unit, and a full waterproofed exterior in Realtree MAX-4 camouflage in the case of the bag I use.
Unique to this Tenzing bag is a back panel pocket that holds a pull out hand muff designed with very easy access shotshell loops right at the fingertips. The hand muff with knitted wrists also has a compartment to hold hand heaters. The hand muff has snaps to attach to waders or to use with an included neck strap. This is really a neat feature.
The bottom base unit is made of tough EVA material and protects the bag and contents from the mud and water normally associated with duck blinds and pits. The bottom also has a textured pattern to help keep the bag from sliding freely around in the bottom of a duck boat, on an ATV, or in the back of a vehicle.
The exterior of the bag is constructed of tough 600-denier material with a PVC waterproofing and a DWR coating. The Storm Shield cover top folds over the interior dual zip over flap and is held fast by two heavy duty Duraflex buckles.
There are shot shell holder loops to accommodate sixteen shells. Also built into the bag are three choke tube pockets, two specialized knife or other gear item pockets, as well as a choke tube wrench pocket.
Dimension wise the Tenzing WF-13 bag has 2830 cubic inches. The main compartment is 11.5 inches by 10 by 16 inches, large enough for complete boxes of shells, a hat, gloves, duck calls, and other hunting gear. The side pocket is 8x10x2 inches, plus there are two other front zippered pockets and a mesh back pocket to hold and attach the hand muff. Behind the two front pockets is another large zippered sleeve pocket.
Other neat features not to be overlooked include two straps that are sewn on over the top of the Storm Shield cover. These straps incorporate two loops on each side to hold or attach other items. Also the carry handle is easy to grip and comfortable to carry with the bag fully loaded. This handle is padded on the bottom with gripping surfaces for a secure hold even under wet and cold conditions.
You can check out this Tenzing WF-13 bag in even more detail on the company web site. Keep in mind also this bag could easily be dual purposed for deer or turkey hunting or even as a great waterproof camera or video gear bag. I see no reason the WF-13 could not be used for fishing, too, especially saltwater angling.
It could even be used as a good carry on flying bag for sensitive gear you do not trust being checked as baggage. With the shoulder strap latched on the heavy duty strap hook loops on each end of the bag the WF-13 is an easy, comfortable, multi-purpose tote. If you need a hunting bag that can really do it all, then check out the Tenzing WF-13.


SHOP NOW