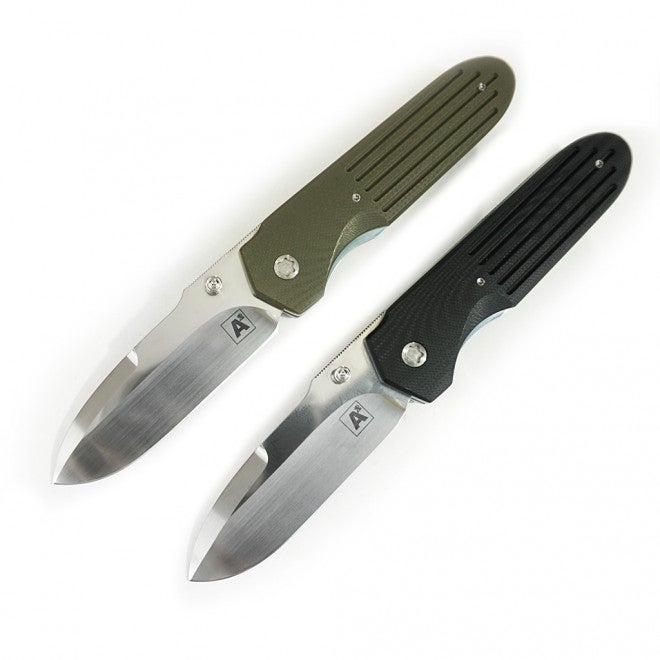 Patrick Ma is back. He has been on a long journey since splitting from the company he helped found, Triple Aught Design. His new company, Prometheus Designwerx, has been getting on its feet over the last six months or so and it has been, from a fan's perspective, a bit of a rough start. There is the inexplicable glass octopus. The didn't-sell-as-fast-as-everyone-expected Scout knife. And more t-shirts, stickers, and patches than you'd find at a local Hallmark store (albeit with gritty dude-themed images as opposed to pastel paisleys). We were all waiting for THE KNIFE. And with the release of the SPD Badger A2, it is finally, finally here.
PDW has released a few exclusives made by custom makers, but they have largely been reworks of that maker's own designs. The Calvera Cutlery PDW model is a perfect example–this is clearly an El Patron with fullers. It was not a Patrick Ma design, but something with his aesthetic as a complement to the original design. It was nice, but it was not what we were all waiting for. We were waiting for the Badger, and it is finally here.
The SPD Badger A2 is a folding knife with a three inch blade. It runs S30V steel. It was designed by Ma and made by the two Andres from South Africa (Andre van Heerden and Andre Thorburn). The knife opens via dual thumb studs and runs a liner lock. The clip is a sculpted titanium clip. The knife comes in black or green G10. There is also an internal lanyard pin. The blade has a two-tone finish with mirror flats and satin grinds. The knife runs $679 from PDW, but good luck getting one. They are available on a limited basis only. I would imagine they'd run significantly more on the secondary market, but as of April 6, I haven't seen one on the forums.
Overall this is one of the more interesting designs from Ma, a clear departure from the lines of his now-famous Dauntless design. The pronounced swedge, less pointy blade, and cigar shape make for a less aggressive, more utilitarian look. There is fine, purposeful jimping, and oddly a complete and utter lack of a finger choil. This is not a Dauntless rip off (even though it would be unfair to call any Ma design a rip off, as he's the creatore of the original).
The choice of materials and appearance clearly make the SPD El Patron a utility style folder. It's not a fighter or a hard use beast. I think both of those are wise things to avoid in a folder, not only because fixed blade do those things much better, but also because a utility design is likely to sell better. The decision to keep the blade at 3 inches is also a good move–plenty of blade to get stuff done, but not so large as to run afoul of various local laws regarding knives (of course, always check your local laws; some jurisdictions have very restrictive blade length laws).
Everything about the SPD Badger is just right–the look, the materials, the designer and makers, the size. This is the first product from PDW that really shows just how amazing a gear designer Patrick Ma is. It's not a sticker, a patch, or a glass octopus. This blade is the kind of thing that allows Ma to make those other things and sell them like crazy.
A master is back. Enjoy.