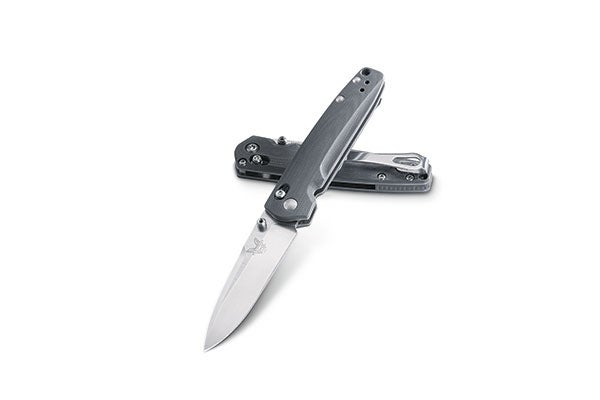 Benchmade showed off the Valet at the 2015 SHOT Show in January, and it was released less than two weeks later. That is a remarkably short turnaround on a product. Concept cars almost never come out, and when they do it is after years of iterating on the final design. But Benchmade has done this before, showing off the 300SN and releasing it very soon after. In the end, I am not sure that's such a good way to do product development, but with the Valet, the basics of the knife are so good that it would have been impossible for the blade to be a stinker.
Description
First, a bit of background: here is the Valet's product page with specs, and here is an excellent review from BladeReviews.com.
The Benchmade Valet is explicitly designed for everyday carry. It is a small, slender knife with many of the features the market has most vociferously demanded. It runs a truly superior (and costly) steel–M390. The blade shape itself is nice–a simple spear point relieved of unhelpful touches like recurves or serrations. It has smooth gray G10 handles with a bit of machining and contouring. It has an excellent over-the-top deep carry pocket clip. It runs an Axis lock and has dual thumb stud deployment. The blade is just under 3 inches long for broad legality (of course, check your local laws to be sure). The knife is also a light blade at well under 3 ounces. Those numbers, however, do not convey the true soul of this knife–its volume is so small that it all but disappears in your pocket. This is a slim, slender, cigar shaped EDC knife.
Design
The Valet, aside from being an absolute spec monster, checking off virtually every box an EDC knife should, is also a solid design. Everything is kept clean and simple, something Benchmade can have difficulties doing. The gray works well, neither hiding like camo (who in their right mind wants a camo colored handle on their blade? How about you just lose it on purpose) nor calling attention to itself like an orange handle. It is the right choice for a discrete carry knife.
The only design issue is a small one (literally) and it has to do with the proportions of the Axis lock parts.
The knife's Axis lock is 25% smaller than a normal Axis lock, and the result, when coupled with such a slender handle, is a knife that can feel fiddly when closing–not ideal timing. I am not sure how Benchmade could have done the Axis lock on a knife this slim without reducing its size, but that seems to miss the point; why does this need to be an Axis lock in the first place? I get that it is "Benchmade's Lock," but branding should never trump functionality. A liner lock or even a lock back (heresy, I know) would have been perfect here. It's not an outright failure by any means, but it is something to note. I have medium sized hands and I feel like the Giant from Jack in the Bean Stalk with this knife.
Guys with large and extra large hands need not apply.
Testing
I carried this knife for almost two months, with a few palette cleansing carries in between (mainly the 940-1 and the Dragonfly II). In that time it was the middle of a brutal winter, so there wasn't a lot of outdoor work to feed to the Valet, but that's not a big issue because this knife is really too small to be anything but a whittler. In food prep it did well, and its M390 blade plowed through cardboard with ease. The M390 really proved its worth in handling our recycling requirements, as it killed box after box after box without so much as a hiccup.
The steel is truly remarkable, in the running with M4 and ZDP-189 as the steel requiring the least maintenance. Aware of its incredible hardness, I was careful to strop it and never had to do a full resharpening despite lots of work. Suffice to say, M390 is easily among the best steels on the market today, and it is a bargain on a $170 knife (one the cheapest blades to run M390 on the market).
The knife produced no real hotspots, but the small thumb stud and mini-Axis parts were something of a callous producer.
Implementation
Benchmade's fit and finish is normally its calling card, the one thing you can count on even if a design gets a little wonky. But here, perhaps because of the rush job, my Valet was not perfect, and I am not the only one with this issue. Bernard over at the excellent Everyday Carry.com noticed the same thing. It had substantial up and down as well as side to side blade play. Even with the pivot screw tightened so much that I needed two hands to open the Valet, there was still blade play.
Additionally, the pivot and deployment wasn't the smoothest I have seen, especially for a $170 knife.
The jimping on the back is basically pure aesthetics, as it has no grip to it whatsoever.
In the end, two of these dings are small things, neither of which impairs the knife's function, but they are kind of annoying. The blade play, however, is a genuine problem. This is still a pricey knife and this much blade play is just not acceptable. This is the second Benchmade I have had with issues out of the box, the 940-1 being the other. Based on Bernard's review and a cursory glance at the Internet, the blade play issue seems endemic.
Conclusion
The Benchmade 485 Valet is a good EDC knife, especially if you get a flawless model. Its size and shape are nearly perfect. It's clear that Benchmade is heeding the market in releasing the Valet, and it is also clear that they are trying to shed the image of their knives carrying the "Benchmade tax" as this is a very competitively priced knife given the uber pricey M390 steel.
The only things that truly concern me are the overly fiddly Axis lock parts and the blade play issue. A liner lock or back lock version would be a delight as the knife is just too small to accommodate the Axis lock. Additionally, Benchmade should rethink its policy of shotgunning the release and instead work out all of the kinks in the blade lock-up. One thing about that–Benchmade's customer service, in my experience, has been second to none. Still, for $170 knife you should get better.