World-class 14-pound Florida Bass Caught and Released
Bob McNally 04.15.15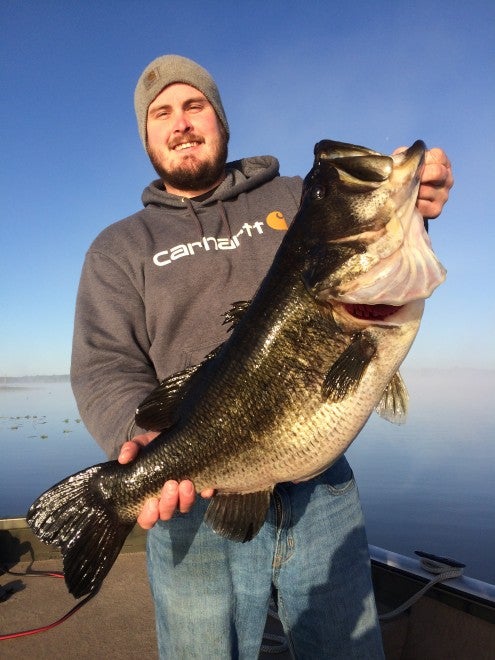 Recently Georgia angler Richie Whitmore of Ringgold caught-and-released a world-class 14-pound, 1-ounce largemouth bass on 9,000-acre Rodman Reservoir, a lake that feeds abundant spring water from its Ocklawaha River dam into the St. Johns River south of the town of Interlachen.
He was fishing with well-known bass guide Capt. Sean Rush of Salt Springs, and friend Josh Broome of Lafayette, Ga.
During a remarkable three-day bass trip with Rush, the visiting Georgia anglers caught-and-released 66 bigmouths, which included two fish each weighing 7-pounds, 10-ounces; an 8-pound, 8-ouncer; and others weighing 9-pounds-2; 9-pounds-12; 10-pounds-10; 11-pounds-9; plus the massive 14-pound-1 behemoth.
All fish were released unharmed back into Rodman, perfect timing, as such heavyweight fish are slated to spawn.
The 14-pounder was caught the second day into their three-day trip. They were anchored on a large, lily pad strewn part of Rodman, using live shiners. They'd already caught several good bass, when an especially heavy fish hit an oversize shiner that Whitmore was using as bait.
"I knew it was a big bass when the fish powered away after the strike, then made a huge basket-size boil at the surface," said Rush. "The bass didn't jump clean, but I got a pretty good look at it and knew it was a nice fish, though not as large as it turned out to be."
Whitmore fought the bass using an 8-foot rod with 25-pound test line, plenty adequate for even the biggest Rodman bass. But when he finally worked the fish close to the boat, it powered away, wallowing at the surface, and Rush realized it was not an every-day 10-pounder from Rodman.
The fish surged around a boat anchor rope, and for a time Rush thought it would break free. But the line held, Whitmore pulled the fish close, and Rush grabbed it. The 43-year old guide never nets prized bass for fear of injuring them, since all fish caught by his clients are released unharmed back into the lake.
"When I got hold of that fish I knew it was a monster, and we started going crazy in the boat," Rush said. "I told my anglers it would weigh between 12 and 15 pounds, and they just went wild, high-fiving and back slapping. They knew it was a fish most anglers only dream about catching."
Rush weighed the fish on a highly-accurate Boga Grip, where it weighed 14-pounds, 1-ounce.
Then he phoned the Florida Fish and Wildlife Conservation Commission (FWC) to get the bass certified for the state's "TrophyCatch" program and big bass registry. The bass was placed in Rush's boat live well, where it recovered in a specially-aerated tank.
Three hours later FWC biologist Travis Tuten met with the anglers on Rodman. He weighed and measured the very-much-alive bass (26 1/8-inches long, 21 1/4-inch girth), certifying it for entry into the "TrophyCatch" program. Then it was released back into Rodman.
The 14-pounder is sure to be a winner of $1,000 worth of prizes for angler Whitmore, as are all bass weighing over 13 pounds entered in "TrophyCatch." The 14-pounder also is eligible for entry into the state's Hall of Fame bass program.
For a lake that some people flippantly call a "cesspool," 9,000-acre Rodman Reservoir continues to give up fish of world-class proportions. And Rush is not shy about singing the praises of the lake, which for decades has been targeted by some people who want to drain it.
This is the second 14-pound Rodman largemouth bass Rush has led an angler to. In February, 2013, he guided visiting angler Bob Williams of New Jersey to a 13-pound, 14-ounce Rodman fish, which was the first bass large enough for entry into the state's "TrophyCatch" program as a Hall of Fame winner.
While such massive bass are rare everywhere, Rush says bigger fish swim in Rodman, plus plenty of 10-pounders.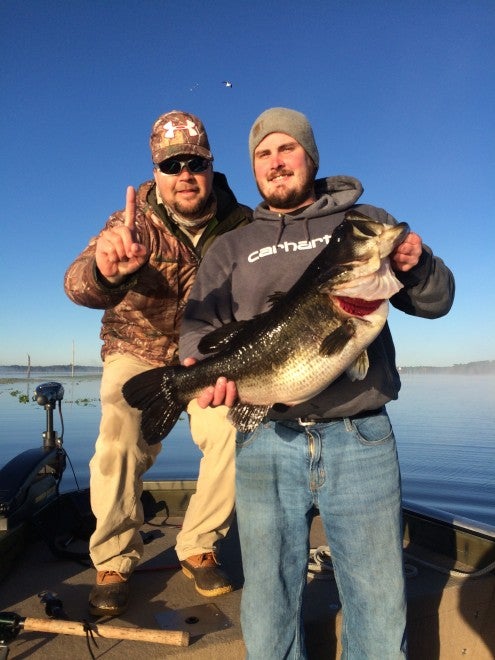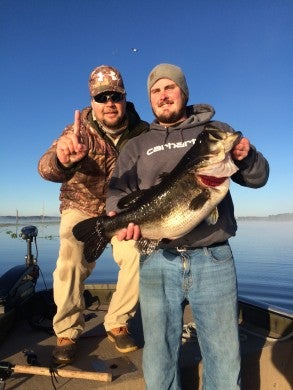 "We lost a giant Rodman largemouth earlier this year I believe was a mid-teen weight fish," says Rush who spends 300 days guiding annually on Rodman. "It was so big we forgot about the other 10-pound class largemouths we had already caught that day.
"I've produced 15 bass weighing over 10-pounds for my clients since October on Rodman, and over 50 fish each weighing 9 pounds or more in the past year. The lake has an incredibly strong number of big bass, probably more fish over 10 pounds this last year than over the last five years."
Rush's grandfather was a guide on Rodman during the 1970s. Sean learned the lake from him and has guided bass anglers on the lake for 26 years, starting at age 17.
He's seen amazing things on Rodman during that time, and he strongly believes a world record-beating bass swims within its waters. Such a fish that would weigh more than the current 22-pound, 4-ounce world record largemouth is said to be worth over $1 million from prizes and endorsements following the catch.
In year 2000, Virginia angler E.C. Dressler caught a 17.23-pound bass from Rodman, a fish Rush not only saw but held and admired.
Since then, he's seen two other bass he believes were bigger than the 17-pounder, fish of such size as to crowd the weight of the current all-tackle world record bass. One of those bass chased a shiner bait back to Rush's boat where he clearly saw the fish in Rodman's gin-clear water scant feet away. Another bass of such record-class size Rush spotted on a sand bar beside his boat while easing along with his electric fishing motor.
"Most fishermen just want to catch a bass over 8 pounds, and 10 pounds seems almost an impossible goal. A 10-pounder is truly the fish of a lifetime for most bass anglers. A fish weighing over 14 pounds, well, that's a bass not one bass angler in million can hope to catch. But that's the kind of fish Rodman has a reputation for, and why the lake is something special, something that every angler, every Floridian, should cherish."