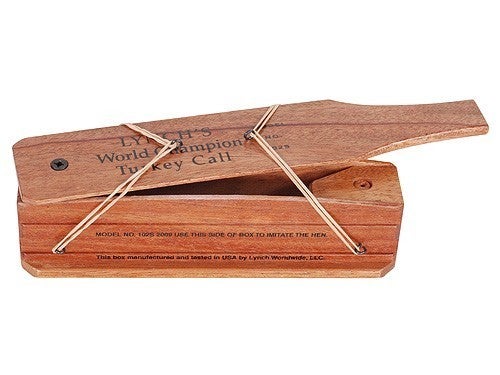 While no official data is kept regarding the best-selling turkey call of all time, it's safe to assume that the legendary "Lynch World Champion Box Turkey Call" would certainly be at the top of the list.
Lynch calls have been made for over 70 years, and the "World Champion Box Turkey Call" has been in continuous production since shortly after World War II. Back then, Mike Lynch hand made the call in his Pennsylvania garage and then traveled the nation selling the uniquely designed wooden box out of his station wagon. Sales were brisk in specific regions where turkeys were then abundant, such as Alabama, Mississippi, and South Carolina. But he did well selling his calls in places like Pennsylvania and New York, too. With the increasing abundance of turkeys and the spread of turkey hunting fever, Lynch call sales soared nationally.
Just how many calls Mike Lynch sold through the years is unknown. But Lynch Chief Operating Officer John Geer says the call today still has sales of between 10,000 and 12,000 annually. And in 2008, Field & Stream Magazine labeled it the number one selling box call of all time and inducted the call into the publication's "Gear Hall of Fame," the only box call to be so honored.
The call has been used by many people to win many calling contests on all levels of competition.
Geer says over 60 different steps are made to produce the Lynch World Champion Box Turkey Call before it reaches a consumer. It is one of the few "glued" turkey box calls still being made, as most are simply "dug out" of a solid piece of wood. The "glued" box base gives the Lynch call a different tone or sound, one that is not the easiest to tune and get to sound exactly like a real bird (gobbler or hen calls can be made with this call). This is why each call is "hand tuned" at the company before it's shipped.
A combination of screws, eyelets, and rubber bands set this Lynch call apart from many other box calls. When tuned correctly and in the right hands of a hunter, it has brought the demise of countless toms throughout North America.