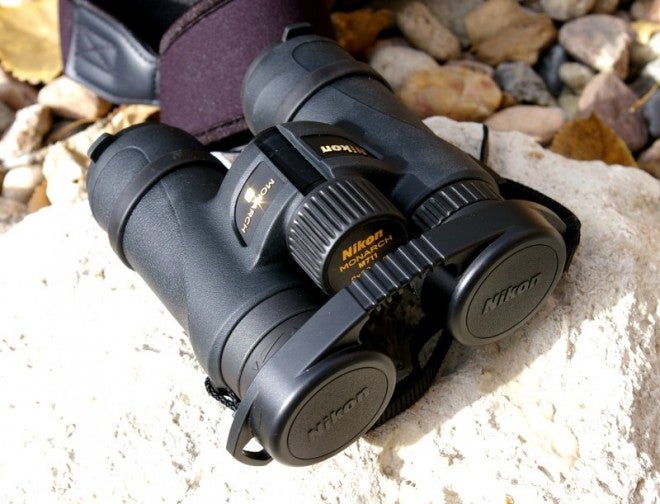 Talk to the best hunters and guides and they will tell you that a great set of binoculars is the most essential tool in a hunters toolbox. Some would say without good glass, the gun is of little use.
I think city folk and and non-hunting armchair survivalists believe that hunting is like the old buffalo hunts of the 1800s were roving herds of millions covered the plains. If it was that freaking easy, there would not be a market for camouflage, face paint, deer urine, trail cameras, or anything in the Billion dollar hunting industry. They would just sell bricks or 1lb sledge hammers at Cabelas or Academy Sports so we could just walk up and knock animals in the head instead of wasting the lead and powder. They also would not call it hunting; it would be called "wackem in head".
The reality is that many hunters come home empty handed because critters we hunt are hard to find. Sometime said animal is well within the range of our skills and rifle's capability, but they are just invisible to us. Although flushing game out is a different technique, most of us scout, stalk, and shoot from a fixed position. Binoculars help out with this by increasing our vision at distances, and these Nikon Monarch binoculars have been an excellent size and delivered superb clarity and performance for all my outdoor activities.
The Case for Good Binoculars
There are several reasons to hunt with a high quality set of binoculars such as the Nikon Monarch 7 8×30, of which safety is probably the primary reason. A little hunter safety 101–you never ever want to use your weapon mounted optic to scout game. Weapon mounted optics are to confirm the intended target and function as a sighting device and are not be used for general observation and looking around. If you are using your firearm optic to see whether that was a deer at 200-yards downrange or another hunter, then you are quite possibly pointing your gun at a person and violating one of the core rules of firearms safety. This could be a real legal and safety issue if he is looking back at you or if a shot was actually fired. Binoculars are for looking, and scopes are for shooting. The now popular quick release red dot magnifiers are also handy for this purpose because they can be used without the firearm.
Another reason to use binoculars is that they increase the dimensional area we can hunt without moving. This increases our hunting efficiency, allows us to cover exponentially more land at a time hunting, and if game is identified, provides an opportunity to properly stalk and position a shot.
As we know, moving makes noise, which most game tend to be alarmed by. If you are able to search and identify game downrange without moving, chances are higher you will have a more successful hunt.
In almost all cases, high quality binoculars will deliver more comfortable viewing, a much larger field of view, and brighter low light performance than weapon optics. Whether you are hunting squirrels in the tops of trees or rams at 300-yards, binoculars are as critical to a hunt as your rifle.
From my perspective, Nikon offers some of the best optics for the money, and their Monarch line is consistently ranked some of the finest optics available. If you want the top end of binocular optics, Nikon even has the $2,500 EDG line, which shares much of its technology in the Monarch line.


SHOP NOW
Fit, Finish, Features, and Functions
Fit and finish? Hey, it's a Nikon Monarch series, so naturally it is top quality with a refinement that most companies are still striving for.
The size is just awesome. The Nikon Monarch 7 8×30 packs in all the most sophisticated features of the Nikon line, including a lighter and more compact body design, an improved optical system with 30mm objectives for bright viewing even in low light conditions, a very wide field of view for mid-sized binoculars, and Nikon's ED (Extra-Low Dispersion) glass lenses. The resulting features of the Nikon Monarch 7 8×30 deliver about a 6 oz+ lighter and a 2" length and 2" width smaller sized binocular than a larger and heavier binocular, but with higher overall performance.
I use these Monarch 7's all the time from bird and game watching to seeing what in the hell that guy is doing sitting in his car in front of my house on an otherwise empty road at 2AM in the morning. The other day I saw a giant yellow fluff ball bounding down a grassy area about 300-yards away from our house. It turned out to be a clearly identifiable escaped yellow lab puppy, which demonstrates the Nikon Monarch 7 8×30 delivers clarity even at longer distances.
Beyond the light weight, small size, and full sized performance, the MONARCH 7 binoculars includes a number of excellent and useful features, including removable objective covers that attach via rubber rings so you do not lose them in the field. The eyepiece covers are attached to the very nice and comfy neck strap with stretchy neoprene pad. The case is nothing particularly special, but it's light and has a Velcro closure and belt loop.
Final Thoughts
What I love about the Nikon Monarch 7 8×30 is that it satisfies everything you could ask of a full sized set of binoculars in compact size and lighter weight. The 1 lb weight is weight well spent as a tool that is paramount to a successful hunt and can easy tuck into the smallest of hunting packs or even cargo pant pockets.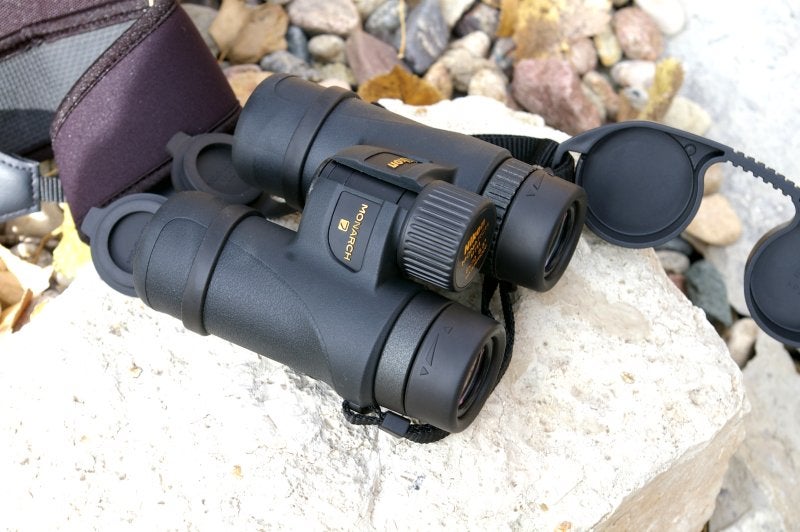 The clarity of the Nikon Monarch 7 8×30 is really quite amazing for binoculars of any size. For around $300 on the street, the Nikon Monarch 7 8×30 are definitely starting to get into the premium price line, but well below the German and craft binocular names. Unfortunately, too many times people don't spend the money necessary on high quality optics and binoculars, but a high quality set of binoculars really is an essential hunting tool that is also handy for other observation activities.
At first I was not sold on a small set of binoculars since they typically deliver a smaller field of view and image quality suffers. In this case, Nikon has really hit a home run with an easily packable binocular size that still delivers big glass performance.
Specs
MONARCH 7 8×30 – $379.95 MSRP – Street $299
The new MONARCH 7 30mm binocular features a new, sophisticated body design that is lighter and more compact. Its improved optical system features 30mm objectives, a wide apparent field of view, and Nikon's ED (Extra-low Dispersion) glass lenses.
Focusing System: Central Focus
Magnification: 8x
Objective Diameter: 30mm
Angular Field of View: (Real) 8.3°
Angular Field of View: (Apparent) 60.3°
FOV at 1000 yds: 435 ft
Close Focus Distance: 7.8 ft
Exit Pupil: 3.8mm
Relative Brightness: 14.4
Eye Relief: 15.1mm
Size (Length x Width): 4.6 x 4.8 in
Weight: 15.3 oz
Interpupilary Distance: 56-72mm
Phase Coating: Yes
Dielectric Coating: Yes
Waterproof/Fogproof: Yes
Prism Roof
ED Glass: Yes
SHOP NOW