If you have a .308/7.62 caliber rifle and need a comprehensive, compact, packable cleaning kit for the field, then the Otis 7.62Mm MPSR Cleaning System is an obvious choice, but there is more to the Otis cleaning kit than just size.
There has been a trend in the market away from long, screw-together, rod-based cleaning systems and toward pull-through designs utilizing cord or some type of nylon sheathed aircraft cable. The Otis MPSR Cleaning system is the later, based on their Memory-Flex cables. The reason the industry is moving away from traditional rod based bore cleaning systems is that they can be very hard on the barrel and rifling, which ultimately impacts accuracy. The less a metal rod is banging down the bore, the better.
Another reason the Otis system can decrease bore or crown damage is that the Memory-Flex rods flex during use, which means the user is not torquing a stiff rod against a crown or breech edge. Pulling the Otis cable through the bore also delivers a more even cleaning because a patch is pulled and not compressed against the cleaning rod. When a cleaning patch is pushed down the bore, it compresses unevenly against the cleaning rod and leads to uneven cleaning. The Otis system just drags a uniformly tight patch down the bore, which also cleans the breech area more thoroughly as well.
What I liked about this cleaning system is that it works really well and can be the same easy-to-use compact system you use in the field for a quick cleaning or a detailed bench cleaning at home. You still have all the same level of quality cleaning tools without any added bulk or need for additional cleaning equipment.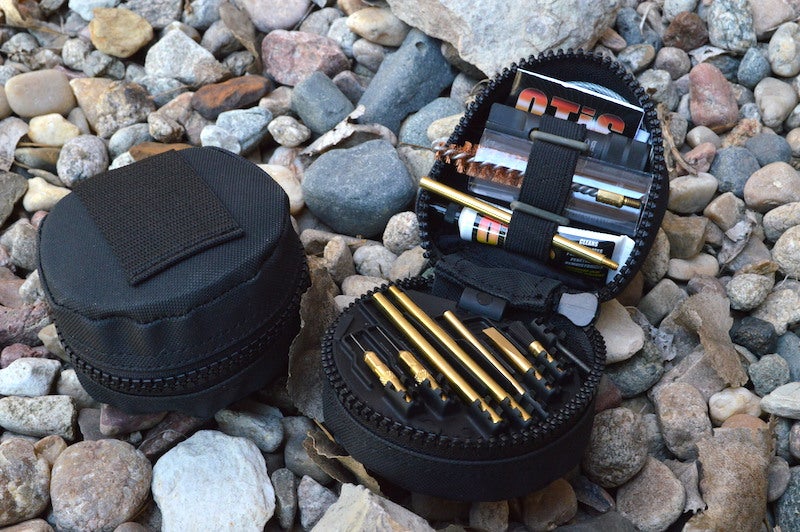 Final Thoughts
Otis makes and assembles all of their products in the USA, and if that isn't cool enough, they are also family owned and operated as well. I love rooting for the little guy when they are doing all the things right. In this case Otis is delivering an affordable, compact, and extremely high quality cleaning system that has a place at home or in the field for the .308/7.62 Nato shooter.
SPECS
8″ and 30″ Memory-Flex Cables for effective and correct Breech-to-Muzzle® cleaning
Bronze bore brush removes copper deposits and other fouling
Specialized precision tools for complete breakdown and fine cleaning of all critical and hard to reach areas of your firearm
Ultra Bore cleans, lubricates, and protects in one efficient step
Lightweignt soft pack with belt loop for convenient carrying
Available in 5.56mm and 7.62mm
FG-762-MPSR BX 7.62MM MPSR Cleaning System
All non-consumable parts come with a limited lifetime warranty
All products are MADE IN THE USA!
We are a family owned and operated company.
MSRP $54.99