Wounded Warriors Enjoy Fishing, Sailing, Boating
Bob McNally 05.26.15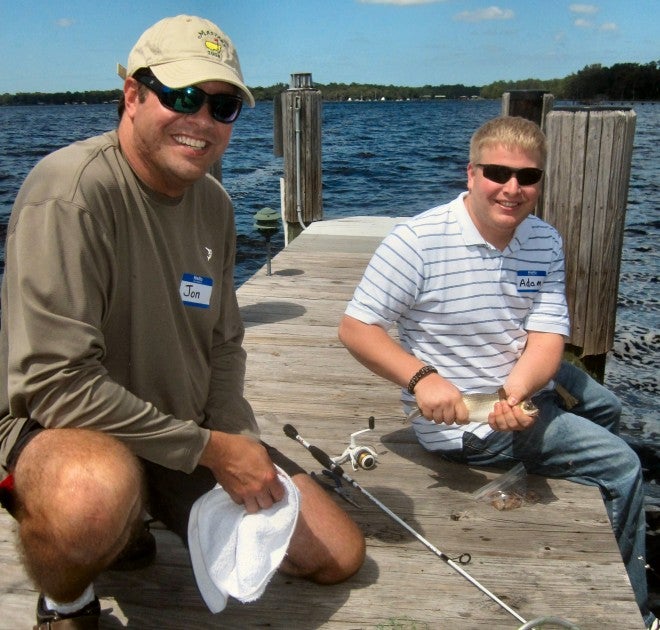 It started as a simple idea from a retired Army Major to a neighbor.
It ended several weeks later as a fun-filled outdoor day for 52 Wounded Warrior Project members and their families with a fishing, sailing, and boating theme in a Florida riverfront community.
Retired Army Ranger Major Andrew Wilfong lives in a riverside neighborhood in Florida's St. Johns County. He and neighbor Gary Richards were talking one day about returning military veterans, and Wilfong mentioned it would be great to have some of them out for a day of fishing, boating, and just relaxing on the river.
Richards perked up, as he had just begun a relationship with the Jacksonville-based Wounded Warrior Project.
Gary and wife Lisa are partners of Hospitality Softnet, a large Jacksonville company they believe has prospered following 9/11 because of the sacrifices of so many military personnel in keeping America's homeland secure.
"After 9/11 a lot of American businesses were negatively impacted, but because our military took the war to Iraq and Afghanistan, America has not been attacked a second time," says Gary thoughtfully. "Our business revolves around the hospitality industry, and another attack on our shores would have been devastating for us.
"Our success is a direct result of our good health in the tourism industry. Without the sacrifices of our veterans and wounded warriors, that wouldn't be the case. We owe our military everything, even in this era of America's economic sluggishness."
Gary contacted the Wounded Warrior Project (WWP) to learn if they'd be interested in having some of their members involved in an "appreciation day," sponsored by Hospitality Softnet.
"Donations are needed for WWP, and go to a great cause," adds Gary. "But we wanted to make it personal, something that all participating parties would find rewarding."
Wounded Warrior Project staff agreed to the idea, and a core group of community neighbors got everything moving at lightning speed to prepare the outdoor event.
Andrew Wilfong, Sue Stropes, Charlotte Johnson, and Lisa and Gary Richards handled the food, beverages, tables, and decorations for a sit-down, full-course steak dinner. Jim and Mary Hartwell got their sailing sloop decked out for river cruises. David Cooksey got a powerboat ready for taking those wanting to go tubing and cruising.
Neighbors Jon Edenfield, Mark Beach, Sue and Jessica Wilfong offered time and effort gearing up for group fishing on a community marina dock jutting 700-feet out into the St. Johns River. Rods, reels, and fishing gear were donated by Abu Garcia and Berkley Tackle companies. Each rod and reel was stamped "Never Give Up," in honor of each WWP veteran who was given a rod-and-reel to keep for his own.
Baysider Gene Stropes contacted his Washington D.C. son and got a pair of American flags that flew over the Pentagon donated to the event. They were raffled off (free) to the WWP members during dinner, along with weekend visits to posh Florida and Georgia resorts, courtesy of donations secured by the Richards.
Even Jacksonville mayor Alvin Brown got into the spirit of the event by giving a personally signed proclamation letter to each veteran, thanking them for their military dedication and American service.
The day of the event was a chamber of commerce success–bright and sunny, cool and breezy. Dozens of WWP members fished from the community dock, and virtually everyone caught St. Johns River fish of a staggering variety–including bass, ladyfish, mullet, bluegills, sea trout, croakers, pinfish, even toadfish and crabs.
Incredibly, an oversize manatee showed for the WWP members, much to the delight of many family youngsters who marveled at the mammal as it drank freshwater from a Bayside dock spigot.
Then professional bag piper Jim Sloan of Jacksonville announced to the dock fishing "warriors" that dinner was served by playing God Bless America, and leading them like a pied piper from the river to the community clubhouse for grilled steaks and all the trimmings.
Young Billy Kastelz was in attendance, too, and introduced himself as a WWP alumni. His grandfather, the late Bill Kastelz, was a highly-respected sports editor and columnist for the Florida Times-Union for many years during the 1970s and 1980s. Young Billy, bright-eyed, lean, and strong, had been a Navy corpsman, with tours of duty in Iraq and Afghanistan.
Big events such as the one hosted near Jacksonville are not an option for many people who'd like to show their appreciation to WWP veterans. But big bashes are not the only way to show respect and help these American servicemen and women. Smaller groups and individuals can engage with WWP alumni, too.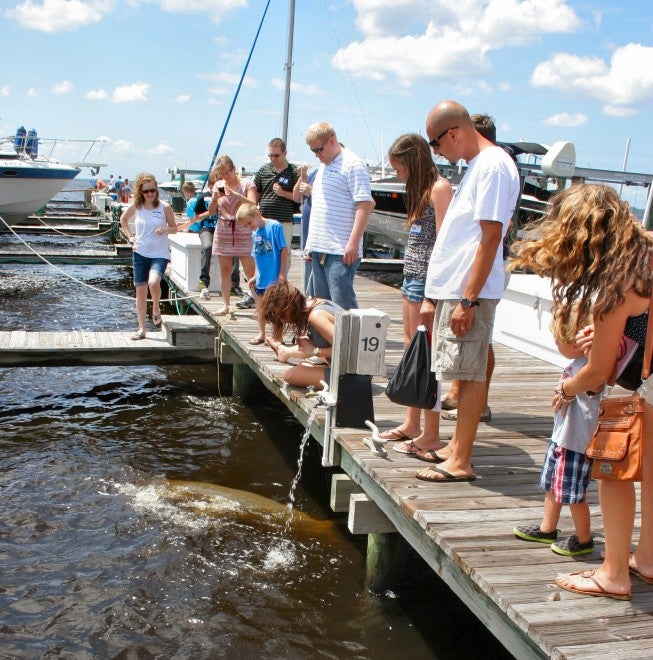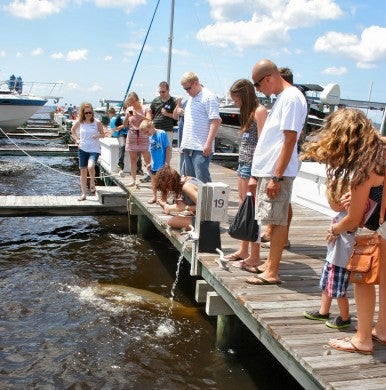 America has dozens of fishing clubs, hunting groups, shooting sports organizations, archery clubs, even individual anglers and hunters with room on their skiffs or vacant tree stands on their property. All can be part of something much bigger than the all-outdoors if they welcome Wounded Warriors to participate with them outside.
"We have over 18,000 WWP members–or 'alumni'–in our system, which is expanding rapidly nationwide," says Jeff Robertson, a former marine who served in Afghanistan and a University of Florida graduate, who is Dean of Students for WWP. "Anyone having a service-connected disability after 9/11 is eligible to become a WWP member. And WWP is a good contact agency for anyone wanting to work with returning war veterans and help them through some difficult times."
If your usual sporting clays group is lacking a pair of gunners next weekend, a call to WWP may be all it takes to get a couple of veterans back out on the range for the first time in a long time.
Going to a hunt camp in a couple weeks, checking things out, and driving ATVs around? Ask the WWP if they have any interested alumni who'd like to tag along.
Maybe you have a couple open spots on your boat headed for bass or trout, inshore for flounder, or perhaps a spare kayak for tailing redfish in the marsh? Give WWP a call.
Ask a vet to go along with you.
They'll be glad you did, and you will, too.
For more information about helping Wounded Warrior alumni get back into the outdoors via fishing, hunting, shooting, and other sporting activities, contact the organization via their website at: www.woundedwarriorproject.org.