Video: Armed Citizen Shortens Liquor Store Shooting
Russ Chastain 06.02.15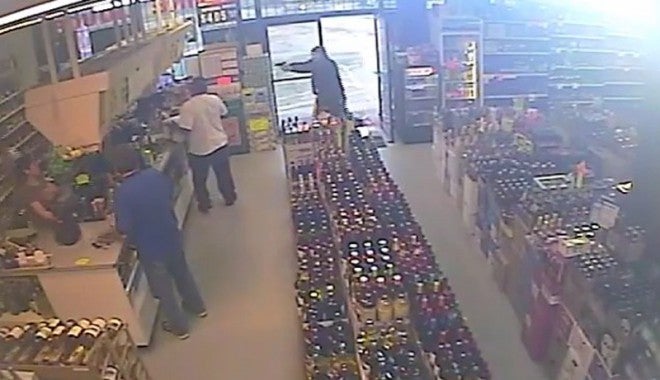 Conyers, Georgia – When a man decided to enter the Magnet Package Liquor Store and start shooting, an armed citizen fired back, putting an end to his assault.
Jeffrey Pitts had reportedly threatened the store clerk earlier that day, brandishing a handgun in order to force the clerk to relinquish Pitts' ID, which he had apparently earlier withheld due to an unpaid bill. Hours later, Pitts boldly entered the store and began shooting almost immediately.
He first fired at those behind the counter, but also fired at customers who tried to avoid him by running, as seen in the video below. The released video ends before the only good thing happened – and that is when customer and gun owner Todd Scott fired at Pitts, who then turned tail and fled.
Sadly, the jerk then went home and shot both of his parents (age 63 and 64). Both were wounded but will reportedly recover.
A 911 call from the mother brought police to the home, and a shootout ensued when Pitts fired at deputies. When the dust settled, Pitts lay dead. Whether the fatal shot was self-inflicted or not is unknown.
Two of the people shot in the liquor store were killed: 44-year-old clerk Mun Hyuk Cha and 39-year-old customer Otonicar Jimquez Aikens. It's likely that more would have died without the intervention of an armed citizen.
Rockdale County Sheriff Eric Levett said, "I believe that if Mr. Scott did not return fire at the suspect then more of those customers would have hit [sic] by a gun. It didn't appear that he cared who he shot or where he was shooting until someone was shooting back at him. So in my opinion [Todd Scott] saved other lives in that store."
Good job, Mr. Scott. I'm glad you were there. Our thoughts and prayers are with the families of the victims.