Blade Show 2015 Report: The Baroque Period of Production Knives?
Tony Sculimbrene 06.10.15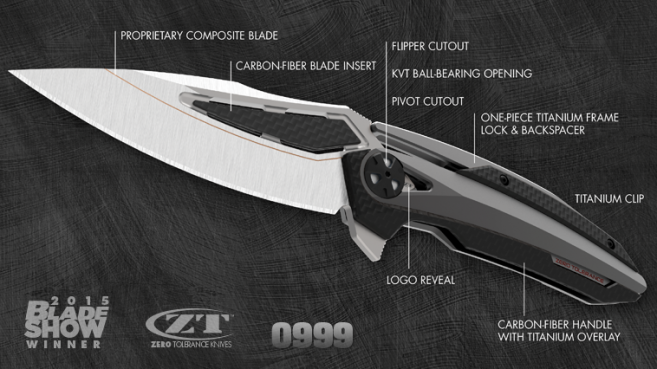 Blade Show 2015, the knife industry's biggest event, is over, and there are a few gems that came to light for the first time. It used to be that this is where ALL of the new knives debuted, but that has changed as SHOT has taken center stage and Spyderco has opted to show off new stuff at IWA. That said, there were a few announcements that caught my eye. Blade HQ, as always, did a good job covering the show on video. Go check out their YouTube channel.
Zero Tolerance
ZT showed off a bunch of really solid, mid-priced knives at SHOT, and so they took the opportunity that Blade presents to show off some of their insane stuff.
There was a wharncliffe version of the ZT0392 (the Hinderer Ecklipse) and a larger midpriced knife, but the two blades that caught everyone's eye were the ZT0606 and the ZT0999. The first is a collaboration with RJ Martin and is the first production knife to feature Martin's pivotless pivot.
Though it seems like a gimmick, a hollow pivot, like everything Martin does, is executed to perfection. Inside the larger pivot is an array of hardened stainless steel parts, even the bearings, and the result is a supremely stable, supremely smooth flipper. Its handle design is equally flashy with two colors of titanium, complex machining, and a carbon fiber inlay.
The ZT0606 is a high end ZT that comfortably competes with any production blade on the planet. It's big and a little too flashy for me, but it still is tempting–RJ Martin goodness made by ZT is an intoxicating recipe. Any other year the ZT0606 would probably be the king of the hill, but ZT also showed off its uber-pricey triple number model (following in the lineage that includes the beastly ZT0777 and the Maxamet equipped ZT0888).
The ZT0999, pictured at the top of this article, is a titanium and carbon fiber mashup, a machining challenge that only a handful of companies in the world could produce. I am not a huge fan of the Transformer look, but there is no denying that the ZT0999 raised the bar for what production companies can make.
Emerson
Emerson doesn't flood the market with new knives even on their busiest year, but what they do put out tends to be solid and thoughtfully designed. This year a Blade, they debuted only one thing. It is a custom knife, but boy is it amazing. The Emerson Phalanx was shown off with the traditional custom Emerson look of drab micarta and titanium bolsters.
The grind is a very aggressive looking Americanized tanto, and the overall size is quite large. I am never going to buy this knife, even if it were in production form, as it is too large, but there is no doubt–this blade is a beauty, a siren's call to all those in the Order of the Black Shamrock.
Ka-Bar
Ka-Bar's innovation comes at a glacial pace. Their new line of knives that debuted a few years ago was, ironically enough, a series of traditional slipjoints. But they know what they are doing–focusing on classic designs that sell well and have high profit margins.
The big deal this year was the announcement that they are upgrading their Becker models–making them available in a clear coat with new handle colors, better handle materials, and press-fit kydex sheathes. The BK9 is my favorite big chopper and each one of these upgrades is appreciated on a knife that works so incredibly well but felt a bit unfinished.
The clear coat upgrade is expensive, about 50% of the price of the original, but that is because they had to do additional finishing to the blade. Remove the coating from your black BK9 and you will find a positively caveman like finish on the steel (which is fine, as this is the ultimate user knife, but still…). Incremental upgrades aren't as exciting or flashy as the ZT0999, but they are really appreciated by users and that is clearly Ka-Bar's target audience.
CRKT
CRKT had a few new releases this year, ranging from the futuristic to the traditional to the trendy. Ken Onion's new design, the Outrage, is a a flipper with classic Onion lines and a nice size, around 3.2 inch blade.
It runs 8Cr13MoV and will probably street for around $50, maybe a little less. The clip is an over the top clip and the entire handle has been milled, machined, and marked for style and possibly grip. Onion once said that he conceives of new designs with a narrative behind them, like a knife featured in the plot of a movie. Clearly the Outrage was from a science fiction film.
On the opposite end of the spectrum in the Jernigan Torreya. This is CRKT's take on a folding version of a classic drop point hunter. With brown fiber resin handle and bolsters, the classic lines of the blade look very appropriate. It's a big knife with a 3.6 inch blade and an overall weight of 5.09 ounces. Its lack of a clip is probably good for use as a hunting knife, eliminating any hotspots, but it's a deal breaker for me. A knife this big doesn't work in a pouch unless you are a utility belt kind of guy (which is one step away from a fanny pack kind of guy).
Finally, they showed off a production version of Liong Mah's one piece multitool, the Viva. I am still uncertain as to the utility of all these kinds of tools, but as they go this one is nice looking.
Spyderco
The American debut of the Brend Mamba and Rassenti Nirvana were ho-hum, as we have all seen them before thanks to IWA and Spydercollector. It was the stuff exhibited but not shown that has the knife community atwitter.
The biggest rumor, and that is all it is until there is some confirmation or pictures, is the release of a scaled down Paramilitary 2, something along the lines of a 3 inch blade. According to rumors it was shown in a display case with the label "Paramilitary 3."
There were also rumors of a compression lock Sage, a Manix XL flipper in titanium, and whispers of a knife called the Shaman, with a 3 inch leaf shaped blade and a compression lock. Again, as with all Spyderco rumors, it will probably be years before we see the models in picture form. We have been waiting (for good reason) for the Firefly for more than three years now.
Brous Blades
Brous showed off quite a few knives, including a flipping karambit, a very modern looking tanto, and a small-ish recurve. Karambits aren't really my thing, so I can't comment on that, but the tanto, called the Element, was very interesting looking.
Though it is tough to tell size in a short video, it is definitely not a monster blade like some of Brous's designs. It also has an inset pocket clip, one that flows with the lines of the knife and rides ON the lockbar itself. Flipping action was very good, though that is nothing new for Brous.
The real thing that caught my eye was the lines. This knife appeared to be a much more restrained design, not a complete departure from Brous's aesthetic, but a more resolute, less busy version of that visual style. The small-ish recurve had a very narrow blade and an unusual blade shape, something that is probably beyond my capacity to sharpen. Overall, he seems to be coming into his own stylistically. Now it's time for him to graduate to a steel other than D2.
Conclusions
Blade Show isn't what it used to be for production companies. SHOT is the big dance, but if you know that and expectations are set, then this small showing isn't all that bad.
I'd love to see pictures of some of the Spydercos, but their "no picture of prototypes" policy prevents that. Of the stuff we saw for certain, the BK9 in clear coat is the probably the closest thing to an instabuy, and the Onion folder is definitely something I will review.
I also think that ZT has probably played out the thread design-wise. The ornate and bizarre ZT0999 is so far removed from practicality that it's almost an art knife, and the ZT0606 isn't far behind. I just can't shake the notion that we are entering the Baroque period of the Golden Age of Gear where designs are festooned with flash and substance is left behind or obscured.