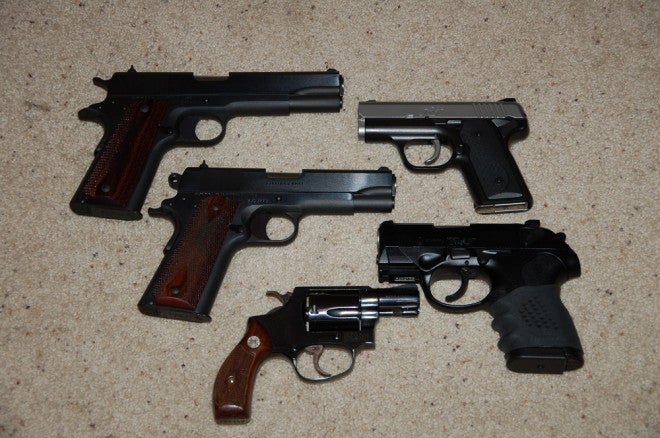 Is there an ideal barrel length for a handgun to carry concealed? One would suppose so, but then there ought to be some flexibility depending on an individual's personal preferences and what works best for carry and drawing the weapon.
If you were to visit a well-stocked gun store with the intent of surveying the selection of typical concealed carry firearms that are available for purchase now, you would probably find most of the guns with very short barrels. Obviously there is a practical reason for this. I mean have you ever tried to conceal carry a Ruger Super Blackhawk with a 7.5 inch barrel? I can hear you laughing now.
With CCW guns being in such vogue now, manufacturers are cranking them out as fast as possible. Every time there is another SHOT Show or NRA Annual Meeting show, the gun makers use that venue to bring out even more new models for the consumer to consider.
The two most popular caliber these days in CCW pistols seems to be the .380 ACP or the 9mm. To a lesser extent but still bought by those shooters able to handle it is the .45 ACP, which still holds its own in sales. There also continues to be a following for the .38 Special in small revolvers. Even some will buy a .22 rimfire a .32 ACP or maybe a .25 ACP, though this later one is not terribly popular these days for self-defense purposes.
Anyway, the point here is that these are all small(er) handguns, all with short barrels in the general range of 2-4 inches with 2-3 being about the norm. Nearly all of the newer pistols coming on the market targeted as CCW guns have short barrels, but even so, they do run the range of the 2-4 inches generally.
Individual shooters have to decide the balance between the various barrel length offerings, choosing the best handling characteristics, sight planes, sight pictures, concealment features, weights, grips, and types of sights on the handgun. Concerns over recoil could be factored in as well.
Undoubtedly, the shorter the barrel the more compact the weapon, but barrel is just one consideration. There is also the grip length, grip extensions, magazine fit or extension, firearm thickness, and other gun features. This is why shooters have to shop for their CCW with these critical aspects in mind.