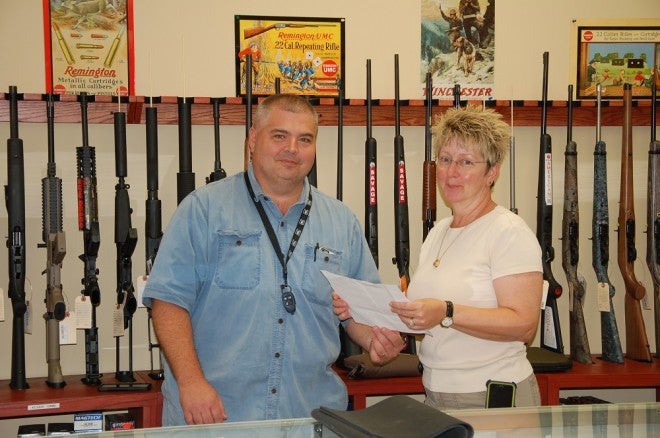 Any clue what it takes in this day and age of an uncertain economy and a less than secure future for gun ownership rights in America to open a brand new gun store literally from the ground up? It takes guts, resolve, planning, revisions, nervous moments, and sleepless nights.
David and Cindy Graves beat all those odds and survived all the initial steps to open a new gun shop. Brandon Arms is located in Brandon, Mississippi just ten miles east of the state capitol. After years of working as a construction project manager and working his gun show business on weekends, David Graves decided the time was right to build a foundation for their future. Lucky for him, he had a great partner in the process: his wife Cindy. He was also fortunate these days to find a top notch sales person in Chad Holifield.
Today they have a brand new building in a mini-strip mall location right on a main thoroughfare in town. The customer traffic is amazing just in the two visits I have made to the store. Part of the initial issues were in getting the building construction done with several problems cropping up. They are still having issues with communications and connectivity that will allow them permanent internet access.
"Few people realize all the hoops to jump through to get a new business open, aside from the issues of it being a gun store. There are city and state business licenses, inspections, insurance coverages for everything, business operational paperwork, FFL access, proper procedures, and paperwork, and security systems protection," says David Graves. "We built the custom gun rack system, but had to acquire glass showcase cabinets, and a special wall for brackets to display all kinds of products. Then we had to buy shelving for gun cleaning supplies, magazines, reloading supplies, ammo boxes, and hundreds of other products we sell. All total our investment is roughly $500,000 in merchandise alone."
Brandon Arms has a comprehensive stock of all types of handguns, revolvers, and pistols. There are probably 100 or more long guns in the racks from hunting rifles, rimfires, ARs, and shotguns. They have a good selection of optics, too. They have tons of ammo and all the accessories one could imagine, though more merchandise continues to arrive daily. The buying and stocking process was well thought out.
Starting a new gun business is not easy. I applaud the Graves' for their efforts with a strong foundation of customer service, inventory selection, and product service.