Preppers: Keep Your Engines Ready by Using the Right Fuel
Dr. John Woods 07.13.15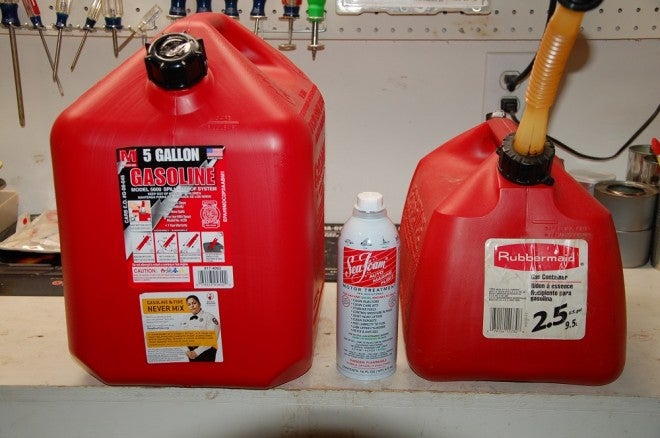 Have you seen the Sta-Bil commercial where the guy is trying to start his outboard motor with the old gas? I love the look on that guy's face when the engine won't start. I love it ironically because I had the same look on my face last year when I tried to get my ATV cranked after sitting the garage all summer. This was a prep trial for a SHTF practice weekend, and we failed before we got out of the garage.
It was a sluggish start at best. The engine ran rough for a couple weeks into the hunting season before I decided to take some positive action. First and foremost most of the blame goes to today's gasoline formulated with ethanol made from corn. As most of us know now, this fuel additive (or stretcher) ruins most engines, especially ones that sit up for a spell like a boat, tractor, lawnmower, ATV, chainsaws, and such.
So, the first thing I did was hunt down a gas station that still sold non-ethanol fuel. Though it was nearly three times the cost of regular unleaded gasoline at the pump, it only took two tankful's to help the engine start faster and run smoother. That change alone in fuel type has contributed greatly to improving the performance of my ATV engine.
Next, on the advice of another hunter I bought a bottle of SeaFoam, which is actually a fuel additive for marine uses, but if you read the label it can work on all gas engines. I have added the recommended amount now every time I top off the ATV fuel tank with real gas. Now magically almost this engine is giving all the signs of having been revived to like new running condition, though it is a 2000 model Honda. This fall I will change the oil and add a new spark plug, and I believe this will cure all that has ailed my ATV engine.
These are steps I recommend for any such fuel or engine starting issues you may have. Especially if you "mothball" an engine for an off season spell, put some fuel protectant in the tank and then run it for a short while to get the additive circulated through the fuel system. Definitely switch to non-ethanol gas if you can find it. Next, start the engines periodically to keep everything going. Fuel does "age" with time, so protect it and use the equipment regularly. This is especially critical for prepper equipment that has to be ready to go.


SHOP NOW