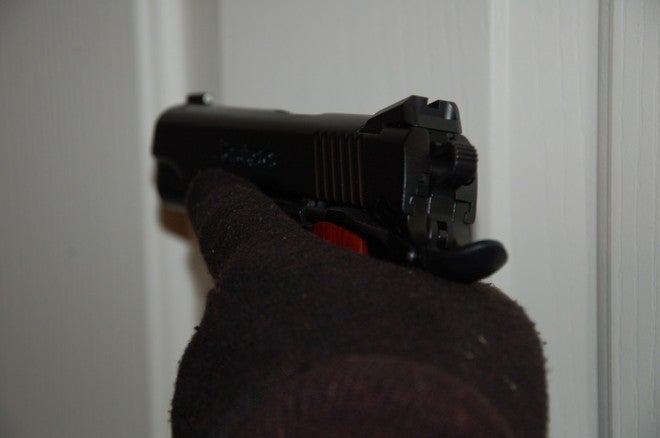 What criterion do you use to purchase a new handgun, especially a concealed weapon? Is it by overall size of the firearm, the caliber, the barrel length, magazine capacity, or what? Do you have a ranking system you use to make the best final decision for the "right" gun to buy?
How about considering the grip? Yeah, that handle thingy you grab ahold of when you pick it up.
I am amazed at how many new guns I read about that I would like to own until I pick it up. Admittedly I have big mitts, but most of the smaller, compact, concealed guns just do not fit my hands well. In fact, they don't fit my shooting hand well enough to make me want to buy it. I mean, if I cannot get a good, firm, hand-filling hold on a handgun, then how can I expect to shoot it well? I don't think I can.
I'm not picking on certain models. Some guns are just small guns, and that is that. Even so, I find some tiny guns fit my hand better than others primarily because of the angle of the grip and frame. A good example is the diminutive Beretta 21, a small, .22 rimfire semi-auto pistol. When I grab up this fine little pistol, it just fits, thus I am able to shoot it well.
Another small pistol that fits me well because it is styled after the class 1911 format, only downsized, is the Kimber Solo. The grip fits right, the grip panels are comfortable, and I can reach the safety and slide release controls from the grip with ease.
By contrast, I really want to like the whole new line of Sig-Sauer compact, concealment pistols, but I hate them. I'm sorry, but if I have two fingers falling off the bottom of the grip then this is not a gun I can shoot well.
So be sure after you pick a brand, a caliber, and a gun size you examine the grip fit seriously. Your grip hand should just naturally fit the pistol. It should be comfortable, not too small, too large, or too thick. The factory grip panels should be comfortable or changeable.
When you point the handgun down range, does the grip remain stable and secure? If your handgun's grip does not fit or feel right, then maybe you need to search for another handgun option.