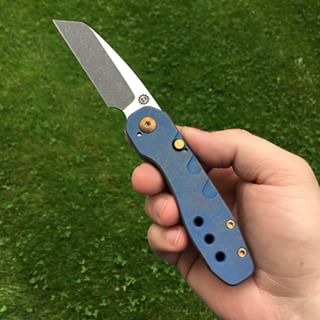 We all know the pattern by now. Guy starts out collecting knives, then he busts out a Dremel and modifies one he owns, he throws it up on a forum, gets some praise, and then people starting asking him to mod their knives. From there he creates as small side business modding production knives. The business grows until he is at capacity with orders. Then he realizes that he is doing all of the work of MAKING a knife but getting paid much less than he would if he was selling his own handmade designs. Spurred by that economic logic, the guy slowly works on his own design until one day he debuts it to the public. Sometimes there are cheers, other times curious stares.
Kevin Smock, formerly BowerBladeworks, followed this path, a well-worn one also taken by TuffThumbz and Gavko, among others, and recently debuted his SK23 flipper. There are a ton of folks putting out handmade knives right now, but the SK23 stands out for a few really different design choices. As a debut, its impressive. As a portent, its very exciting.
I have had Smock do mod work for me, transforming a stock Boker Kwaiken in to the them shown above, complete with a Dietz flipper tab and translucent G10 handles. He also cut down the point, bringing it within the handle frame when closed (something Boker absolutely should have done, but didn't). The end result was a knife that was lightyears ahead of the stock version and something that gave me insight into just how talented Kevin really was.
I also was fortunate to handle a "Mini Southard," Kevin's cut down version of the Spyderco Southard, and it too was superb. The design choices Kevin made with constructing the Mini Southard were 100% spot on. By shrinking the handle, steadying the wonky blade shape, and rounding over the spine, he made a decent knife a great one.
The SK23 is his first, built-from-the-ground up folder, and of the debut folders from former modders, it is the one I am most excited about.
The blade shape is a great, simple, and straightforward wharncliffe. The flipper is a Dietz-style flipper where the front bottom corner of the handle scale is cut away, allowing access to the blade tang corner for use as a flipper. This both simplifies the blade shape and also smoothes out the knife with open. Finally, eschewing trends, Kevin opted for a spring clip as opposed to a sculpted titanium clip, a great choice for a knife intended to be a user and not Safe Queen or Instagram-only blade.
All of these choices are the right ones, but it is the lock that sets Kevin's knives apart from the pack. Here he licensed the great Compression Lock from Spyderco, but fixed its one problem. Usually you have to dig into the spine of the knife to close the lock, and sometimes it is a bit pinchy when opening. However, Kevin uses a button release to disengage the Compression Lock locking leaf, eliminating two problem with what is probably one of the best locks on the market.
The SK23 is available at www.smockknives.com in very small numbers. It's 100% handmade, so the price is higher than a production blade, but what you get is a pure labor of love and one well-designed blade. As a rookie effort, it would have been hard for Smock to do better.