Video: Largest and Smallest Working Revolvers?
Russ Chastain 08.03.15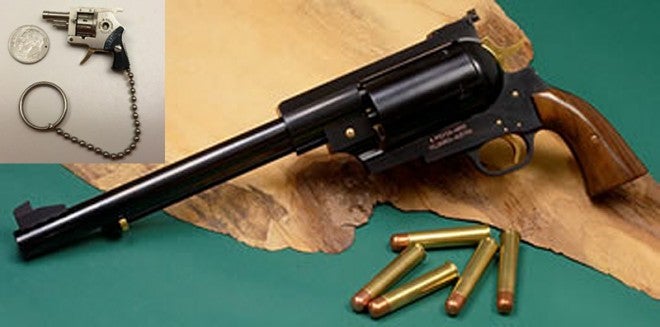 Cue the dramatic music–but only for a couple seconds, then cue some weird techno stuff.
Why do we need the music? Because whoever made the video decided it was nifty. Oh, and all the guys in this first video speak German, which most Americans do not understand.
In this video, we can observe a guy (sporting a motorcycle helmet and Everlast gloves) fire a couple rounds from a gigantic single action revolver chambered for the 600 Nitro Express. I have to admit, I was a little disappointed when the gun didn't hop up and hit him in the helmet. Also, I want to shoot it.
Yeah, okay. This is kinda cool, but it isn't news. The video was uploaded in 2009, for goodness' sake, but it's included here for scale, more or less.
Scale, you say? What is this guy yammering about?
Only the Xythos Revolver, touted as the smallest revolver in the world. You really need to see this thing. When someone picks it up, it almost disappears between their finger and thumb.
Speaking of disappearing, the itsy-bitsy cartridges are just 2 millimeters! Heck, I've dug bigger splinters out of my hide. The ammo would be pretty easy to lose.
The scrawny double action revolvers are apparently billed as mini flare guns, and the ammo doesn't fire a projectile of its own. Essentially, they're blanks.
You will notice that the hammer whacks the top of the cylinder, rather than the rear. That's because the ammo is pinfire, meaning that each cartridge contains its own firing pin. When the hammer clobbers the pin, it goes bang.
I'm not claiming these are the largest and smallest working revolvers ever, but they certainly represent the extremes to which gunmakers sometimes go.