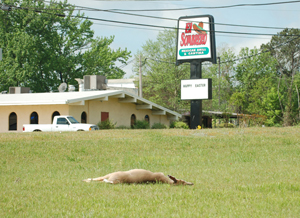 The white-tailed deer population continues to expand in America. A big part of this expansion is taking place in urban areas and all over in spaces highly populated by humans. This continues to cause additional human-wildlife contact of which some is positive, but some is not.
Continued urban sprawl has reduced available green belt spaces, causing higher concentrations of wildlife, whitetail deer in particular, to push further into smaller bits of wildlife habitat. In many cities and communities all over country, this means deer are not "encroaching" into human spaces. But to be honest, one has to wonder who really encroached on whom?
Case is point is a residential area right off a busy Briley Parkway in the heart of Nashville, Tennessee. This thoroughfare is just a few miles on the outskirts of the Nashville International Airport. When you turn off the parkway into residential streets, the first thing you see is a series of "watch for wildlife" deer signs to alert drivers that deer could jump out at any time. And I suspect they do.
As I drove down these streets to my daughter's house, I paid particular attention to aspects of the roadside habitat. It was heavily wooded, and water streams and drainages coursed their way through the woods. Many of the woodland tree stock that exists there are huge oak trees meaning that high protein acorns are probably a prime deer attractant during the fall.
Otherwise these habitats are lush with a wide variety of green plants for deer to feed on. The hideout cover is extensive all along these city streets in between sections where houses were built back in the 1950s and later. I am certain the residents here must see deer quite frequently along the roads and surely in their own yards, where they might also be munching on yard bushes and plants.
Some citizens are okay with that, but some are not. Deer have been known to basically wipe out the plantings in residential areas, which causes more interaction between man and wildlife. These actions have become so frequent that some state wildlife divisions are now employing urban wildlife specialists to deal with these issues.
More communities are considering ways to keep deer populations in check, including allowing limited bowhunting. Other deer deterrent strategies are deployed as well. Let's just hope that a balance can be found so wildlife and man can co-exist.